Record. Release. Rejoice!
Strauss Recording by CMU Wind Ensemble Proves Popular Among Audiences
written by
Dan Fernandez
Assistant teaching professor George Vosburgh, who teaches trumpet and is the music director of the Carnegie Mellon Wind Ensemble, has been thrilled with the reception to the ensemble's latest recording of two works by Richard Strauss. The disc, featuring Strauss's rarely performed 1945 composition, "The Happy Workshop," as well as a very early Strauss piece, the 1881 "Serenade," was released this year on the Reference Recordings label to resounding acclaim from critics and professionals.
The School of Music's Wind Ensemble has a long history of releasing recordings dating back to the mid-20th century and the previous incarnation of the ensemble — the Kiltie Band. In the 1950s and 1960s, the concert band was the flagship ensemble of Carnegie Tech's Department of Music, performed at Carnegie Hall in New York and regularly premiered works by luminary composers. In recent years, Vosburgh has pushed to make regular recording a key part of the curriculum that prepares School of Music students for a life of professional musicianship.
The current Strauss recording project came about after a successful recording of Mozart's "Gran Partita" serenade several years ago. The Wind Ensemble students wanted to continue to challenge themselves, which led to the creation of a new course geared toward preparing and executing musical recordings.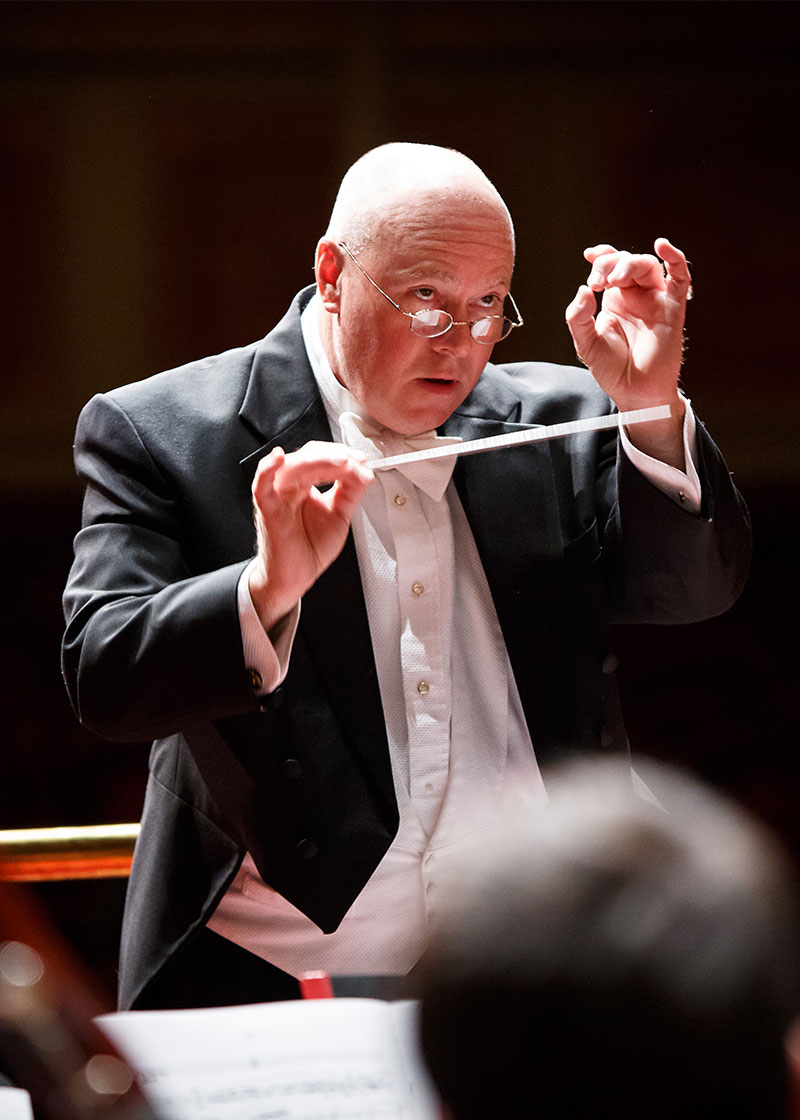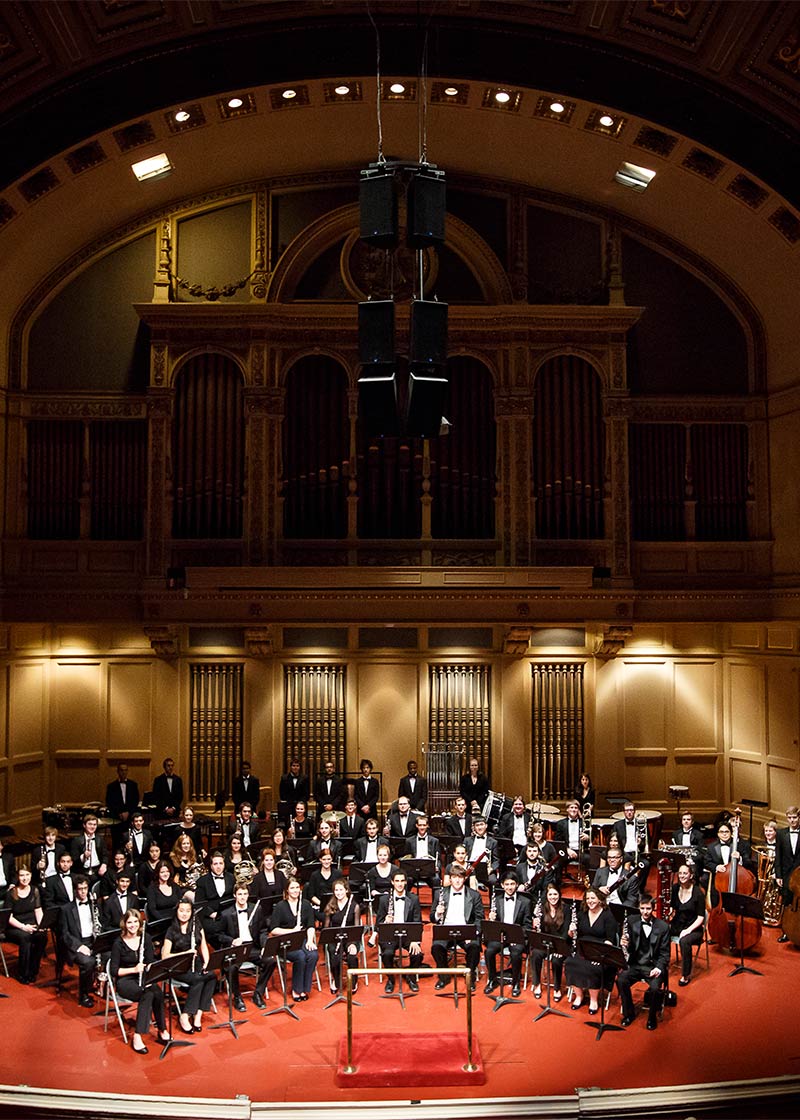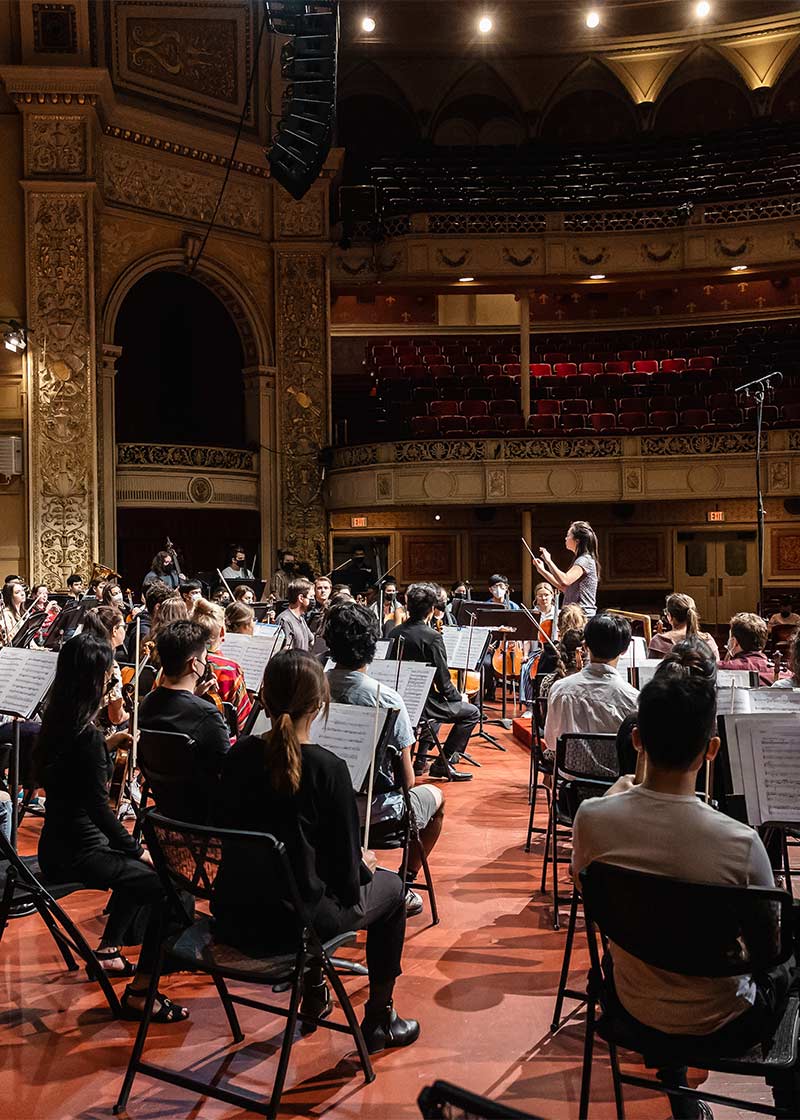 "Whenever students come up with a project that they really want to do, it generally goes extremely well, because they are so committed to it," Vosburgh said. The Strauss recording was made over the course of two days in Kresge Theatre by teaching professor Riccardo Schulz and recording students after weeks of preparation.
Vosburgh sees the exacting nature of the recording process as essential for training a professional musician. "With any students," Vosburgh said, "they don't realize at first that it's not good enough to get it right once. They have to be able to go over it again and again, and it has to be perfect every time. They get exhausted doing it. It doesn't matter if they are playing a show for kids, or at Carnegie Hall or a recording session. It always has to be the highest standard every time you pick up the instrument."
Although the pandemic delayed the production and release of the recording, critics took notice when it was released in 2022. Ken Meltzer of Fanfare Magazine called the CD "excellent" and "breathtaking." Michael Cookson of MusicWeb International writes that the Wind Ensemble "displays satisfying unity, playing with impressive levels of concentration and a warm passionate spirit, clearly relishing the challenge." And Patrick Hanudel of American Record Guide called this recording "impressive playing from the next generation of professional musicians."
"It's that quality of student that we have, and that's why I feel that a recording like this showcases the kind of talent that we're dealing with."
George Vosburgh
Assistant Teaching Professor, School of Music
During the annual admission auditions, Vosburgh asks prospective School of Music students where else they are auditioning besides CMU. "It's the same list … Juilliard, Eastman, Manhattan School of Music — it's the top schools. The top talent is auditioning for our school."