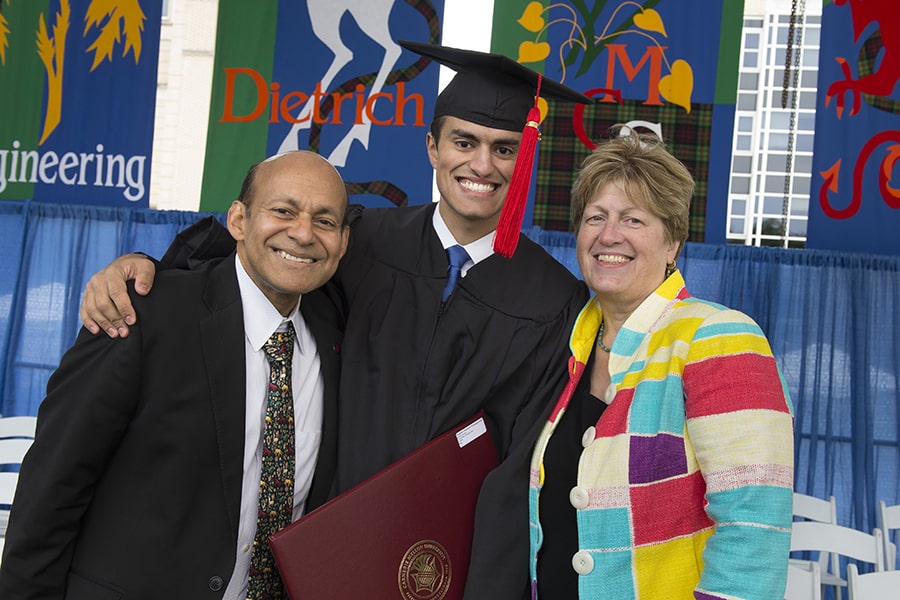 January 06, 2020
From Someone Who's Been There: The Senior Transition
When Stephen Nimalasuriya (DC 2016) was a Carnegie Mellon undergraduate, his parents, Laurie Morison and Ajit Nimalasuriya, enjoyed frequent visits to Pittsburgh. They participated in campus traditions like Family Weekend and Spring Carnival, found a favorite local restaurant that they visited as a family each time they were in town, and even enjoyed the drive to Pittsburgh from New York City and home again. As Stephen entered his last semester at CMU, Laurie and Ajit had mixed feelings as they prepared for their son's transition from college student to young professional. 
"We had developed our own bond and relationship with the university, and we were feeling nostalgic about all the experiences we'd had at CMU during those years," Laurie said.
When commencement weekend arrived in May 2016, Laurie and Ajit turned this milestone into a mini-vacation for their family. They planned for four to five days in Pittsburgh, invited Stephen's godparents to join them, and attended the various commencement ceremonies together. In particular, Laurie enjoyed Stephen's diploma ceremony, which featured personal insights about each graduate. Laurie laughed as she recalled the main commencement ceremony, where she and Ajit and thousands of other guests experienced snow in the month of May! Later that evening, they celebrated with a family dinner at their favorite restaurant and took some time to savor the moment and Stephen's accomplishments. The next day, they visited Stephen's fraternity to load his belongings into a truck, and then watched as their newly minted alumnus left Pittsburgh to start setting up his post-college life in Washington, D.C.
Laurie's pride is obvious when she talks about Stephen's accomplishments during his four years at Carnegie Mellon. This is where he earned his degree in Ethics, History and Public Policy (EHPP) and worked with other EHPP students on their senior capstone project. He also honed his leadership skills as president of his fraternity and a volunteer for the CMU Emergency Medical Service. Today, he is thriving in his career and stays in touch with his CMU friends, who are currently planning their annual ski trip.
When asked if she had any advice for senior parents who are looking forward to graduation, Laurie offered:
"Parents have invested a lot—financially and emotionally—in their student and in Carnegie Mellon. Students will want to celebrate with their friends, but make sure you carve out some time that weekend to do something special as a family!" 
Good advice from a mom who's been there.