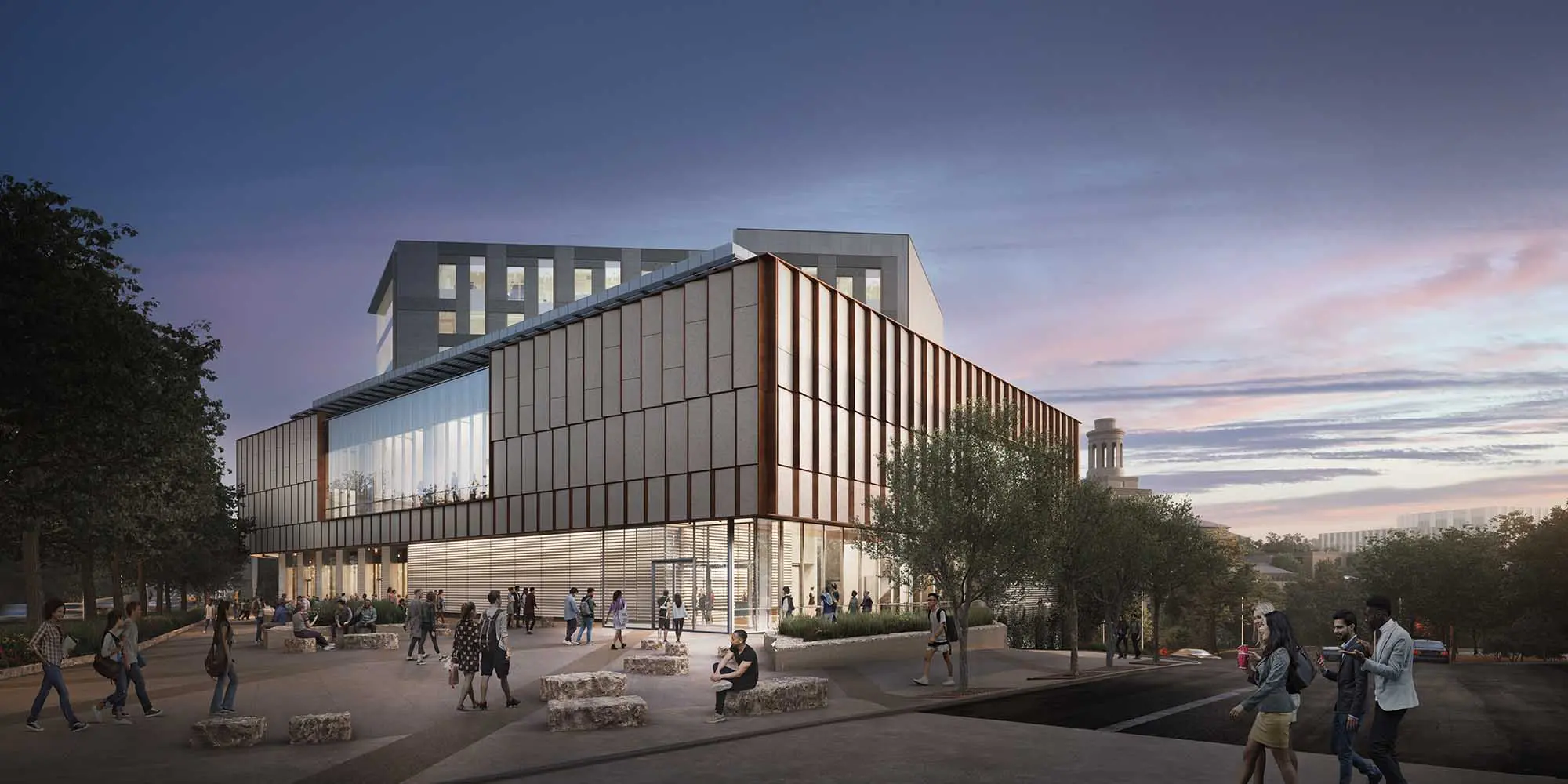 November 13, 2023
Carnegie Mellon Unveils Design for New Richard King Mellon Hall of Sciences
Interdisciplinary building set to open in fall 2027 in the heart of Pittsburgh's Oakland neighborhood
Media Inquiries

Name

Peter Kerwin

Title

University Communications & Marketing
Carnegie Mellon University has unveiled the striking design of its new Richard King Mellon Hall of Sciences(opens in new window), a 338,900 square-foot building that will host researchers and students from its Mellon College of Science(opens in new window) (MCS) and School of Computer Science(opens in new window) (SCS). The new building also will house the new Institute for Contemporary Art Pittsburgh (ICA), which serves as a critical hub for art, culture and exchange. 
Sitework for the $252 million project is slated to begin in the first quarter of 2024 in Pittsburgh's Oakland neighborhood, at the intersection of Forbes Avenue and South Craig Street.
Designed to foster collaboration, the building will help CMU to advance a new era of data-driven research, creative expression and cross-disciplinary education. Anchoring a prominent city intersection, the Hall of Sciences will be positioned as a gateway, connecting the university and its surrounding community.
Launched by a $75 million lead grant(opens in new window) from the Richard King Mellon Foundation, the Hall of Sciences is being designed and built with flexible spaces that can be configured quickly to answer emerging problems and respond to new avenues of discovery.
Design of the building began with an extensive proposal process involving over 40 architecture firms, leading Carnegie Mellon to select ZGF. PJ Dick and Mascaro Construction will jointly serve as construction managers for the project. Neither are strangers to partnering with CMU. PJ Dick is currently wrapping up work on the Alan Magee Scaife Hall of Engineering(opens in new window), and Mascaro Construction is engaged on the Highmark Center for Health, Wellness and Athletics(opens in new window).
The building's design draws inspiration from symbols core to Carnegie Mellon.
Set back by a plaza along Forbes Avenue, the building's ground floor takes design nods from a thistle — the national flower of Scotland — which adorns the center of CMU's seal that was created in 1967 at the merger of the Carnegie Institute of Technology and the Mellon Institute. This section of the building will be civic-minded, and house the new ICA and its expanded gallery space. High-performance concrete panels shift around the exterior, dynamically changing the look of the building depending on how it's viewed, much like a thistle. The ground floor will contain a full-service restaurant on Forbes Avenue that will be open to campus and community patrons. In addition, the new building will add 400 classroom seats with priority toward MCS and SCS classes.
The building's tower, which is seven stories tall, will contain labs, offices and other learning and collaborative spaces for MCS and SCS, as well as an underground parking garage with 130 spaces. This section's design takes its inspiration from another central CMU symbol — the  tartan, a woven wool fabric with a plaid design that originated in Scotland, where each fabric's unique pattern represented an individual family or clan.
The Hall of Sciences will augment the MCS ecosystem at Carnegie Mellon that spans the Mellon Institute, the Pittsburgh Supercomputing Center(opens in new window), and Wean and Doherty Halls.
"The Richard King Mellon Hall of Sciences will bring together some of the best Carnegie Mellon has to offer: the foundational sciences, computer science and the arts," said Curtis A. Meyer(opens in new window), interim dean of MCS. "This building will be the interface where these disciplines and the community can come together to learn and collaborate."
The new building will be home to faculty, staff and students from the Departments of Biological Sciences and Chemistry, Neuroscience Institute (which is jointly administered by MCS and the Dietrich College of Humanities and Social Sciences), Computational Biology Department, the Language Technologies Institute and the Machine Learning Department.
By co-locating departments from across colleges like Biological Sciences and Computational Biology, the university designed a building to support the future of interconnected, interdisciplinary and collaborative scientific work. 
The CMU Cloud Lab, located in East Liberty, will be integral to researchers in the new Hall of Sciences by offering access to 180 unique commercial chemical and life sciences instruments that can be operated from anywhere.
"At CMU we conduct research and offer educational programs at the intersection of the sciences, computer science and the arts — from new approaches in artificial intelligence and machine learning to preeminent biological research, computer graphics and computer vision in the visual arts," said Martial Hebert(opens in new window), dean of the School of Computer Science. "I'm thrilled that the new Richard King Mellon Hall of Sciences will enable CMU to continue building upon our collaborative foundation while we look ahead to reach new heights in interdisciplinary programs that combine myriad areas of research and education into CMU's hallmark of distinguished disciplines." 
Adjacent to the South Craig Street business district and the Carnegie Museums of Art and Natural History, the new building site is different from anything the university has done before, according to Bob Reppe(opens in new window), the assistant vice president for Campus Design and Facility Development and university architect. Reppe has worked on the Hall of Sciences project since its inception. 
"The new Hall of Sciences has become a very Carnegie Mellon story," Reppe said. "This building integrates science, computing and the arts. It's just part of our DNA, what makes CMU special."
Its public entrance and street presence will be anchored by the new ICA, which has received a $15-million commitment from the Juliet Lea Hillman Simonds Foundation(opens in new window) and the Henry L. Hillman Foundation(opens in new window). With twice its current gallery space, an open design and cross-disciplinary programming, the museum aims to unite the worlds of culture, science and technology, while elevating the city of Pittsburgh in the national and global arts and culture conversation.
"Lots of people don't know what an ICA is, and we're going to show them," said Mary Ellen Poole(opens in new window), the Stanley and Marcia Gumberg Dean of the College of Fine Arts. "It's a living breathing organism where exhibitions by artists with a pulse challenge and delight us. It's an integral part of CMU's educational mission, demonstrating to our students just what it means to be a practicing artist in these times. We are thrilled to open this experience up to everyone in the CMU and Pittsburgh communities."
"This dynamic building complex will broaden the possibilities for collaboration across disciplines, a core value of the university and of the ICA," said Elizabeth Chodos(opens in new window), the museum's director. "The new ICA will seamlessly interweave university life within the urban fabric of the city."
The Hall of Sciences is currently tracking for LEED Gold(opens in new window) certification, and includes features like a green roof and stormwater management and heat recovery systems. All new construction and renovation projects at Carnegie Mellon must be LEED Silver, however, most buildings since the Tepper building have been certified LEED Gold — Reppe's goal in each project.
"Scott Hall was the greenest lab building in the country when it opened," Reppe said. "Our goal is to reclaim that title with this building."
The university is currently fundraising for the project(opens in new window). The Richard King Mellon Hall of the Sciences is planned to open in the fall of 2027.