Alan Magee Scaife Hall of Engineering
The Scaife Hall project is the demolition of the existing Scaife Hall building and the new construction of structure that includes an ~85,000-sqare-foot lab, office space, classrooms and a café. Scaife Hall will be an important cornerstone for campus, using architecture and landscape to establish an unforgettable passage onto CMU's grounds, restoring the Scaife site as a significant campus entry. The plaza at Scaife Hall seeks to create a memorable place for the College of Engineering to display engineering and art together.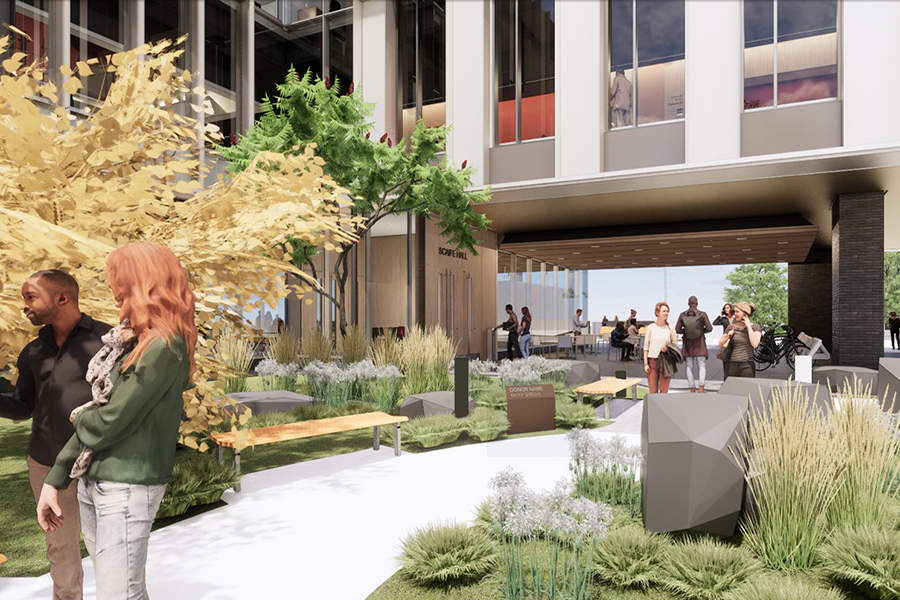 The project provides diverse and flexible spaces that can swiftly respond to changing use, technology, population and pedagogy, driving the intellectual vitality of the main users of the building, Mechanical Engineering and the College of Engineering as a whole.  The project is striving to be an environmental leader, continuing in CMU's dedication to energy efficiency, sustainability and wellness using the building with its architecture and systems to reveal and teach sustainability.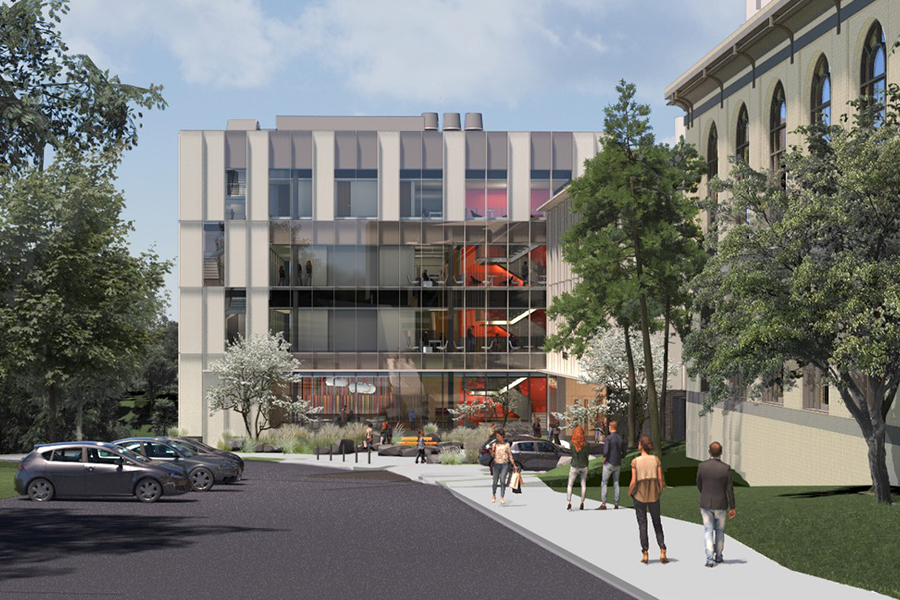 Building Spaces
Scaife Hall will contain a drone arena and 11 labs for research in a variety of subjects, ranging from Biology to Robotics to Rapid Prototyping, located on floors A and B.  The labs will be supported by 100 PhD workspace directly adjacent to the lab spaces.   There will be approximately 80 offices for Mechanical Engineering and College of Engineering staff.  The building will contain 19 meeting rooms spread throughout to support staff and student activities.  The registrar will control 3 classrooms, and a 200+ seat lecture hall.  The building will house a number of common areas for collaboration, relaxation and socialization including a 1400sf Cafe.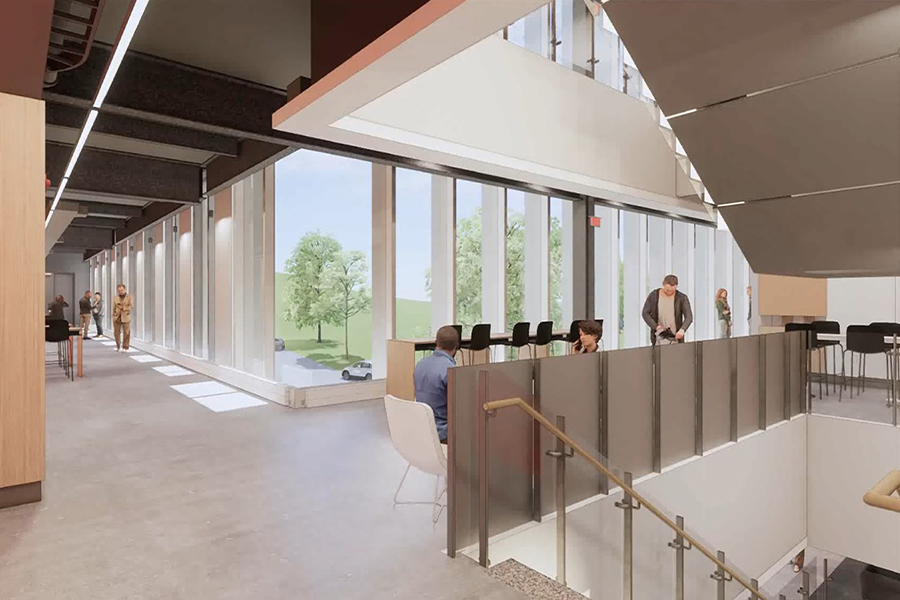 Energy & Atmosphere
Overall, the building will use 29% less energy than ASHRAE Baseline of similar size and use buildings (calculated by energy cost).
48% of energy use will be offset by the purchase of renewable energy credits across the University.
The building design will utilize passive elements such as efficient exterior envelope and glazing and exterior solar shading.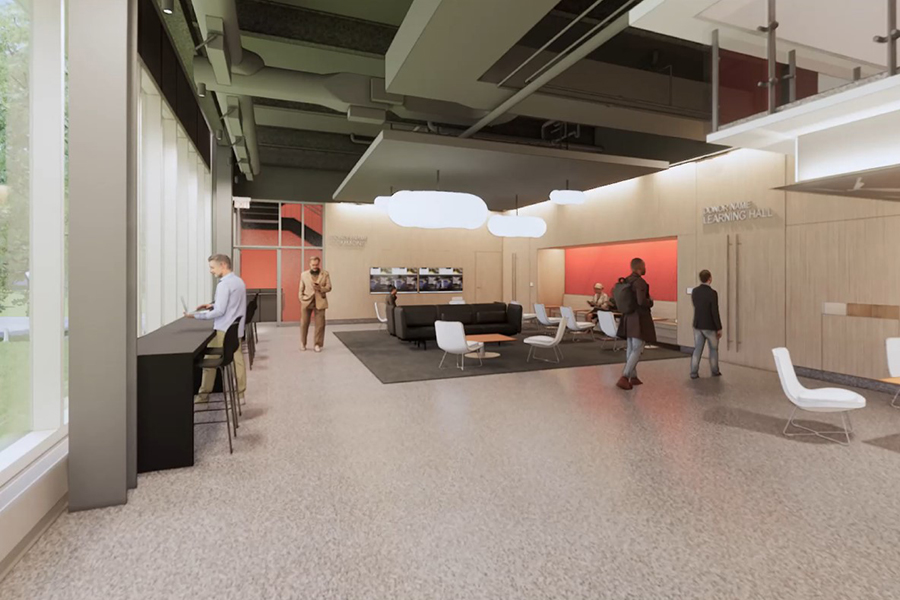 Materials
As part of the demolition process of the existing building, CMU donated over 11 tons of materials such as doors, light fixtures, furniture, appliances, and casework for reuse to a variety of local nonprofit organizations.
The waste diversion goal for the project is to achieve 75%, approximately 2500 tons.
Locally sourced construction materials will be used to reduce the carbon footprint of the building construction.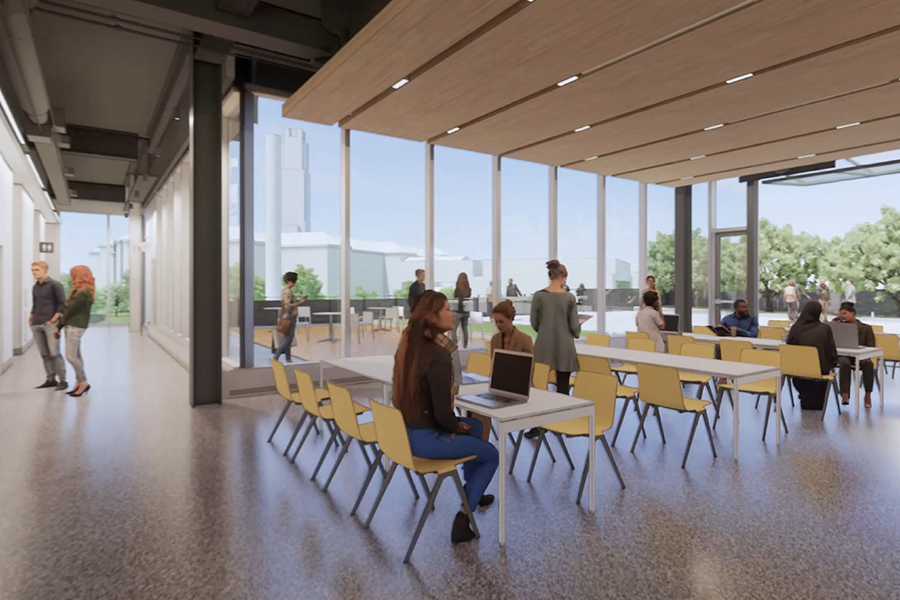 Healthy Interiors
Occupant control of space temperatures will allow users to adjust interior temperature to ensure thermal comfort.
CO2 sensors will trigger an automated system to cycle fresh air into the building.
A healthy environment will be maintained through the use of low VOC and redlist free finishes, a green cleaning program, and comprehensive indoor air quality management.
Team Members
Campus Design and Facility Development is working in conjunction with the following organizations to complete the project: 
PJ Dick, Pittsburgh, PA - Construction Manager
Kieran Timberlake, Philadelphia, PA - Architect
Buro Happold, Pittsburgh, PA – MEP, Structural and Energy Engineering
The Olin Studio, New York, NY – Landscape Architects
SpaceSmith, New York, NY – Furniture Consultants
Evolve, Pittsburgh, PA – LEED Consultants
Jensen Hughes, Philadelphia, PA – Code Consultants
Simpson, Gumpertz & Heger, Boston, MA – Envelope & Waterproofing Consultants
Langan, Pittsburgh, PA - Civil Engineer
Sci-Tek, Pittsburgh, PA – Geotechnical Engineers