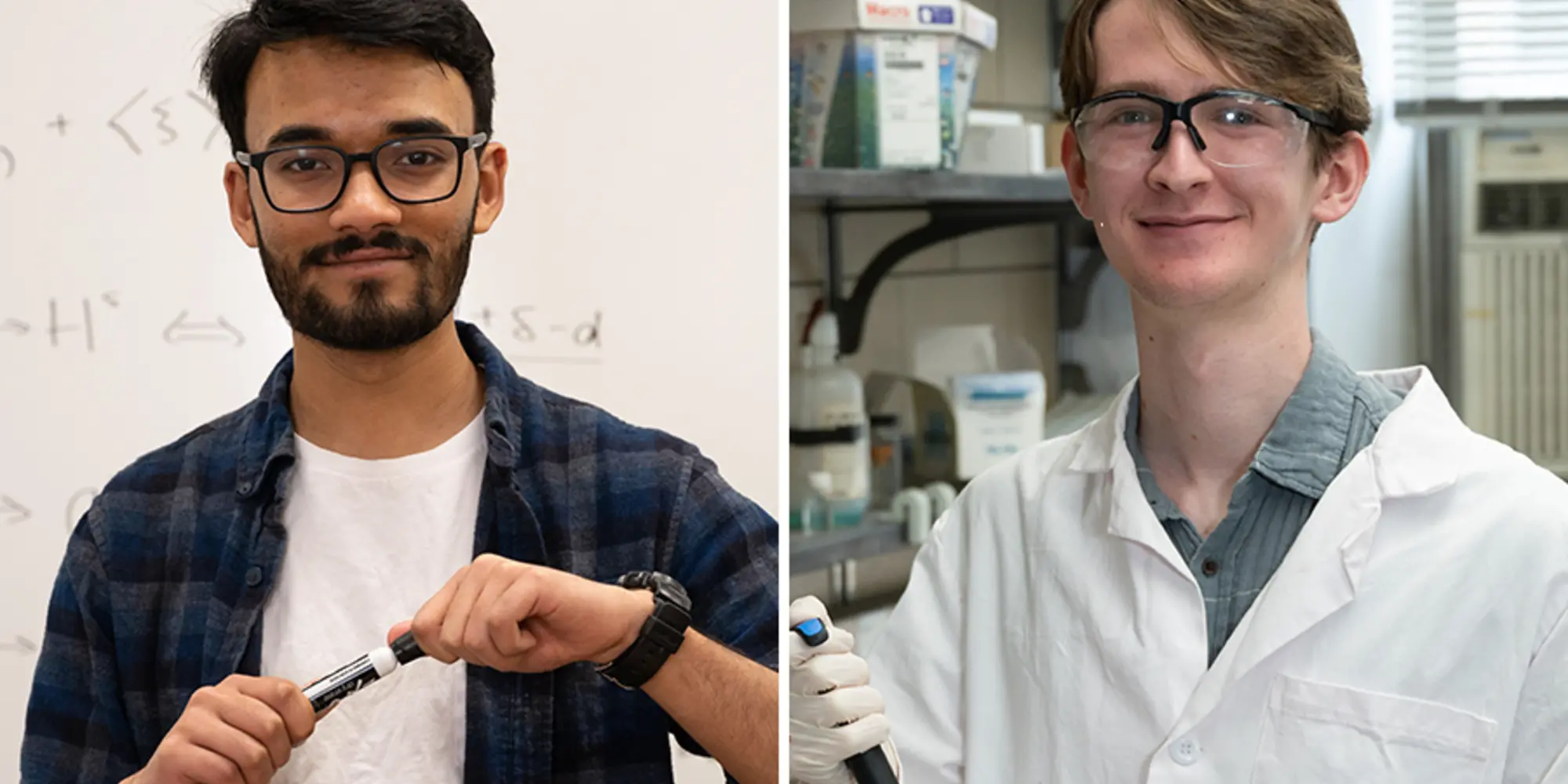 May 8, 2023
MCS Students Awarded Goldwater Scholarships
Media Inquiries

Name

Peter Kerwin

Title

University Communications & Marketing
The Barry Goldwater Scholarship and Excellence in Education Foundation named two Carnegie Mellon University students as recipients of its 2023 awards.
Mellon College of Science juniors Subhasish Mukherjee and Marcus Schafer are among the 413 recipients of this year's award, chosen from a pool of more than 5,000 college sophomores and juniors. Mukherjee, who studies mathematical sciences(opens in new window), and Schafer, who studies chemistry(opens in new window), join more than 45 other Carnegie Mellon students recognized as Goldwater Scholars for their commitment to research.
"Our 2023 Goldwater Scholars highlight CMU's strengths in key areas of mathematics and science research," said Richelle Bernazzoli(opens in new window), director of the Office of Undergraduate Research and Scholar Development(opens in new window). "Subhasish and Marcus have both made impressive scholarly contributions, pushing the boundaries of knowledge in their respective research fields. What's even more remarkable is that they have achieved this research progress while excelling in coursework and taking part in other important aspects of campus life, such as teaching and music. We are so proud to see them join the community of Goldwater Scholars!"
Each Goldwater Scholar annually receives an amount equal to the cost of tuition, mandatory fees, books, and room and board minus the amount of support provided for by other sources, up to a maximum of $7,500 per full academic year.
Subhasish Mukherjee
Mukherjee enjoyed the course Linear Algebra through Matrix Theory so much his first year at Carnegie Mellon that he served as a teaching assistant for it twice.
"It made me want to do more math," Mukherjee said. "It was my favorite class when I got here, and I think it's my favorite class to TA."

So far, he has served as a TA four times. Along with matrix theory he has helped students in vector analysis, an honors course that focus on aspects of linear algebra.
In summer 2022, Mukherjee began research with Ian Tice(opens in new window), an associate professor of mathematical sciences. Tice's research focuses on nonlinear partial differential equations. Mukherjee works on function spaces, which allow mathematicians to discover new properties of differential equations.
"Differential equations are the language of the universe," Mukherjee said. "Everything from physics to economics to biology to disease spread, we can model these through differential equations. They are what describes the world around us."
A publication with Tice is in the works, and Mukherjee has started some personal research in other areas of mathematics, including developing a new integral and investigating descriptive set theory.
"Subhasish has displayed a remarkable prowess in undergraduate math research," Tice said. "This is due to a combination of his remarkable drive and passion for math as well as the extensive training he received in the math department's Honors Program. We expect a very bright future for him."
Mukherjee intends to graduate in the fall of 2023 to pursue a Ph.D. in mathematics. He wants to take an interdisciplinary approach where he can work on multiple areas of the field, developing his math skills and discovering new connections. He said he hopes to continue research and teaching.
"I really love math and how beautiful and enthralling it can be," Mukherjee said. "I'm looking forward to making that my life."
Marcus Schafer
Schafer grew up in Baton Rouge, Louisiana, near "cancer alley." He knows how chemistry can harm people and the environment. He also knows the good it can do.
In his first year at Carnegie Mellon, Schafer took a chemistry and sustainability course with Terry Collins(opens in new window), the Teresa Heinz Professor in Green Chemistry and the director of the Institute for Green Science(opens in new window). After diving into the material, Schafer joined Collins' lab in summer 2021.
"The group designs catalysts for environmental applications, specifically looking at treating hard to remove pollutants in our water streams," Schafer said.
Schafer worked with Ph.D. candidate Parameswar Pal, who was investigating a catalyst known as TAML. When combined with hydrogen peroxide, TAML can improve water quality. After learning how TAML interacts with impurities, Schafer wanted to investigate how it could be used to remove antibiotics from wastewater because if left in water systems, they could promote development of antibiotic resistant bacteria.
"We use a lot of antibiotics on a global scale, both in ourselves and livestock," Schafer said. "The problem with that is that what goes into the body must come out. In the case of many antibiotics, a fairly large percentage of what comes out is the antibiotic itself not changed by metabolism. That gives them a very direct path into wastewater streams."
Using model systems, he found that TAML can remove fluoroquinolones, common antibiotics. He and Pal are further refining the process, which they aim to implement in hospital wastewater streams.
"Marcus absorbs knowledge and acquires skills in instrumental techniques with inspiring dexterity and he displays extremely mature standards of data collection and reproducibility both as a gift from Parameswar's training and by natural proclivity," Collins said. "In his independent career, I predict he will become a highly skilled multidisciplinary scientist because he understands that authentic research in safe and sustainable chemistry demands this."
Schafer plans to graduate in spring 2024, and he wants to pursue a Ph.D. and continue his work in safe and sustainable chemistry, and hopes to someday teach future students its importance.