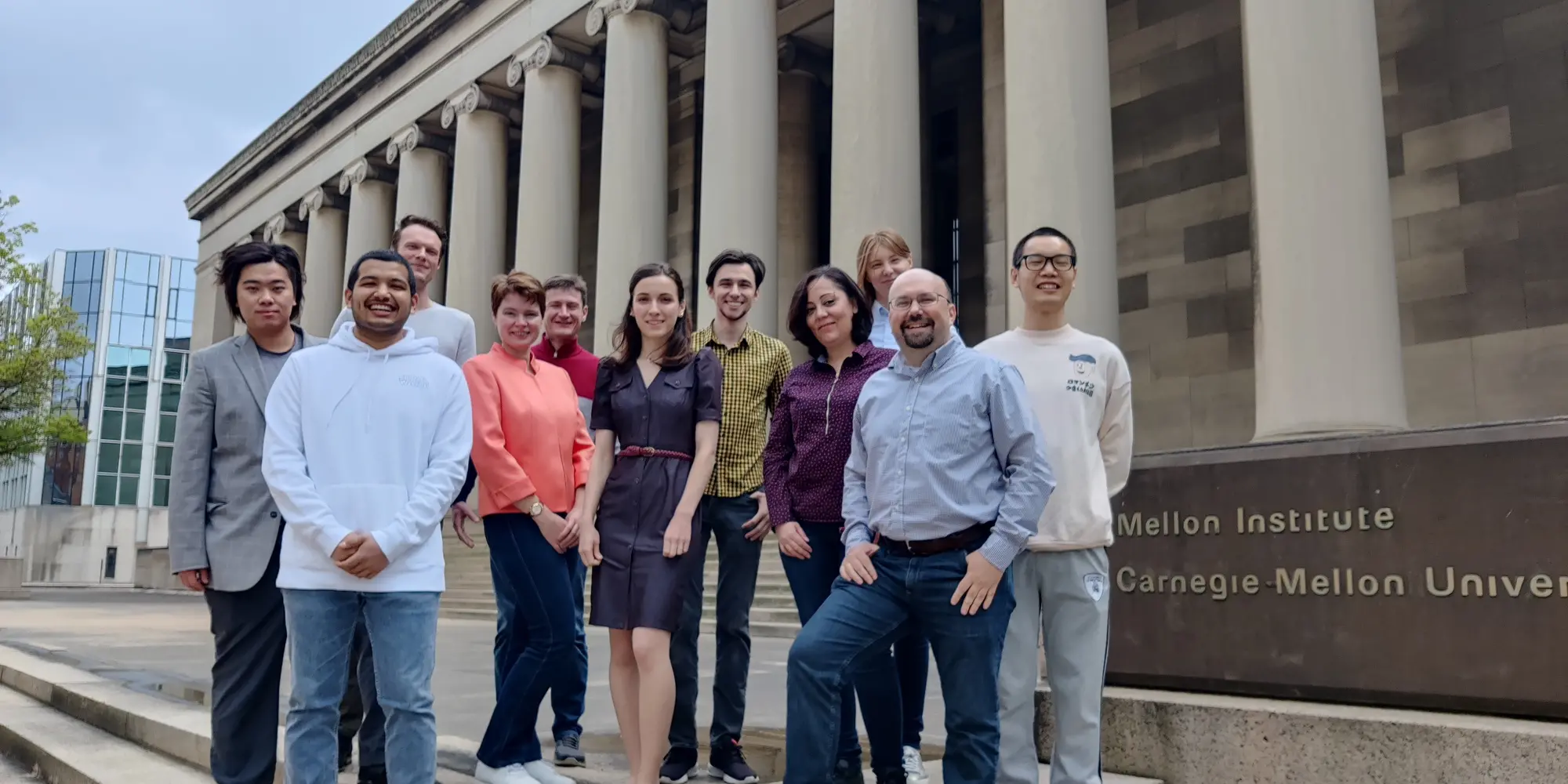 March 21, 2023
Team Wins Air Force Research Laboratory AI Grand Challenge
Media Inquiries

Name

Jocelyn Duffy

Title

Mellon College of Science

Name

Mandy Melton

Title

University of North Carolina
A team of collaborators from Carnegie Mellon University and the University of North Carolina at Chapel Hill won Phase 1 of the National Security Innovation Network (NSIN)-sponsored Air Force Research Laboratory (AFRL) Active AI Planners for Chemistry/Materials Optimization and Discovery Grand Challenge.
The challenge(opens in new window) includes the potential of a $500,000 contract, awarded in four development phases over the next nine months, and proposes to develop a machine learning artificial intelligence (AI) system that can help researchers quickly find appropriate experimental conditions for optimizing and discovering new synthetic compounds using multi-system approaches.
The team, led by Olexandr Isayev(opens in new window), an associate professor in Carnegie Mellon's Department of Chemistry(opens in new window), and Frank Leibfarth(opens in new window), an associate professor of chemistry at UNC Chapel Hill, pitched a reinforcement learning strategy with an iterative computational and experimental approach as part of the grand challenge.
"Latest development in AI and science automation opens multiple venues to accelerate the design of materials with the desired properties. The technologies will allow us to do science in a radically new way," Isayev said.
The team combines Isayev's expertise in data science and Leibfarth's in chemical synthesis.
"These two worlds speak two totally different languages and it's often difficult to even start collaborations," Leibfarth said. "Our team is uniquely qualified both because we have the interdisciplinary expertise but also because we take time to listen to each other, work through challenges, and understand each other. Further, we have numerous interdisciplinary scientists in our groups that help bridge these divides."
"AFRL is excited about the possibility of extending these strategies to new problem areas to accelerate chemistry and materials research across the defense sector." — Luke Baldwin
 
The innovative approach taken by the UNC/CMU team put them ahead of their competition.
"The UNC/CMU team will help build a general data science approach to push polymeric materials research towards properties-based objective functions," said Luke Baldwin, a research chemist and project manager with AFRL. "We are excited about bringing together advanced manufacturing with the aid of continuous flow chemistry, automation, active machine learning and reinforcement learning algorithms. Ultimately, AFRL is excited about the possibility of extending these strategies to new problem areas to accelerate chemistry and materials research across the defense sector."
Next steps for the team are to clearly define the scope, inputs and outputs that go into the work, Leibfarth said.
"This grant requires us to move fast. Because of this, the experimental and data science have to move in parallel," Leibfarth said. "We will continue making and characterizing materials through 3D printing. In parallel, we will iterate with the Isayev group to parameterize the chemical building blocks involved in the project and how they relate to the functional outcomes of the research."
"We plan to connect Leibfarth's robotic and 3D printing equipment with AI 'agent' that first will learn expert chemist skills. After that we will challenge a machine to perform experiment autonomously with a pursuit to exceed a human level capabilities and design polymer materials with record-breaking properties," Isayev added.
The NSIN is a problem-solving network in the U.S. Department of Defense that adapts to the emerging needs of those who serve in the defense of national security. Dedicated to the work of bringing together defense, academic and entrepreneurial innovators, the office collaborates with major universities and the venture community to develop solutions that drive national security innovation.
The results of this work will be broadly available to the research community and hopefully to benefit other projects in chemistry and materials science.