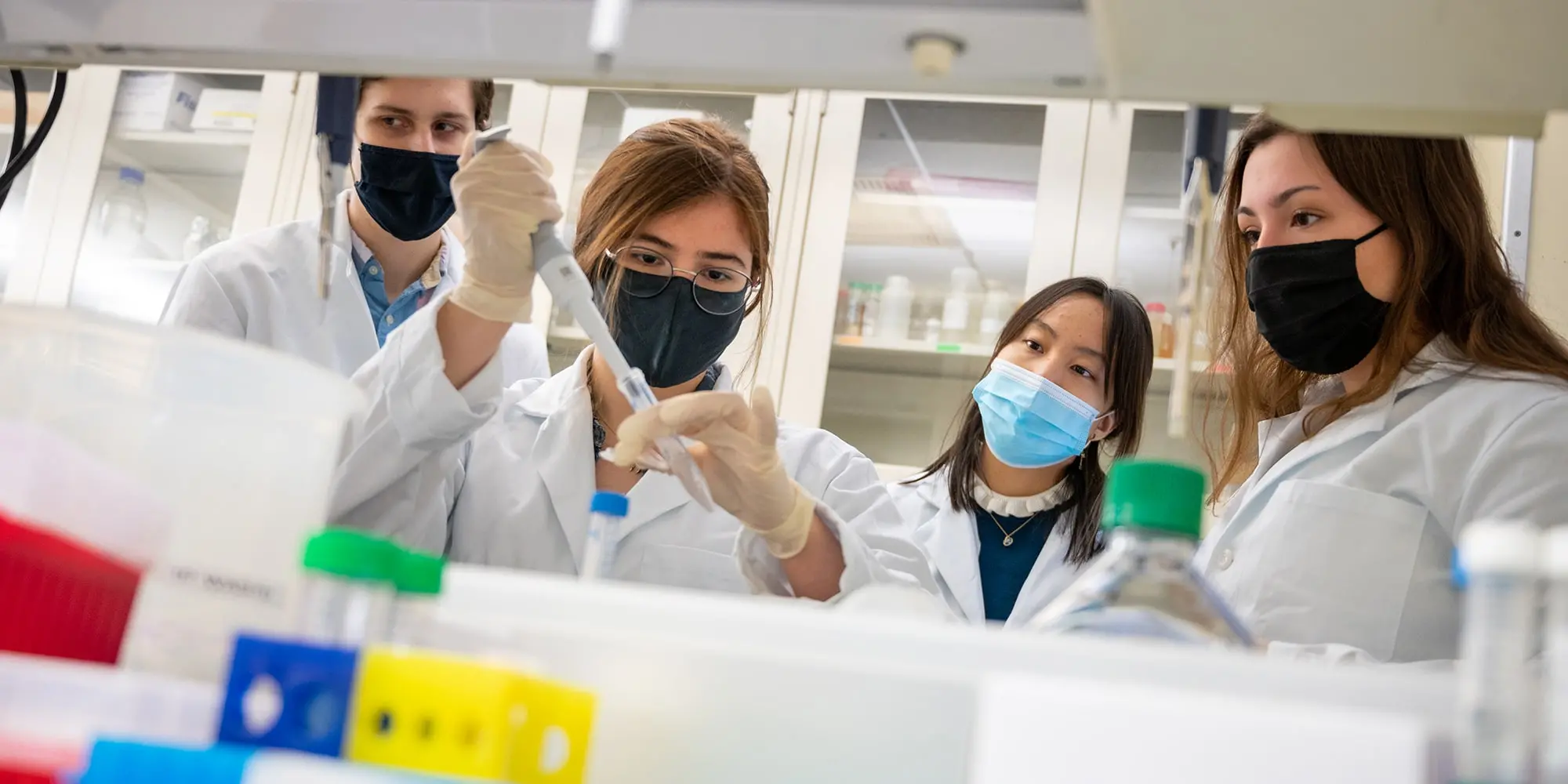 February 24, 2022
From Students to Scholars
Innovative approaches at CMU expand access to research for undergraduates wanting to make an impact
Media Inquiries

Name

Ryan Scarpino

Title

University Communications & Marketing
When Aishwarya Selvaraman started at Carnegie Mellon University, she thought her next step would be medical school — until she took "Principles in Psychology," taught by Associate Professor David Rakison(opens in new window), during her sophomore year.
"I loved that class so much. It changed my life," Selvaraman said. "I ended up joining his lab, and I've stayed here since."
Because she had no prior research experience, Rakison, who runs the Infant Cognition Lab(opens in new window), recommended that Selvaraman apply to CMU's Summer Undergraduate Research Apprenticeships(opens in new window) program, also known as SURA, which provides tuition-free elective credits to enrolled first-year students and sophomores to work with faculty on existing projects.
Then the COVID-19 pandemic happened. Selvaraman returned home to New Jersey and joined lab colleagues remotely. Prior to the pandemic Rakison's lab conducted research with subjects in person. Learning with the team, she helped establish remote testing protocols, practiced coding, and read and discussed journal articles to learn more about the field.
"It was really cool to still have a connection to CMU and to research over the summer when I had a lot of time to dedicate to it," she said.
Last summer, Selvaraman applied and received a Summer Undergraduate Research Fellowships(opens in new window) (SURF) award, which provides $3,500 for 10 weeks of study. Her topic built on previous research related to showing objects to infants to see if they can infer that different amounts of fuel will move the objects different distances. She'll present her work at CMU's undergraduate research symposium Meeting of the Minds(opens in new window) in May.
Now a senior with majors in biological sciences and psychology, Selvaraman is Rakison's undergraduate lab manager. Along with that, she's been shadowing researchers in a biomedical lab through CMU's Health Professions Program(opens in new window).
With graduation coming up, she's applied to lab positions as well as the National Institutes of Health's Postbaccalaureate Intramural Research Training Award, where recent graduates can spend one or two years performing full-time biomedical research.
"As a biological sciences major when I first came in, the psychology labs were not on my radar. To take a class and be introduced to something completely different was so cool," she said. "My experience shifted me to look at research as a possibility."
From left,undergraduate students Aiden Greenaway, Amalia Kamon, Tiffany Han and Molly Nakpairat, wokring with the Ly Group and Bier Group, compare medical kit samples.
The Office of Undergraduate Research and Scholar Development upcoming deadlines and events.

SURG and SURF Proposal Workshop
4:30-5:30 p.m. ET Tuesday, March 15

SURG and SURF Deadline for Summer 2022 and Fall 2022 Awards
Student proposal deadline: Wednesday, March 23
Faculty recommendation letter deadline: Sunday, March 27

Meeting of the Minds
Wednesday, May 4

SURA Registration Deadline
Friday, May 13

For more information visit the Office of Undergraduate Research and Scholar Development(opens in new window).

School of Design senior Ashley Burbanoexperimented with fabric that glows when mechanical force is applied to it. Her research was funded through a SURF grant. Learn more(opens in new window) about her work.
At Carnegie Mellon, undergraduate students can go beyond the classroom to uncover new information and make an impact through their own research and exploration.
The newly renamed Office of Undergraduate Research and Scholar Development(opens in new window) (OURSD) is a key campus resource for students to engage fully in their CMU experience through research and creative pursuits. Built on a foundation of decades of nationally recognized work, the office works to broaden awareness of and access to opportunities, expand innovative approaches and programs and strengthen assessment efforts to understand how best to support students' development as independent learners and scholars.
"Learning by doing has always been an important part of the CMU educational experience and such active engagement can reinforce and extend a student's knowledge, skills and understanding in numerous competency areas while also helping them to advance on the continuum from novice student to lifelong scholar," said Vice Provost for Education Amy Burkert. "The OURSD team is committed to working with our campus community to broaden access and assure all students understand the positive impact engagement in undergraduate research can have on them as well as their fields of study and communities."
Richelle Bernazzoli(opens in new window) was named director of the office in October. She previously served as associate director for undergraduate research and national fellowships and scholarships at CMU.
"Students get broad training and can have an impact in research areas beyond their home disciplines," Bernazzoli said. "Carnegie Mellon highly values interdisciplinarity, and we are constantly finding that there is high student interest in leveraging knowledge and approaches from disparate fields. This extends to artistic and creative inquiry as well — we have seen students push the boundaries of their fields with projects that merge, for example, dramaturgy and language translation, or music composition and computer science."
Programming to support research pursuits in every field, as well as to assist students in applying for national and international fellowships and scholarships, remains a mainstay of the office, which builds upon the success the former Undergraduate Research and Fellowships and Scholarships offices.
"The new name emphasizes our integrated approach to the high-impact practices of undergraduate research and scholar development, including fellowships advising," Bernazzoli said.
Flagship offerings for research are SURF, SURA and Small Undergraduate Research Grants (SURG), which provide up to $500 for materials.
Jen Weidenhof is the business administrator and operations coordinator for the office that administers the SURG, SURF and SURA programs.
"SURAs are a building block to other research opportunities, such as our summer fellowships," Weidenhof said. "The addition of the apprenticeship in recent years has expanded the opportunities for students who may not have had previous experience in a field and offers different educational opportunities outside of coursework."
Support for these initiatives are made possible through the Office of the Provost, schools, departments, individuals, corporations and foundations.
"CMU's robust ecosystem of support for undergraduate research has been made possible through years of investment and support from many in the CMU community including transformative gifts from CMU Board of Trustee members," Burkert said. She added that programs benefit from the philanthropy of numerous alumni, many of whom give back in acknowledgement of the positive impact undergraduate research had in their lives and wish to offer that opportunity to others.
Stephanie Wallach(opens in new window) recently retired after leading CMU's Undergraduate Research Office and Fellowships and Scholarship Office for more than a decade. She said using academic research as part of a holistic education helps set CMU apart from its peers.
"Undergraduate research matters," Wallach said. "Our goal was always to support as many students as possible who wanted to pursue research, and we have amazing faculty who create opportunities for students to learn. Through those opportunities, students acquire resources and tools that they will continue to draw upon in their lives well after graduation."
The university's approach has been recognized by others as evidenced by the recent U.S. News & World Report(opens in new window) ranking CMU second in the country when it comes to undergraduate research and creative projects.
"Students come to Carnegie Mellon excited to do research," said Annette Jacobson(opens in new window), a teaching professor and associate dean for undergraduate studies in the College of Engineering(opens in new window). "It's a unique educational experience, providing them the opportunity to educate themselves deeply in a specific area of expertise."
Jacobson, a teaching professor in the Department of Chemical Engineering(opens in new window), said while many students come to CMU looking to get involved in research, helping them find out the optimal pathway to find a project and pursue it is part of the student learning and development process.
"At CMU, we thrive working across disciplinary boundaries and are comfortable exploring many ways to reach our goals," Jacobson said. As a result, students can work on projects offered by programs, departments or institutes across the campus.
Erik Thiessen(opens in new window), director of undergraduate studies for the Dietrich College of Humanities and Social Sciences(opens in new window) and an associate professor of psychology(opens in new window), agreed.
As director of the Infant Language and Learning Lab(opens in new window), his research team, like Rakison's, has seen significant changes to its approaches because of the pandemic. Students helped move the lab from an in-person only research setting to one that can conduct studies online, which in turn helps broaden the pool of study participants as well as the types of studies the lab can conduct.
"I can look back and see where students' curiosity, spark and motivation pushed me beyond what I already know how to do," Thiessen said. "The great thing about working with students is they have all these amazing skills. I learn so much from working with them, and it's been a real delight."
Thiessen, who is a longstanding member of the SURG/SURF committee, called CMU a uniquely good place for research and one that places strong emphasis on including undergraduates in the research process.
"Research is a really wonderful way for students to stop thinking of themselves as people who receive knowledge and start thinking of themselves as people who create knowledge," he said.