November 07, 2019
Bernazzoli Reflects on Privilege To Serve Country, Students
By Bruce Gerson bgerson(through)cmu.edu
Veterans Day has special meaning for Richelle Bernazzoli. Her nine-year service in the U.S. Army National Guard, which began at age 17, changed her life.
"It made me really think about what it means to be responsible for other people and accountable to other people, and to set my own needs aside for a larger mission," said Bernazzoli, associate director of Carnegie Mellon's Undergraduate Research and National Fellowships Office.
Bernazzoli grew up fast, attending basic combat training for nine weeks at Fort Jackson, South Carolina, after her junior year of high school. She was among the youngest in her camp.
"I was pretty athletic so the physical challenge wasn't the hard part for me," she said. "Mentally it was tough. I was used to being a perfectionist and I realized shortly after I got there that there was no perfection. You were not going to make it out of there without being singled out for doing something wrong."
She was right — she earned her share of attention — but passed basic training hurdling all obstacles and began spending one weekend a month at the First 104th Aviation Battalion in Johnstown, Pennsylvania, near her hometown of Portage. In between her national guard duties, she graduated from high school, earned a bachelor's degree in political science at The Pennsylvania State University and landed a job with the Transportation Security Administration (TSA) Headquarters in Washington, D.C
Her TSA duties soon took a backseat.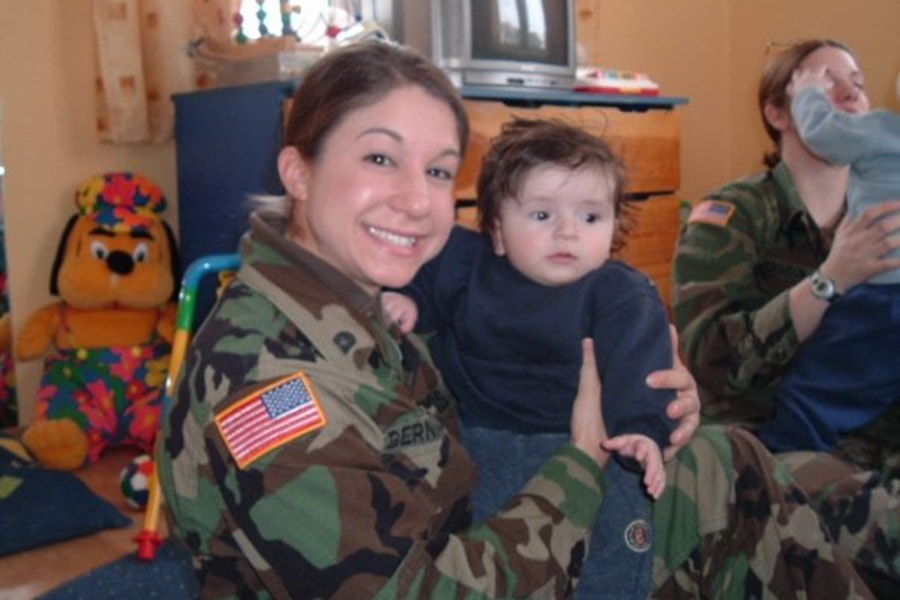 Bernazzoli comforts a child at an orphanage in Kosovo.
In 2005, she was deployed to the Republic of Kosovo in southeastern Europe, following the Kosovo Conflict involving the Serbs, Albanians and the government of Yugoslavia. Working in an aviation task force of several hundred soldiers, Bernazzoli did personnel and paralegal work for the battalion, helping to administer benefits, such as life insurance and payroll. She also had a hand in humanitarian aid, delivering supplies to an orphanage in the capital city of Pristina.
"It was considered a hostile fire zone so you had to carry weapons and ammunition everywhere, but it was pretty quiet," she said. "I had the experience to get to know really good hardworking people. I value the connections I made, and Veterans Day is a good time to reflect on that."
One of those connections led to another life-changing experience. While in Kosovo, she met her husband, Maximilian Geise, a Blackhawk Helicopter crew chief and door gunner.
"I had the experience to get to know really good hardworking people. I value the connections I made, and Veterans Day is a good time to reflect on that."
When the couple returned to the states they married and Bernazzoli enrolled at the University of Illinois at Urbana-Champaign to study political geography, a field that examines "how politics shape the places we live and how where we live shapes political activity," she explained. She earned her master's degree and Ph.D. at Illinois and stayed on as a visiting faculty member for a year, teaching courses in international conflict and advising undergraduates in the department. 
"I always had an interest in international affairs," Bernazzoli said.
Today, she advises students at Carnegie Mellon, helping some achieve their international aspirations of studying abroad through scholarships and fellowships, such as the Fulbright, Gates Cambridge, Churchill and Shwarzman awards. She helps others find and pursue opportunities to conduct undergraduate research and to appreciate how research can be an important component of their CMU experience.
"I love partnering with students in their intellectual development."
"I do lots of one-on-one advising to help students figure out where they want to go, what their larger life goals are, and to find themselves intellectually and professionally," Bernazzoli said. "I love partnering with students in their intellectual development, helping them to identify as scholars in their own right, and to start to really define a little piece of their field they can call their own.
"The two missions this office serves really give students something invaluable above and beyond the base undergraduate experience," she said.
Working with students is challenging and rewarding. Bernazzoli said it's gratifying to see students achieve and succeed. Recently, she heard from two Fulbright Scholarship recipients who are conducting research in Germany.
"They were so excited to get started. It is great to see the really hard work we do helping students complete demanding scholarship applications translate into exciting moments for them, when they feel they have arrived and know they're going to have this life-changing experience," she said.
Bernazzoli knows about life-changing experiences.
"As I get older, I think more and more about the privilege to have been able to serve in the military," she said.
Thank you for your service, Specialist Richelle Bernazzoli.
 Have a suggestion for Staff Spotlight? Send it to piperweekly@andrew.cmu.edu.