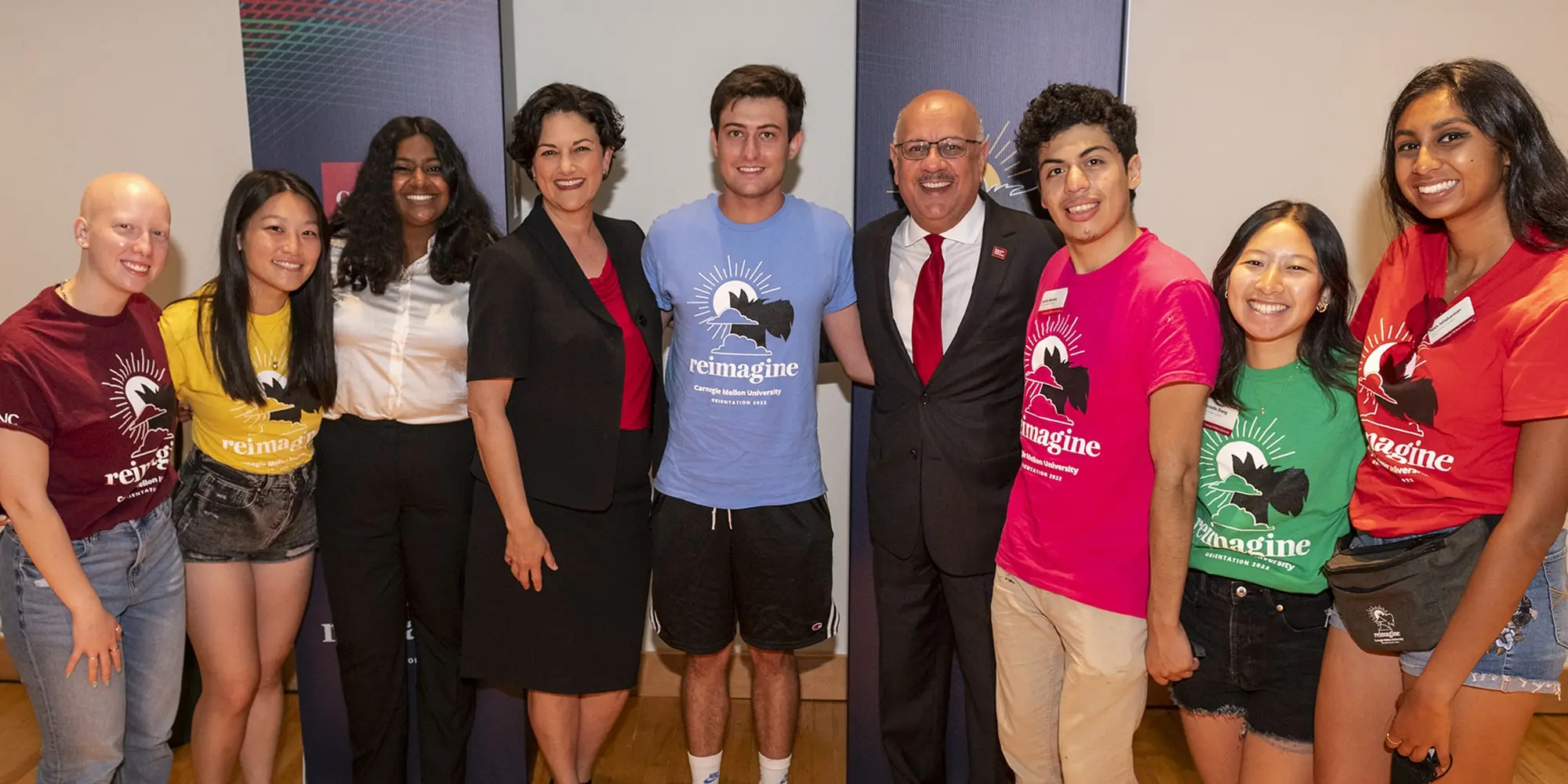 August 22, 2022
CMU President Welcomes Class of 2026+
Media Inquiries

Name

Peter Kerwin

Title

University Marketing & Communications

Name

Ryan Scarpino

Title

University Marketing & Communications
President Farnam Jahanian(opens in new window) embraced incoming students with a warm welcome to the Carnegie Mellon University community, kicking off the 2022 Orientation(opens in new window). The class of 2026+, joined by family and friends, gathered in McConomy Auditorium in the Cohon University Center to hear Jahanian's advice about their next four years at CMU.
Jahanian was joined onstage by Provost and Chief Academic Officer James H. Garrett Jr.(opens in new window); Associate Dean of Student Affairs and Director of the Office of Student Leadership, Involvement, and Civic Engagement(opens in new window) Liz Vaughan(opens in new window); Vice President for Student Affairs(opens in new window) and Dean of Students Gina Casalegno(opens in new window); and Head Orientation Counselor(opens in new window) Leela Jay, a social and decision sciences(opens in new window) major in the Dietrich College of Humanities and Social Sciences(opens in new window), who served as the master of ceremonies.
"Class of 2026+, today you begin your college career and embark on an exciting journey to fulfill lifelong ambitions. I can imagine that you are all feeling pretty triumphant to have made it to this moment. And you should," Jahanian said. "The next four years or so will undoubtedly be some of the most transformative of your young lives. The education you will receive here at CMU will give you every opportunity you can imagine to achieve your dreams."
Carnegie Mellon had a record 34,261 students apply to join the Class of 2026+, with record numbers of applicants across all schools and colleges at CMU. Nearly 11% of applicants to this class were admitted — CMU's most selective admittance rate ever — with a record 45% of admitted students enrolling. In just three years, the number of applicants to CMU has risen by almost 25%.
Gina Casalegno and Farnam Jahanian pose for a photo with this year's head orientation counselors inside of McConomy Auditorium.

Carnegie Mellon President Farnam Jahanian welcomes the class of 2026+.
Jahanian shared that the Class of 2026+ includes students from 46 states across the U.S., with international students comprising 19% of the class from 42 nations around the world, including the United States. And 12.5% are first-generation college students.
"None of this is by chance," Jahanian said. "A diverse and inclusive community is the foundation for excellence in learning, creativity and human development."
At the close of his welcome remarks, Jahanian gave the students three pieces of advice:
Don't be afraid to venture outside your academic boundaries.

Focus on the present.
Develop a healthy work-life balance and treat yourself with care.
"If you take away anything from today's remarks, let it be this — you are not alone," Jahanian said. "We are here for you, with you, beside you. This is a community — and you are our newest members of the community."