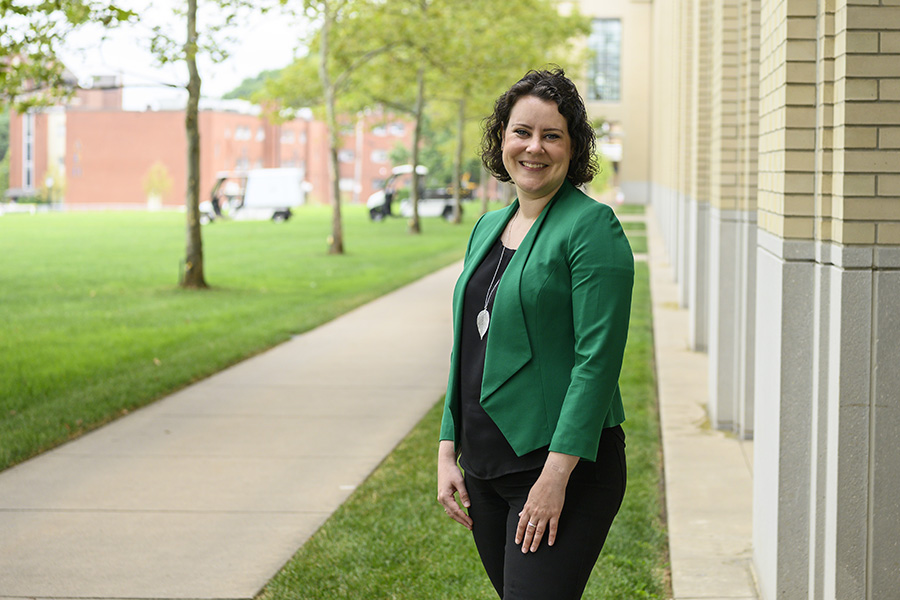 August 21, 2019
Schultz Supports Students Well Beyond Orientation Week
By Kelly Saavedra ksaavedra(through)cmu.edu
Julie Schultz knows what it feels like to be the new kid on the block.
As associate dean for first-year orientation and family engagement, this is only her second time leading Carnegie Mellon's new undergraduate students through Orientation Week activities.
While she's still relatively new to CMU, Schultz has been helping students transition to college life for 15 years. So, when friends at the university invited her to apply for the position, she was thrilled at the opportunity to work with a student body of such high caliber.
"Carnegie Mellon students are so talented, and the thought of helping them through their transition really appealed to me," she said.
Schultz said the university's award-winning Orientation Week program is a strong beginning, but she recognizes that the journey starts long before the day students move in and that there is still work to be done after the week ends.
"Orientation Week is a strong launching point, but what really excites me is developing the programming that leads up to Orientation Week and what follows after it," she said. "There is much thought, preparation, transition and expectation that goes on with the students and their families before they get here, so summer communications are important. And a lot still has to happen after Orientation Week in terms of learning how to be successful in college."
Toward these efforts, Schultz brings together partners from departments across campus to discuss strategies for supporting first-year students throughout their college transition and for how best to engage parents and other family members in their student's undergraduate experience.
"There are so many amazing, dedicated and talented colleagues and students on this campus, and I am lucky to work with them every day," she said.
Schultz, who grew up in Ohio, thinks Pittsburgh is just the right size for a city — big enough that there are a lot of things going on and small enough that there is a sense of community. She appreciates the arts, museums, restaurants and sporting events that are all entertainment options in a town she thinks the students will find easy to navigate.
"The Orientation Week program is sequenced very intentionally to start with the communities closest to the student and then widening outward. The first day, for example, is all about your house community — who's your roommate, who are your floormates — and then toward the end of the week we are doing Pittsburgh 'connections' trips," she explained. "The idea is to work with Pittsburgh business partners to get students to understand that, yes, campus is your home but so is the greater Oakland neighborhood and Pittsburgh, and by engaging with what the greater Pittsburgh community has to offer, you can really enhance your college experience."
As Orientation Week winds to a close, Schultz said she is already seeing signs of success.
"If the students have a sense of excitement and hope for what this place can be for them, if they've started to feel like there are people who care about then on this campus, then we are giving them a sense of the promise and possibilities for them at this institution," she said.