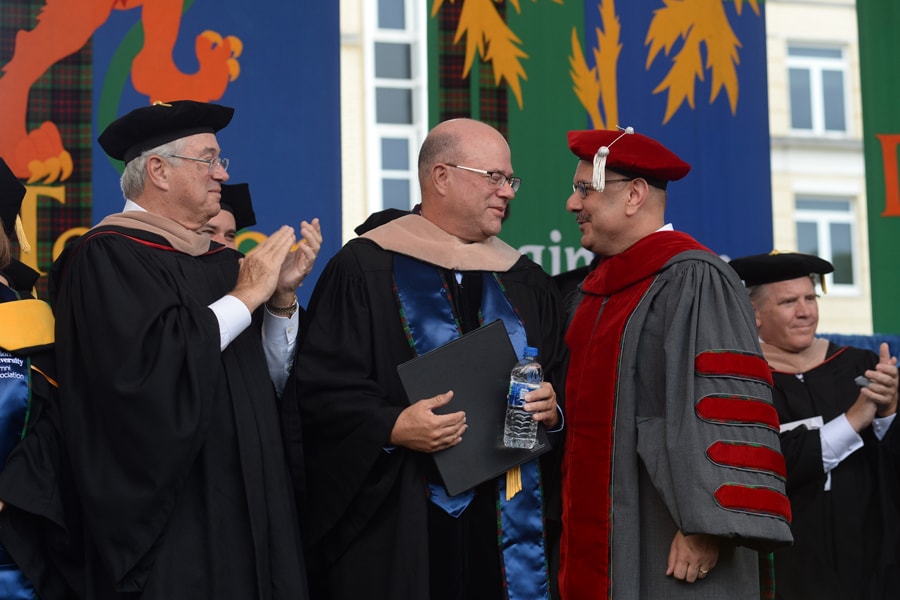 May 20, 2018
Tepper Imparts His Wisdom, Love for CMU with Class of 2018
Credits CMU with Giving Him Tools for Success
By Heidi Opdyke opdyke(through)andrew.cmu.edu
Media Inquiries
Abby Simmons
Marketing & Communications
Julie Mattera
Marketing & Communications
The speakers at Carnegie Mellon University's 121st Commencement felt right at home.
The Class of 2018 is the first class that CMU President Farnam Jahanian saw from first-year convocation to Commencement. He joined CMU in 2014 as vice president for research, became provost and chief academic officer from May 2015 to June 2017, and was appointed CMU's 10th president in March.
"You built a community rooted in empathy, inclusion and respect, forging connections that will last a lifetime," Jahanian told the graduates and their families. "You were instrumental in attracting a record enrollment of women and the largest number of applications in the university's history. Through your example, you made a community others wanted to join."
Jahanian urged the newly minted graduates to continue to enrich the lives of others and create opportunities for those who follow. He said an important part of the CMU community is its alumni, and "you couldn't find a better example for living CMU's mission and values" than keynote speaker and CMU Board of Trustee David A. Tepper.
In a heartfelt speech, Tepper chronicled the triumphs and disappointments of his personal and professional career. The founder of one of the most successful hedge funds in the world and among Carnegie Mellon's greatest benefactors, Tepper grew up in a working-class Pittsburgh neighborhood. He received his undergraduate degree from the University of Pittsburgh and an MBA from CMU in 1982.
"After Pitt, I worked at a bank for a little and then came to Carnegie Mellon for my MBA," Tepper said. "Even though it was hard work, I actually love this place. It was also the foundation for everything I've done professionally since then. This place gave me the tools I needed to be successful."
Tepper, whose 86-year-old mother was in the audience, told the students to thank their parents, to always think about charity and to treat all men and women — regardless of who they are — equally and with respect.
After graduating from CMU, he worked for Republic Steel during a rough time in the steel industry on financing deals to try to save the organization. He recalled the company declared a 7 percent pay cut across the board shortly after being hired.
"While you're young, go for the experience versus the paycheck," he said.
The experience got him a job at a mutual fund specializing in distressed companies and eventually in the door of Goldman Sachs on Wall Street. Because of the innovative experience he had at CMU, Tepper advanced quickly and became head trader on Goldman Sachs' junk desk. But, he never made partner, he said, because he refused to make a deal that didn't feel right. Rather than stay at Goldman Sachs, he founded Appaloosa Management in 1993. He urged students that if something feels wrong, they should do what they think is right.
"It won't hurt you. Just keep your priorities straight," he said.
"Right now you all have negative balances, but you have so much upside. We all have great opportunities ahead. Don't let anyone — anyone — tell you different. You live in what was, is, and always will be, the land of opportunity and the greatest and most generous country in the world."
Tepper has donated more than $125 million to Carnegie Mellon, including $55 million in 2004 to name the David A. Tepper School of Business, and $67 million for the new David A. Tepper Quadrangle, scheduled to open this fall.
Tepper received an honorary Doctor of Business Practice degree at the ceremony.
In addition to Tepper, Carnegie Mellon's 2018 honorary degree recipients are:
Ted Danson, an award-winning actor, environmental activist and graduate of CMU's School of Drama, who received an honorary Doctor of Fine Arts degree.
Shafi Goldwasser, a computer scientist who received the 2012 Turing Award from the Association for Computing Machinery and an alumna of CMU's Mellon College of Science, who received an honorary Doctor of Science and Technology degree.
Ada Yonath, winner of the 2009 Nobel Prize for Chemistry and director of the Kimmelman Center for Biomolecular Structure and Assembly at the Weizmann Institute of Science, who received an honorary Doctor of Science and Technology degree. Yonath was a postdoctoral researcher at CMU in 1969.
Student speaker Kevin Wainczak said he and his classmates learned from each other ways that fostered "that Carnegie Mellon spirit of putting our hearts into our work."
"Fellow students have taught me that it is important not to be a voice for others, rather we should use the voice we have to bring others into the conversation," said Wainczak, who earned his bachelor's degree with University Honors in cognitive science with a minor in software engineering. "I learned that while we are capable of doing great things, the most important thing that any of us can be is a great friend."