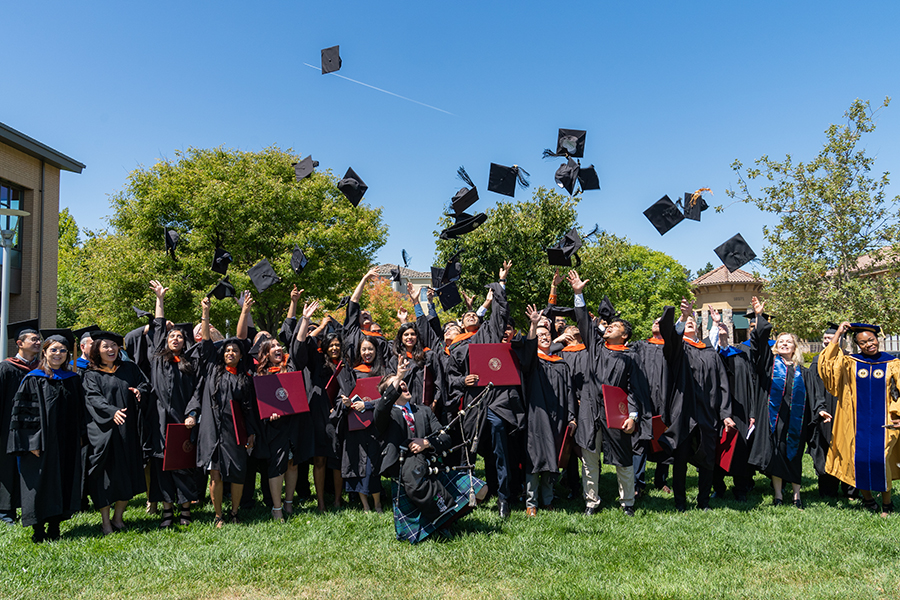 August 19, 2019
A New Class of Software Leaders
By Elizabeth Donaldson edonalds(through)andrew.cmu.edu
A new group of software leaders is ready to take on technology and business's biggest challenges. 
At the Master of Science in Software Management Diploma Ceremony, a student nominated by his peers, Siva Vasanth (MSSM '19), addressed the audience of students, faculty, and family. 
"I still vividly remember how empty I felt walking down the corridors of our buildings in CMU Silicon Valley," Vasanth said, recalling the nervousness he felt upon first joining the MSSM program.

Siva Vasanth (MSSM '19) addresses his class
"Little did I know that, twelve months later, I would be standing here: proud of every one of us, having made amazing best friends for life, coached by some of the best minds on earth, and having earned multiple offers."
Vasanth reminisced about campus parties and class projects, recognizing how each of the thirty-two graduating students had contributed to the culture of the MSSM community. 
Director of the Integrated Innovation Institute, Peter Boatwright, shared his congratulations: "Your degree is not only a statement of what you have done, but also of what you are going to do. Each one of you has the opportunity to do something special and meaningful in your careers and in your lives. The world needs people like you and skills like yours."  
Watch iii Director Peter Boatwright give his speech to the MSSM Class of 2019
Paolo Malabuyo, MSSM faculty and Director of User Experience at Google, introduced another influential leader of the MSSM community: the Graduate Student Leader, an honor granted to a student with outstanding leadership and academic achievements. Malabuyo presented Jacqueline Ajoux (MSSM '19) with the award, noting her remarkable work ethic and talent, as well as her innate willingness to uplift her peers.

Jacqueline Ajoux (MSSM '19), winner of the Graduate Student Leader award, with Paolo Malabuyo
In addition to celebrating the graduation of students, MSSM Program Director and faculty Gladys Mercier pointed the success of the greater SM community: the prolific professional and scholarly accomplishments by faculty and alumni, including those of Frank Gutierrez (MSSM '10).
Gutierrez was honored as the recipient of the Return on Education award. For the past ten years, the annual Return on Education Award award has given to an M.S. Software Management alumnus or alumna for their professional leadership and their commitment to inspiring students. He shared his story of moving from Nicaragua to the United States as a boy, of focusing on his academics, and of receiving a fellowship to join the part-time MSSM program. 
"Nine years ago, I was sitting where you were; looking forward to enjoying my weekends again and actually having time after work to attend happy hours. It was a long two years of reading, group projects, and presentations," he said. "But like good medicine, it paid off."
Frank Gutierrez (MSSM '10), winner of the 2019 Return on Education Award
Gutierrez advised students to live a balanced life and be mindful of their health, to have a healthy sense of urgency that will guide them through hard decisions like when to start something new or pull the plug on a failing project, and to pay it forward by helping other people achieve their goals.
"Take advantages of opportunities that come before you. Be a good person and pay it forward," noted Gutierrez. "And most importantly, live a balanced life– be good to yourself."
Since 2003, the MSSM program has produced prominent software leaders in Silicon Valley and the world; we look forward to the Class of 2019 being part of this important legacy.
Click here to see more photos from the MSSM Diploma Ceremony.