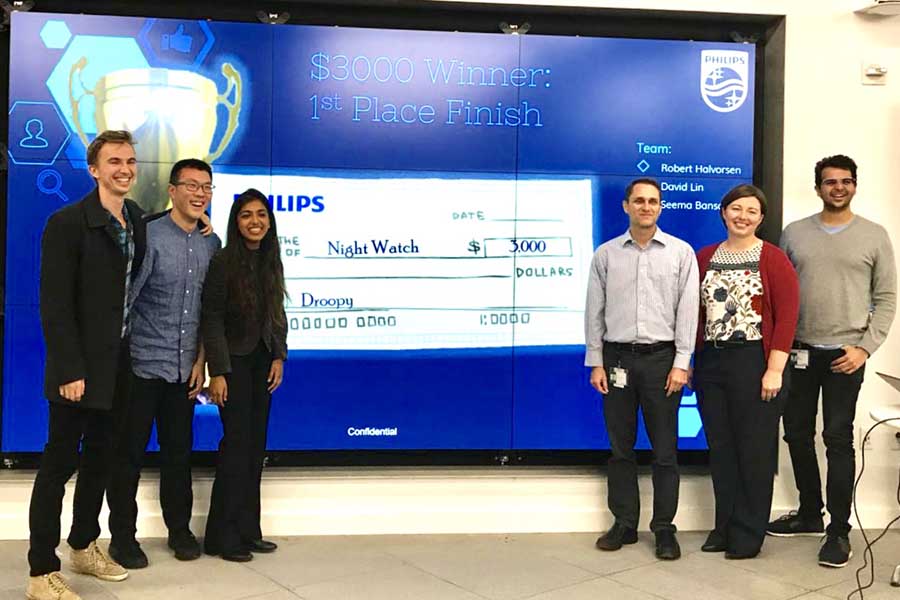 November 15, 2018
MIIPS Students Win Philips Design Challenge
By Elizabeth Donaldson edonalds(through)andrew.cmu.edu
This October, students from across Carnegie Mellon joined cross-disciplinary teams and competed in the 2018 Philips Design Challenge to find a solution for healthier sleep. Teams had one month to brainstorm, research, and ideate a concept that could be implemented into the Philips sleep product portfolio.
"The Advanced Innovation group here at Philips was overwhelmed with the level engagement from the student teams on this challenge. We asked a lot of them and only gave them four weeks to pull it off," says one of the challenge judges, Brent Bellinger, Senior Product Manager at Philips. "Each team went above and beyond our expectations."
The competition concluded as students pitched their ideas to the Philips Advanced Innovation team, with Master of Integrated Innovation for Products and Services students David Lin, Seema Bansal, and Robert Halvorsen of Team Night Watch taking home first place and a $3,000 prize for their sleep aid for teens.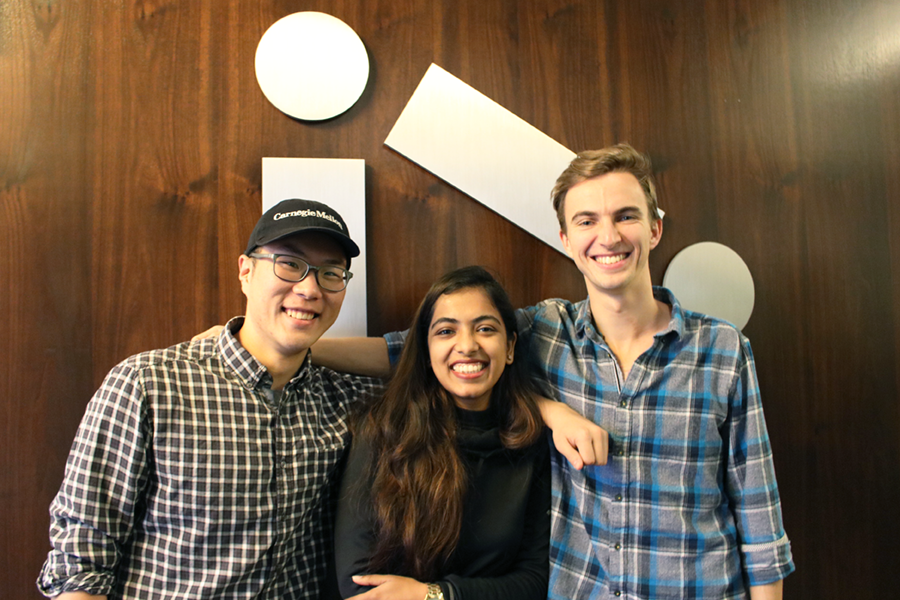 Team Night Watch from left to right: David Lin, Seema Bansal, Robert Halvorsen
Recent studies show that nearly half of all teens in America are sleeping less than seven hours a night, a detrimental two hours less than recommended by sleep experts. The MIIPS students of the Night Watch team decided to tackle one of the emerging causes for this growing epidemic: the use of smartphones.
"What was the difference that gave the Night Watch team the win in this competition? It really came down to one thing: understanding of the consumer. They did the best job in researching the potential customer, empathizing with their pains and being able to develop something unique that would meet their needs," says Bellinger.
The winning team developed Droopy, a bedside companion that helps teens fall asleep and monitors the quality of their sleep. The device eliminates the dependency on a smartphone, and encourages restful sleep by playing calming stories, scenes, and sounds of the teen's preferences. At bedtime, Droopy dims to an evening-hued light, then warms to a morning-hued light to help teens wake up. Droopy tracks sleep with ultra-low-power radio waves and, from that data, determines the most effective bedtime routines. An additional gamification element "unlocks" new device functions and promotes continual use.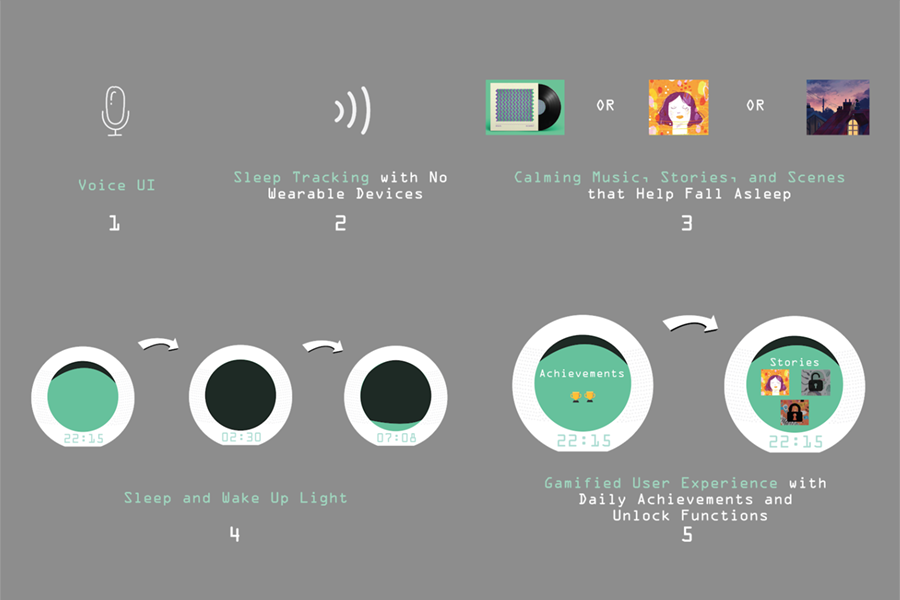 Droopy sleep aid
Working under the challenge's quick deadline, Bansal, Halvorsen, and Lin divided their time as evenly as possible. To kickoff the event, the team dove into question-storming, thinking of all the "whys" and "hows" surrounding unhealthy sleep, and then spent a week and a half conducting product and user research. For the final half of the challenge, the team worked to consolidate their idea and develop their product.
With little time to spare, communication was critical to the team's success.
"Since we only had three team members, the communication process was faster and more efficient," says David Lin (MIIPS Advanced '19). "One thing I loved a lot was that, whenever one of the members had some great ideas or insights, we would meet and discuss them immediately. Such a fast reaction time helped us to generate many great ideas and inspire each other during the process."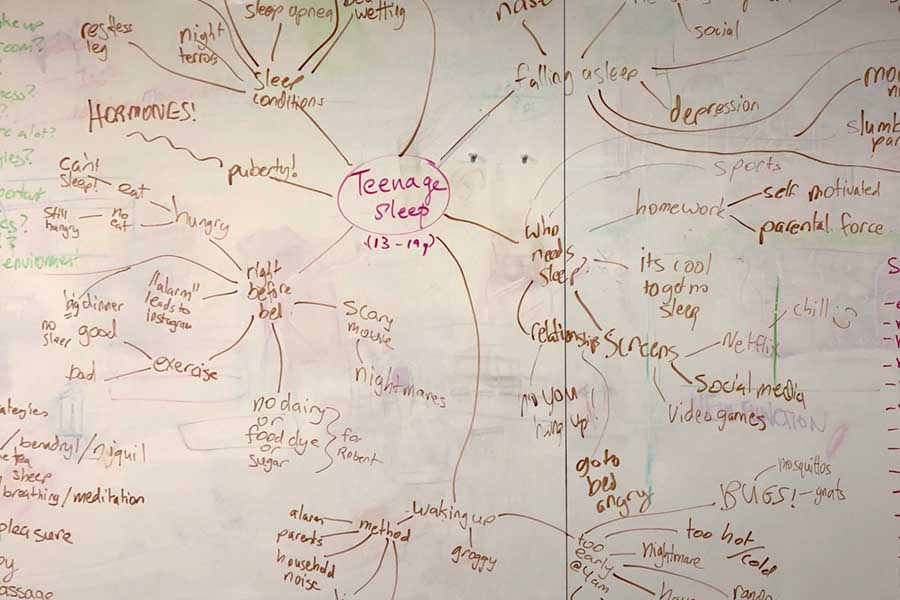 Mapping problems and concepts
The three team members each came from different backgrounds and the diversity of their skills and perspectives turned out to be an advantage.
"Robert had the mechanical engineer background, I'm from user research design and have an entrepreneurial background, and David has business knowledge and graphic design skills," says Seema Bansal (MIIPS Advanced '19). "The overall experience of participating in the Philips Sleep Design Challenge was amazing, and that was mostly because of our team structure."