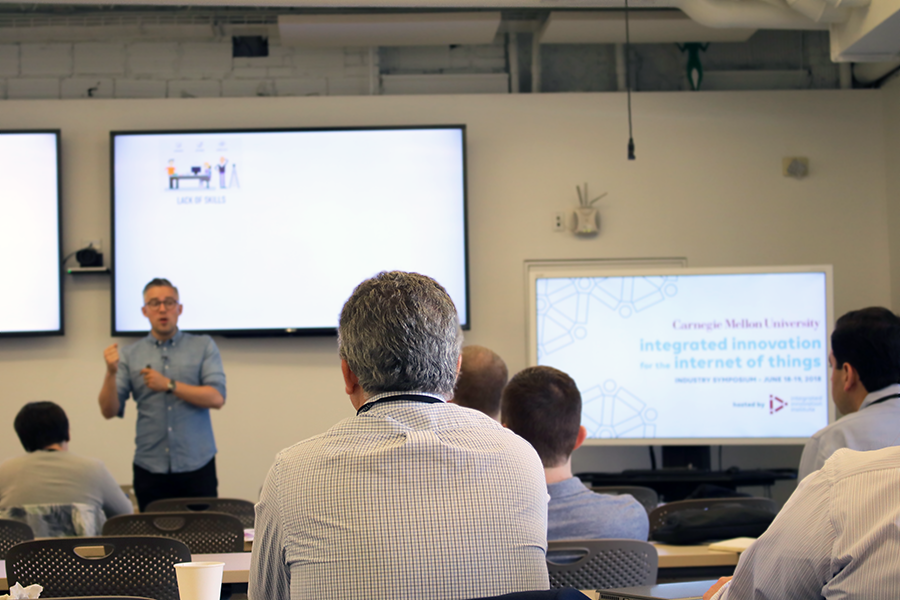 June 26, 2018
"Connecting" Experiences: III Hosts Industry Symposium for the Internet of Things
By Elizabeth Donaldson edonalds(through)andrew.cmu.edu
On June 18 and 19, industry leaders and CMU researchers converged at the Integrated Innovation Institute to share their unique perspectives on the implications of the Internet of Things for a symposium, Integrated Innovation for the Internet of Things.
"This was the first event of its kind for the Integrated Innovation Institute," says Daragh Byrne, Assistant Teaching Professor who has been advancing III's IoT curriculum and applied research since 2014. Held in Pittsburgh, the symposium attracted local professionals across various industries, such as consumer products, healthcare, commercial transit, and venture capital. "Our goal was to build a conversation between academia and industry about IoT product design, education, and preparedness today, and what's needed for success tomorrow."
Major thought-leaders in the world of connected technologies framed the days' conversations with keynote talks. Zach Supalla, CEO and founder of all-in-one IoT platform Particle, explained the technology hype-cycle and tasked innovators to respond to IoT disillusionment with impactful solutions to real-world problems. Alexandra Deschamps-Sonsino, founder of the Good Night Lamp and author of "Smarter Homes," spoke of the potential of connected spaces and products in the home, an area of technology that has been in evolution for nearly two-hundred years.
Through multiple breakout sessions and panels, professionals and academics collaboratively explored current technologies and consumer behaviors.
For the panel "Perspectives on IoT," Jeffrey McDaniel of Innovation Works moderated a series of lightning talks by professionals from Wise Telemetry, 4moms, and Carnegie Mellon's Corporate Start-Up Lab. Through their discussion, the panel reevaluated commercial models and proposed new approaches to creating value in IoT products and services.
In another session, attendees weighed in on crucial emerging topics at intimate roundtable discussions, exploring the need for enhanced training around data management and privacy in the wake of regulations like Europe's GDPR.
Looking to the future, Byrne sees opportunity to apply lessons from the symposium into coursework he teaches at the Integrated Innovation Institute, including Designing for the IoT and IoT Ecosystems.
"These conversations were both a validation and a stock-check of what we're doing and what we're not doing," Byrne explains. "It's essential for us to know where industry is going; it shows us where our students need to focus."