October 03, 2018
#WomeninTech: III at Grace Hopper Celebration 2018
By Elizabeth Donaldson edonalds(through)andrew.cmu.edu
"Are you coming in for Grace Hopper? Me too!" 
The question was repeated again and again between women on flights to Houston, in airports, hotel lobbies, Uber pools, and at the Starbucks nearest the George R. Brown Convention Center.
Over 20,000 people were abuzz in Houston, prepared to brainstorm, network, and inspire; the city was hosting the Grace Hopper Celebration (GHC), a three-day conference and the world's largest gathering of women technologists.
Of the thousands of attendees, Carnegie Mellon was a prominent presence. University faculty and alumnae spoke on panels and led workshops as current students met potential employers and new friends during conference sessions. Admissions staff from six different departments represented the university as they connected with alumni and prospective students.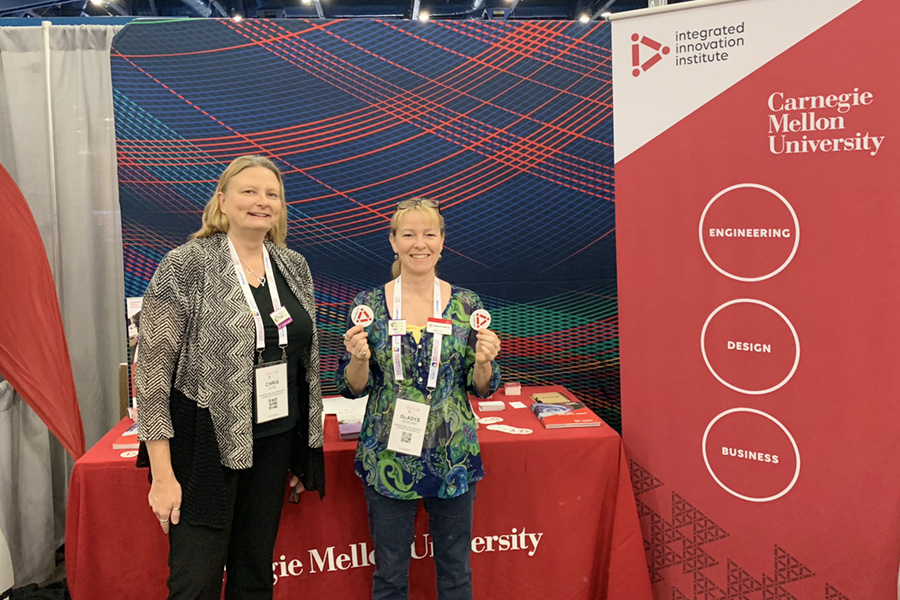 Director of Admissions, Chris Zeise, and M.S. Software Management Program Director, Gladys Mercier, at iii's booth
The half-dozen CMU departments stationed on the expo floor were in the good company of major tech corporations like Google, Facebook, Oculus, Disney and Salesforce. Hundreds of organizations were at Grace Hopper to showcase their technology and attract talent.  
"Engineering is a male-dominated field, so the fact that companies are here looking for women is so amazing," Kasandra Price (MIIPS '19) explains, sharing that she spent much of the week meeting and interviewing with potential employers. It was the community, though, that set the Grace Hopper conference apart from others: "People are excited about you, they're pulling for you. It's a very different energy than other career fairs or conferences."
"I've wanted to come to Grace Hopper for the last five years," says Dhatri Misra (MSSM '18). "And hearing the struggles of women in tech that I personally know and of how they keep persisting and growing has been so inspiring for me. I can closely relate to these women, and that's what gives me the encouragement: if they can do it, I can too!" 
The spirit of stepping up, leaning in, and giving back was the primary theme for everything from conference sessions to swag and signage. Sessions like "The Past, Present, and Future of #MeToo Movements" and "Fraud Alert: Shatter Imposter Syndrome" embraced GHC's culture of storytelling. In packed conference rooms, strangers opened up, listening to each other's personal journeys. Attendees were invited to write words of wisdom on whiteboards, chalkboards, and Post-It notes. In a gallery celebrating women's technological achievements, holograms shared visions for women of the future nearby an exhibit of Admiral Grace Hopper's desk.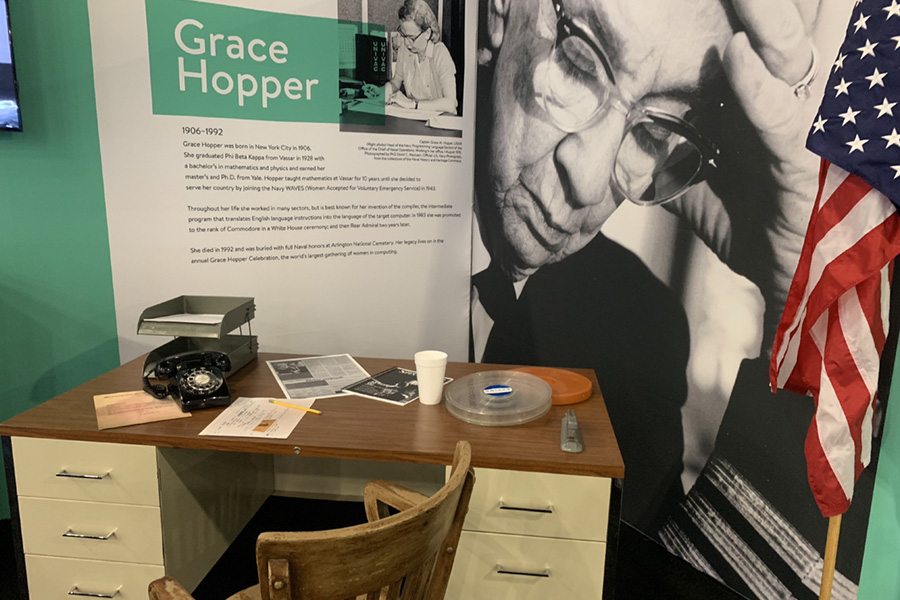 Admiral Grace Hopper's computing desk, complete with renderings of her famous compiler and a call number tape. 
On one afternoon, Amrutha Chebbi (MSSM '16), a Technical Program Manager at LinkedIn, stepped away from her recruiting station at LinkedIn to visit her alma mater's booth. She handed out CMU swag and chatted with interested attendees, sharing her academic experience and professional advice. "I'm here to give back! I'm here to connect people to my networks at CMU and LinkedIn."
On the last day of the conference, after meeting with countless influential women and learning impactful ways to use technology, Misra made a mental list of all the people to follow up with and topics to continue to explore. For her and many others, the Grace Hopper Celebration was just the beginning: "I have so many action items! Now I have so much work to do."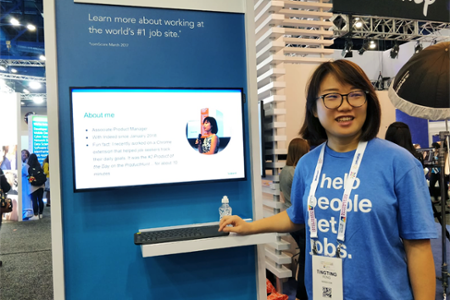 Grace Hopper Highlights
Tingting Feng (MSSM '16) represents Indeed during a poster session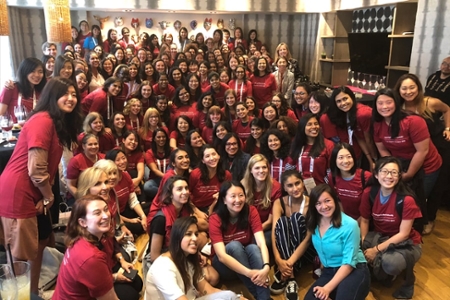 Grace Hopper Highlights
Over one-hundred Carnegie Mellon alumnae and current students attended the CMU alumni event in Houston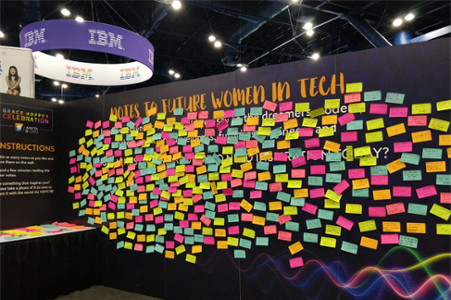 Grace Hopper Highlights
Attendees share hope and advice on "Notes to Future Women in Tech" Post-It board