June 04, 2018
The Class of 2018 Reflects on Their Integrated Innovation Experience
By Elizabeth Donaldson edonalds(through)andrew.cmu.edu
"We can't wait to see what meaning you bring to the world," Peter Boatwright, director of the Integrated Innovation Institute, spoke to Master of Integrated Innovative Products and Servies and Master of Science Technnology Ventures students at the May 2018 diploma ceremony. 
The students of the Class of 2018 are trained and motivated to use their interdisciplinary skills and knowledge to bring forth meaning in new technology. With each student joining the Institute from a different background or area of expertise, the Class of 2018 is a diverse community of makers and doers. Over the course of their programs, they have inspired one another to create technology that will bring real meaning to real people.
To see photos from the day's event, go to our Facebook page.
iii Graduate Reflections
As the innovators of the Class of 2018 look ahead, they also consider the programs that refined their skills and furthered their interests.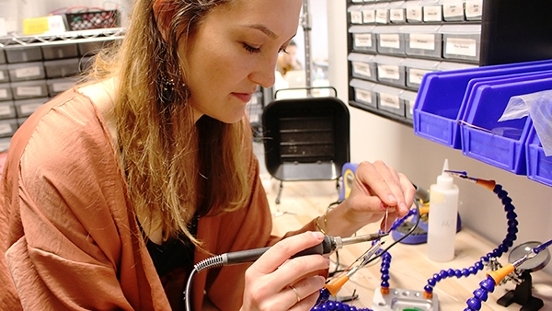 Chelsie Corbett (MIIPS '18)
"I think at the end of the day, I've realized how capable I am. Things that I never thought I would be doing, never thought I'd be making, I won't bat an eye at now."
Corbett left the healthcare technology industry to join the Integrated Innovation Institute MIIPS program, where she gained skills in user research and product development to turn her ideas into physical products. She founded the Futurist Club to engage interdisciplinary collaboration to address the upcoming challenges of humanity. After graduation, she intends to start her own business.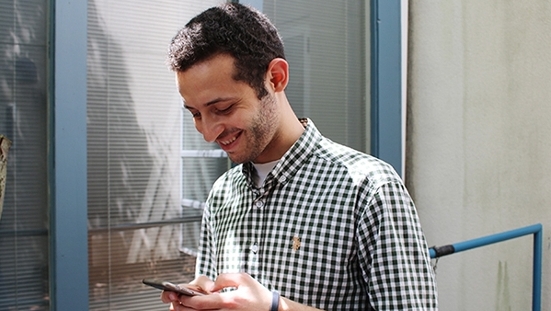 Mohamed Soliman (MIIPS '18)
"In the MIIPS program, I've developed very close friends. People are coming from Asia, some are from the Middle East like me, some are from Russia or America, and all of us are coming from different backgrounds, different ages, different skills. We've all learned so much from one another."
A mechanical engineer from Egypt, Soliman applied his Fulbright Scholarship to join the Institute and gain interdisciplinary skills and industry insights. Mohamed learned industrial design and business skills that complemented his technical background, pivoting his career from engineering to product management. As a graduate, Soliman is working as a Product Manager in Dubai.

Zhongyuan Li (MSTV '18)
"It's the first time that I've stepped back from engineering to study business management. I've learned a lot about entrepreneurship, which I can implement in my own start-ups. I've listened to lots of famous guest speakers and have learned from their entrepreneurial experiences."
Li joined the first MSTV while pursuing a dual degree in Civil and Environmental Engineering. Previously, Li had studied and worked in China as a structural engineer. Having gained new management skills and expanded his engineering portfolio, Li looks forward to applying his MSTV experience to his future entrepreneurial endeavors. 
Olivia Roy (MIIPS '18)
Roy received the Student Engagement Award at the 2018 Alumni Awards event, hosted by the Carnegie Mellon University Alumni Association. While Roy received her undergraduate degree from Carnegie Mellon's Mechanical Engineering Department, she served as a Resident Adviser and organized storytelling events to connect students. Roy's campus engagement spanned across her Carnegie Mellon experience and from campuses in Pittsburgh, PA to Doha, Qatar.

Shuhan Li (MSTV '18)
"I feel like this program was like a short-cut to gaining soft skills that take years to build. It's been a very agile environment for me to grow and to learn."
Li studied mechanical engineering before he joined the Master of Technology Ventures program. As one of the first graduates of the program, Li feels as though he's gained the dynamic flexibility and soft skills that will give him the edge he needs as he explores his entrepreneurial pursuits.
Kira Mulshine (MIIPS '18)
Mulshine took a risk: she left her human resources job in New York City to move to Pittsburgh and join the Integrated Innovation Institute, where she would gain new expertise and pivot to a new career path. She and her colleagues developed MoodRing, a product they created in their Internet of Things course and have since pursued patenting. Mulshine has decided to move back to NYC after graduation, where she'll begin her product management career at IBM.

Xulu Liu (MSTV '18)
"The program has been so special, since we're the first four students. I now know I won't be a traditional engineer--I'll be an engineer who has business knowledge and will know how to build my own business in the future."
Liu lived in China before moving to California to study structural engineering at the University of California San Diego. She plans to apply her newly established management skills to a new role leading dynamic, global teams. In a few years, she hopes to return to China and start her own company. 
John Vanderveen (MIIPS '18)
Vanderveen worked in the field of industrial design before joining the Integrated Innovation Institute to gain interdisciplinary expertise and management skills. John feels that the community his MIIPS colleagues formed was what made his MIIPS experience unique and that their connectivity greatly enhanced the education. He was selected as class speaker by his peers and used his platform at graduation to celebrate the Institute's community of innovators.