August 15, 2018
Ready to Lead and Inspire: M.S. Software Management Class of 2018
By Elizabeth Donaldson edonalds(through)andrew.cmu.edu
"CMU is a dream of millions, but it became our reality. We shared, we laughed, we cared, we partied, we danced to some random songs... We wore some stupid costumes on Halloween, we celebrated each other's new years… Don't you think that's what matters in the end?" Prasen Shelar (MSSM '18) spoke to his graduating peers, professors, family, and friends at the Master of Science in Software Management Diploma Ceremony on August 12.
Nominated by his peers as Student Speaker, Shelar reminded his classmates of the memories they'd made in the past year. "What really matters is making sure that we cherish these small moments and success with great enthusiasm and excitement."
As he concluded his speech, Shelar encouraged his classmates to consider the power of kindness and the importance of a smile: "I know it's hard to do at times. But just be nice to others. Not just to your friends or family or acquaintances, but to everyone… Life's an echo—what you send out, comes back."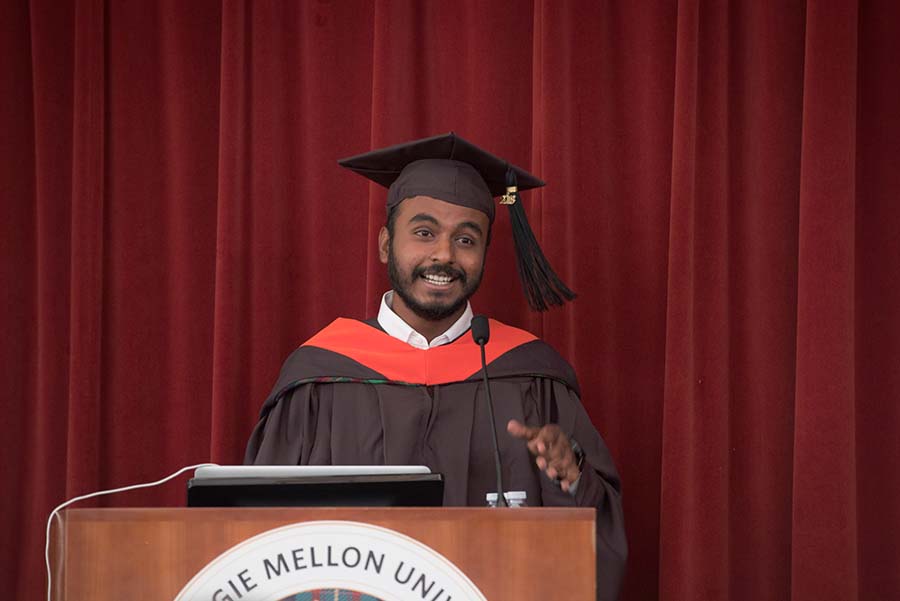 Student Speaker, Prasen Shelar (MSSM '18), at the August MSSM Diploma Ceremony
The August Diploma Ceremony celebrated the graduation of eight M.S. Software Management students as well as the May graduation of two students and the anticipated December graduation of seventeen students. The Ceremony also recognized alumni whose success embodied the values of the M.S. Software Management program and culture.
Merline Saintil (MSSM '05) was invited to the Ceremony to receive the 2018 Return on Education award. For nine years, the annual award has recognized an M.S. Software Management alumnus or alumna for their professional achievements since graduation. Saintil, the Chief Operating Officer of the emotional wellness network, 7Cups, was celebrated for her extensive career in executive leadership and was recognized for her ongoing dedication to Carnegie Mellon and its students. Throughout her career, Saintil has acted as a mentor for students and young professionals, and has served on the Carnegie Mellon Alumni Advisory Board as well as various university leadership councils.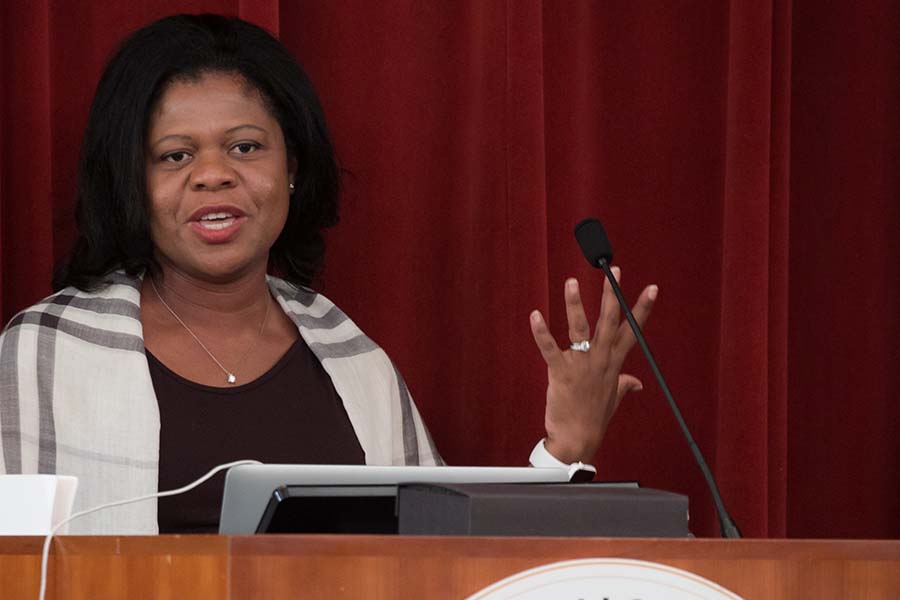 Merline Saintil (MSSM '05), the 2018 recipient of the "Return on Education" Award. 
Upon receiving the "Return on Education" award, Saintil shared the story of her life and the value of her mentors. She spoke of the success of the young people she's mentored and of the importance of paying it forward.
"Giving back to others isn't just a good deed—it's an act of leadership," Saintil told the graduates. "Once you've found your inner leader by giving back and owning your power, you will be unstoppable."
Congratulations to the Class of 2018: we look forward to the success you achieve and inspire!
For more photos of the event, go to our Facebook page.
iii Graduate Reflections
Upon their graduation, students share insights and reflections on their iii experience