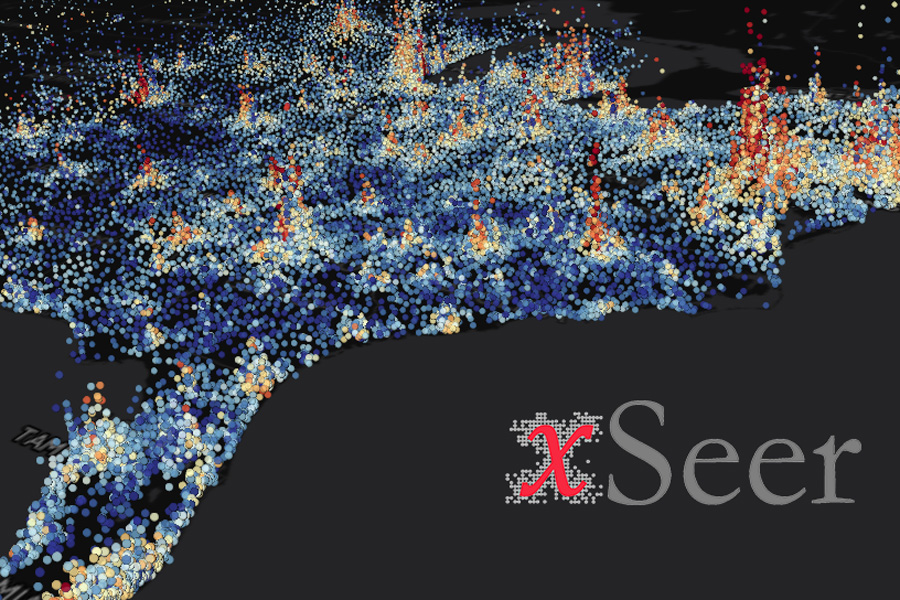 April 19, 2016
VentureBridge Team xSeer Wins Fellowship for Startup
By Allison Hodsdon allisonh(through)andrew.cmu.edu
Carnegie Mellon University students Amir Yahyavi and Saman Amirpour Amraii recently earned a $65,000 fellowship from Lightspeed Venture Partners (LSVP) to commercialize their startup xSeer, a venture they developed through the Integrated Innovation Institute's VentureBridge program. The CMU team was one of just ten teams selected for this competitive summer fellowship, which reviewed more than 300 applications in search of concepts that best exemplified entrepreneurship and innovation.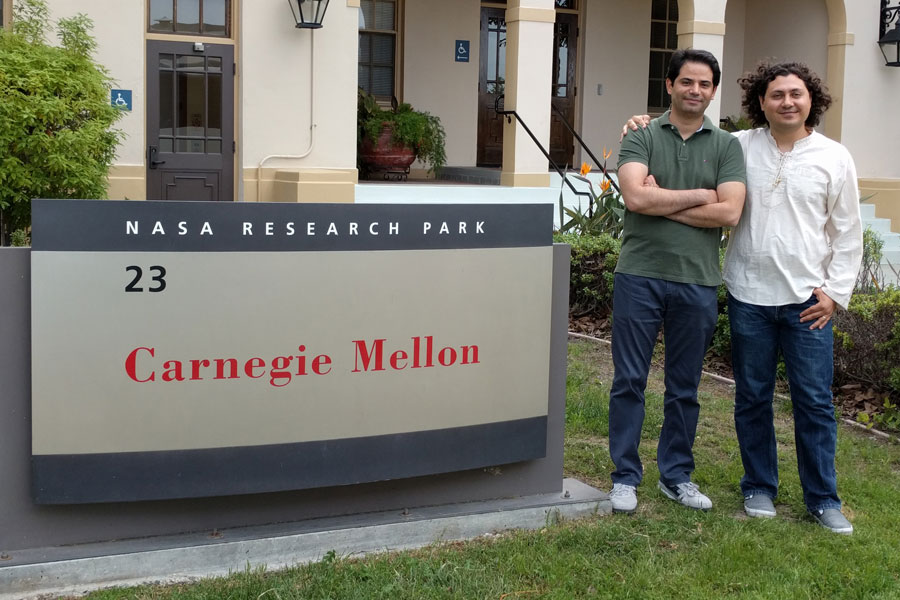 Transforming Billions of Data Rows into Value
Yahyavi and Amirpour developed the technology behind xSeer as postdoctoral researcher and PhD candidates at Carnegie Mellon's Community Robotics, Education and Technology Empowerment (CREATE) Lab. The team applied this technology to a platform they called Explorable Visual Analytics or "EVA", a tool that effortlessly processes billions of rows of data with more than 100 columns. The EVA platform can display up to five dimensions including color, time and 3D space (x,y,z), allowing users to transform incomprehensible amounts of data into valuable, action-ready information.
"Humans should be the ultimate data-driven decision makers," explains Yahyavi. "Our platform, EVA, is a human-centric data exploration and knowledge discovery tool which turns unlimited amount of data into an intuitive visualization combined with a very responsive analytical engine. Being fully cloud and browser-based, the entire discovery process is easily shareable via links as well."
Bridging the Gap Between Technology & Business
Yahyavi and Amirpour were accepted into the fall 2015 VentureBridge program, gaining the entrepreneurial skills and business savvy needed to commercialize the EVA platform and co-found their company xSeer. While in VentureBridge, they learned how to define their business concept, create a funding strategy and successfully pitch their company to investors. Previously based at Carnegie Mellon's Pittsburgh campus, the program also afforded Yahyavi and Amirpour crucial access to the entrepreneurial ecosystem of Silicon Valley.
The xSeer team has already caught the attention of major companies as potential customers. "VentureBridge gave us unique opportunities that only seasoned entrepreneurs get to experience," says Amirpour. "We have given several presentations to future investors and stakeholders, networked at industry conferences and met one-on-one with successful CIOs and CTOs. All of it was great practice and gave us key insight into learning what potential customers really want."
Amirpour continues that the VentureBridge program not only connected them to the LSVP fellowship opportunity but also gave them a distinct advantage when applying, "The mentorship and practice through VentureBridge allowed us to have a more mature presentation and application for LSVP. We felt very confident with xSeer, considering our business model was in a highly-advanced stage. It certainly gave us a competitive advantage when applying."
Video Demo: EVA, Job Sectors from CREATE Lab on Vimeo.
What's Next for xSeer
Now graduating from VentureBridge, the xSeer co-founders will use the LSVP fellowship to take their company to the next level. The fellowship is meant to act as a mentorship program and requires no equity or obligation, giving Yahyavi and Amirpour full flexibility and autonomy with their vision for xSeer.
Yahyavi announced that they have added two new team members to help at this crucial stage, "We will use the opportunity to develop some of the core functionalities of EVA (e.g., more complicated analytics and machine learning) and implement some of the most requested features. On the business side, we will work on how to package the platform."