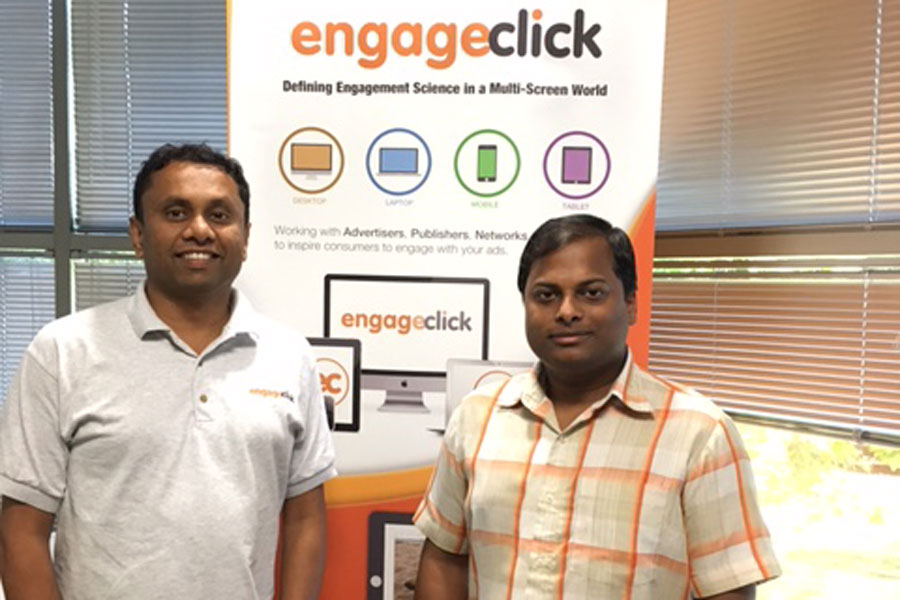 April 09, 2016
Alumni's Silicon Valley startup acquired by [24]7
On April 9, 2016, customer acquisition and engagement company [24]7 announced its acquisition of EngageClick. Based in Silicon Valley, EngageClick was founded by two alumni who met while studying in the Master of Science in Software Management program at Carnegie Mellon University's Integrated Innovation Institute.
After joining Carnegie Mellon, Manoj Rajshekar and Shekhar Deo quickly recognized that the tech industry needed a better way to collect data from consumers using smart devices and newly-developed touch screens. They launched a CMU-based initiative, experimenting with various advanced technologies such as machine learning, computer vision, and big data. After developing a product for their class project, they entered and won first place in Carnegie Mellon's Technology Showcase event in Silicon Valley at NASA Ames Campus, judged by industry experts. They also gained interest from corporate sponsors. In addition, the university's former Dean of the College of Engineering, Pradeep Khosla, became an advisor on the project and invested in the idea.
Project Success
EngageClick was launched in May of 2012. It focused on market-evolved mobile advertising. Shekhar explains, "We learned from the behavior of people using smart devices, and we used the collected behavioral data to leverage it for advertising venues. Platforms such as website content, banner ads, video ads, Facebook, Instagram, all on different devices, were used to identify the personalized behavior of the people using them. Using machine learning, it became possible for mass marketing campaigns. According to Manoj, "EngageClick's powerful machine learning system combines software to determine what people wanted in the past and use that data to forecast what they're likely to want in the future. This adaptive system then selects the best digital marketing delivery channel to present a customized content/ad in the optimal format for each individual shopper."
Over the next few years, EngageClick's client base grew to over 30 different entities including large corporate enterprises and educational institutions, including their alma mater, Carnegie Mellon University. CMU hired the start-up to assist with recruiting efforts in the Northern Regions of the U.S., targeting candidates who were working professionals who would benefit from the MS in Software Management part-time program.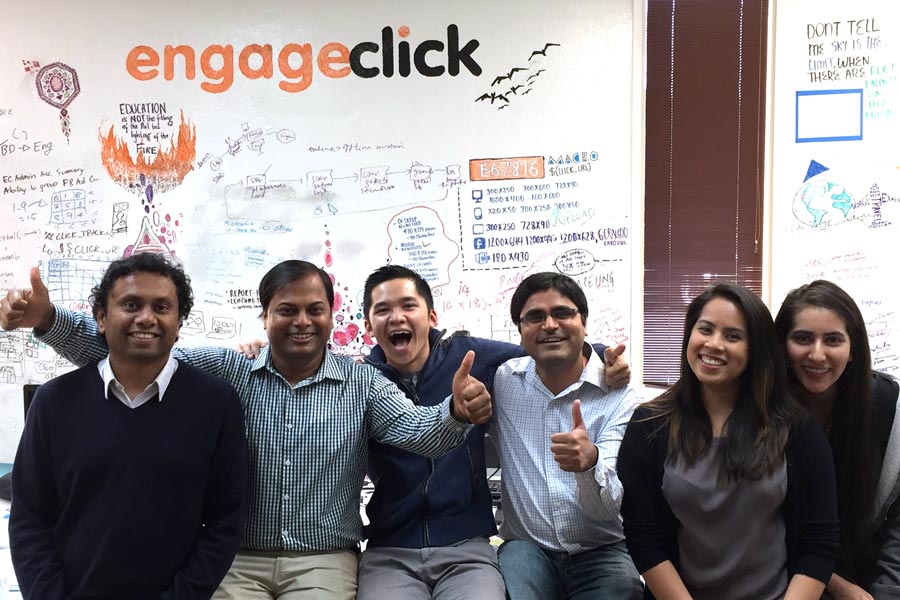 The EngageClick team. From left to right: Rajshekar, Deo & other team members.
In early 2014 and after several rounds of investment, [24]7 identified that EngageClick could assist them with the huge amounts of intent data and how to best leverage it. Manoj and Shekhar partnered with [24]7 to drive value to its clients, primarily large enterprises who were looking at personalizing every single digital touch point they have with their customers or prospects. As EngageClick was growing in revenue, it garnered attention from several large players in the ecosystem for acquisition. Meanwhile [24]7 was building out their Customer Acquisition Cloud in which EngageClick was playing a critical role, both companies realized that EngageClick being acquired by [24]7 would be the right choice as they shared a long-term healthy relationship in the ecosystem.
Motivating Factors & Qualities of a Successful Leader
When asked for insight into what it takes to be a leader, Manoj and Shekhar said that it's important to be nimble and ready to accept change, especially in the early stage of startup when the company is trying to take a shape. They added that the next most important trait of a good leader is to keep the team intact, especially in the roller coaster of early startup life. However, they also believe that a leader needs to be adaptive because as the company grows, so must its leadership. Manoj and Shekhar feel fortunate to have a great team, good vision and be able to deliver significant values to their customers.