CMU Alumni Accelerate Contract Negotiations with LegalSifter
Technology and artificial intelligence has touched nearly every industry and the law is no exception. A company founded by Carnegie Mellon University alumni has entered the field with a novel technology solution to increase efficiency and reduce risks for contract negotiations and create new revenue for law firms.
Co-founded in 2013 by Chief Science Officer Lars Mahler (SCS 2014), document review provider LegalSifter uses artificial intelligence to stand out from competitors, aiming its services at overworked in-house legal departments, operations teams and procurement professionals. 
"LegalSifter was built upon CMU's world-leading machine learning and natural language processing expertise. I had the privilege to learn from top-notch faculty in an environment filled with brilliant, creative people. We were taught both the theoretical foundations of artificial intelligence along with practical techniques of how and when to use different approaches," Mahler says. "LegalSifter's mission is to bring affordable legal services to the world by empowering people with AI. Carnegie Mellon gave us the tools to pursue this audacious goal."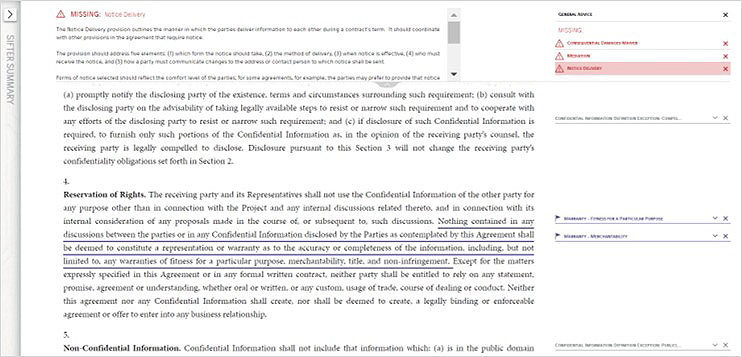 LegalSifter's AI in action
Named as a Company to Watch in 2018 by Disruptor Daily and selected by CB Insights as a leader in expert automation and augmentation software, Legalsifter has strong CMU ties with six additional CMU alumni and faculty invovled in the company, including Scott Jubeck (TPR 2003, 2008), vice president of marketing; Karin Gregory (DC 2000), vice president of product; Assistant Professor of Computer Science Taylor Berg-Kirkpatrick, advisor; Sean Ammirati, adjunct professor of entrepreneurship and research fellow, chairman; Eben Adams (TPR 1993, 2005), vice president of growth and partnerships; and Rob Marsh (TPR 1994), board member.
The company's initial funding came in 2013 from the Carnegie Mellon Open Field Entrepreneurs Fund, which gives early-stage financial support to startups founded by CMU alumni. Since 2016, LegalSifter has received a total of $4.35 million after two rounds of venture capital funding to refine and expand their service, which began as a machine-learning program that summarizes, sorts and searches legal documents. Their current product uses machine learning and natural language processing technology to scan document text in order to provide advice configured by the firms. In a nutshell, LegalSifter can complete a contract review within a minute or two, with greater consistency and less risk of errors or missed terms.
LegalSifter's work is gaining momentum. In late 2017, the company announced partnerships with U.K. law firm TLT and Pittsburgh-based Horty Springer, a boutique law firm that focuses on healthcare providers, to provide a "combined intelligence" solution for contract negotiations. In 2018, they announced similar deals with Puerto Rico-based full-service litigation firm Estrella and Cleveland-based Nimble Services, a career development firm for legal professionals. In April 2018, LegalSifter added leading expert on contract language Ken Adams to further refine and inform product development.
For more about LegalSifter, visit legalsifter.com.