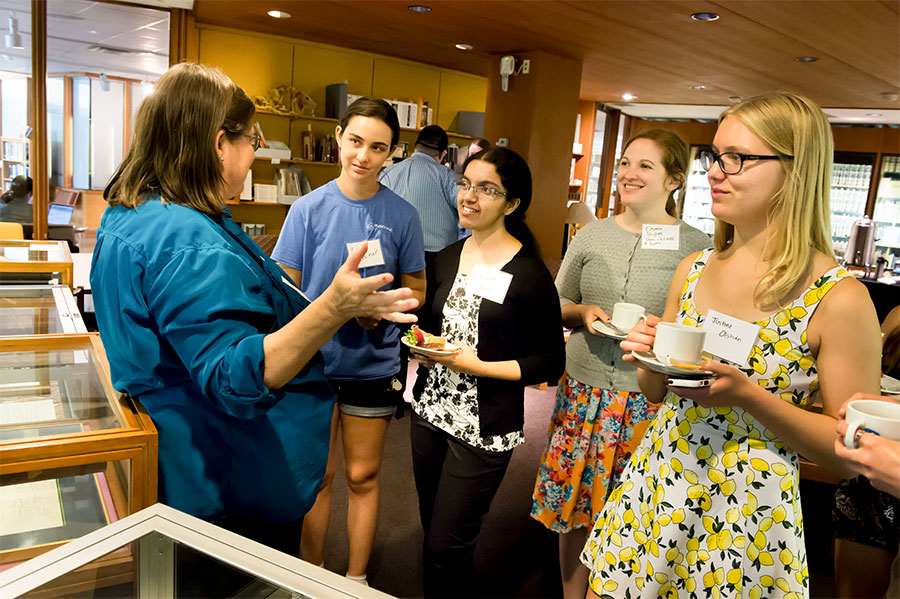 CMU Community Advances Women@SCS on #givingCMUday
Students and future technologists have access to mentorship through growing program
Fueled by funds from #givingCMUday 2017, Women@SCS at Carnegie Mellon University is leveraging the power of peer mentoring to build a strong community of women in computer science. They were one of 86 student organizations impacted by #givingCMUday gifts and challenges last year.
"Students have support from academic advisors and faculty, but to be able to go to another student who has been in their shoes is very powerful," said Carol Frieze, director of Women@SCS. 
Women@SCS's mentoring program links School of Computer Science students at all levels of study. Last year, this student-driven initiative matched 57 Little Sisters — first-year students, upperclassmen and Ph.D. candidates alike — with Big Sisters who provided friendship and guidance. 
After being awarded $500 through one of the #givingCMUday challenges, Women@SCS was able to expand their schedule of large-group offerings and introduce more informal events between structured programs, ultimately reaching more students and deepening the relationships between them. 
"These events help students form a stronger bond with their own sister and others as well, leading to a stronger overall network of support," said Anita Yerneni, a senior computer science major who coordinates the mentoring program. 
As the number of mentoring pairs accelerated last year, building connections between women at all stages of the program is more important than ever. Yerneni said that boosting large-group gatherings has improved student involvement and retention. It also provides additional opportunities for students to connect with their mentors.  
For Yerneni, peer mentoring is a valuable tool because of the strong friendships that can develop between two people so close in age. 
"It's nice to be able to share my experience with my Littles," she said. "Right away, you know this is someone you can ask for advice without being judged for it."
In addition to one-on-one mentoring and large-group social sessions, Women@SCS offers professional development opportunities and outreach programs like TechNights for middle school girls to engage the next generation of computer scientists. Group members co-sponsor events with SCS4ALL, which are open to all computer science students at CMU. 
Opportunities like these continue to grow and thrive with support from the CMU community.
For Yerneni, participation in Women@SCS has been transformative. She said it has helped her grow as a leader and public speaker, and she finds it inspiring to work with peers who see the importance of women supporting other women in computer science. 
"It's really contributed to my success here at CMU," she said. 
Any gift made at cmu.edu/givingCMUday now through November 27 will support impactful student organizations like Women@SCS.