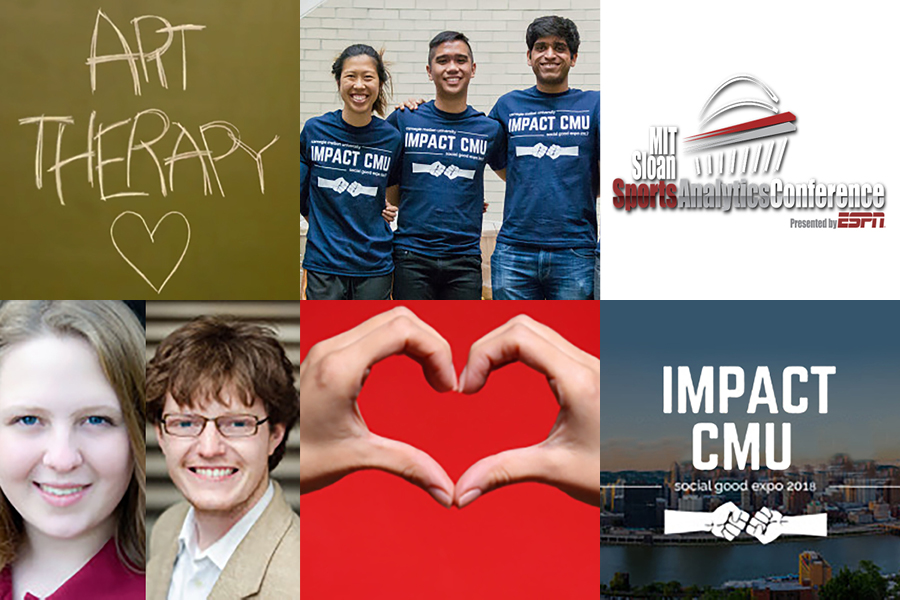 Four CMU Student Groups Seek Crowdfunding for Passion Projects
Four student groups at Carnegie Mellon are raising funds in the second round of CMU's Crowdfunding initiative to make into reality their ideas for a new opera about depression, a showcase of social good accomplished by CMU students, an art therapy course and participating at the Super Bowl of sports analytics.
CMU's Crowdfunding platform supports university-related projects from students, faculty and staff, and alumni with big ideas and modest funding goals by connecting them to potential funders via social media through an Internet platform.
The projects featured in Round 2 of Crowdfunding are:
"Trapped in a Mind with a Friend of Mine," a new opera from composer and conductor Andrew Dewey, a 2017 graduate from the College of Fine Arts, and current MFA Dramatic Writing student Lauren Wimmer, that gives a fresh perspective on depression and those who suffer from it.
Impact CMU, a campus showcase of the student organizations and projects teams who have made tangible social impact on communities around the city, country and world.
Art Therapy, a student-led course that uses art to teach healthy coping mechanisms and constructive habits to the CMU community.
2018 MIT Sloan Conference, an annual showcase of the sports analytics industry that the CMU Sports Analytics Club members benefit from attending to network and learn more about field and those working in it.
The Art Therapy and MIT Sloan Conference funding efforts will run through February 23 while the "Trapped" opera and Impact CMU campaigns will run through February 27.
Launched shortly after the new year, a Crowdfunding campaign by 10 CMU student organizations, including Global Medical Brigades, CMU in Haiti and Engineers without Borders, to raise money for overseas alternative spring break trips to volunteer in Africa, South America and the Caribbean runs through February 9.
"Crowdfunding allows donors to directly fund CMU projects about which they are passionate or that spark their imaginations," says Mary Ann McCollough, director of annual giving, which manages the Crowdfunding effort. "These projects are designed to have a direct impact on the CMU community."
Students, alumni, faculty and staff can submit applications for the third round of Crowdfunding by February 23 and the campaign will launch April 1. Information about how CMU Crowdfunding works and how to apply can be found online.
Since its launch in 2014, CMU's Crowdfunding platform has funded dozens of university-related projects, including overseas mission trips, new theatre productions and the production of electric racecars.
Contact the Office of Annual Giving at 412-268-5933.