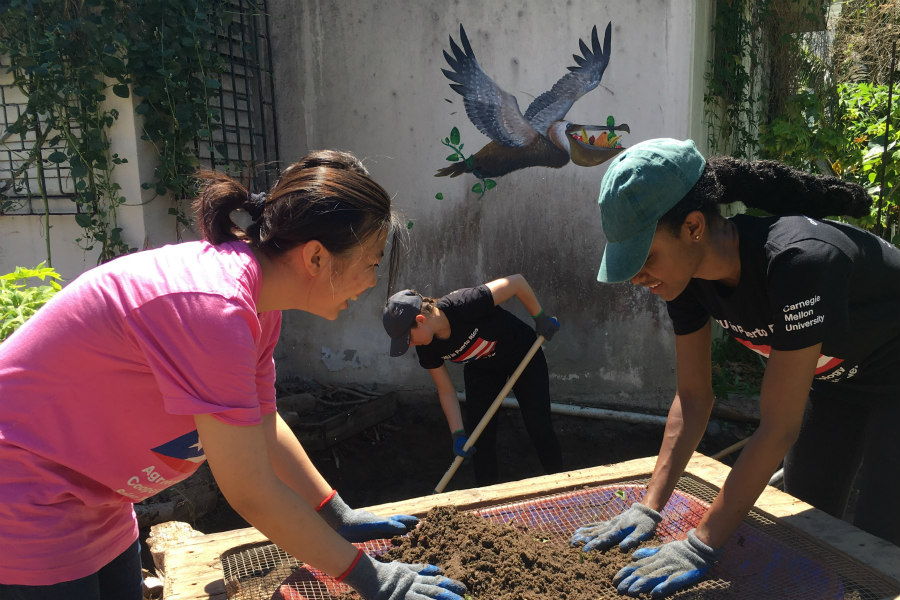 Not Your Average Spring Break
Support Helps CMU Students Make Global Impact and Learn from Service Opportunities
By Sarah Burke sarahbur(through)andrew.cmu.edu
For CMU students, spring break isn't just a week to unwind. It's an opportunity to make a difference. This March, 150 students participated in alternative break service trips and used their education to impact communities around the world — thanks to generous support from CMU donors.
Coaching Entrepreneurs in Ghana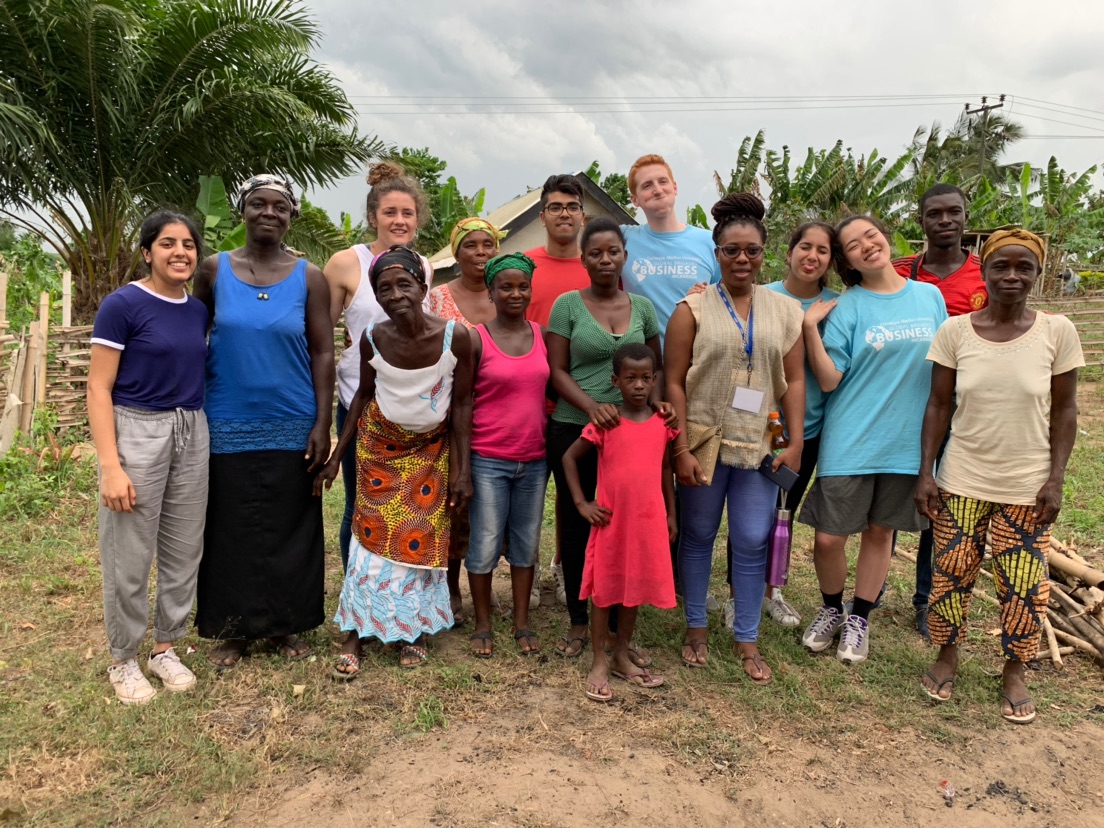 Allison Mui, a senior majoring in business administration and human-computer interaction, recently completed her fourth service-learning experience with CMU's Global Business Brigades. After prior trips to Panama and Nicaragua, this year she broadened her horizons and traveled to Ghana, where she and her peers provided coaching to two small businesses.
"These trips are almost entirely fundraised, so without our donors they would not be possible," she said.
Together, Allison and her team served Women in Need — a group of 20 women who sell cassava-based products — and Kweks Farm, which aims to expand into palm oil production.
The 15 CMU students helped these growing companies take ownership of their future by offering guidance on business planning, projections, accounting and financial literacy. While they were only abroad for one week, the team continues to provide support year-round through mini-workshops and consultations.
Allison enjoys collaborating with peers from other colleges to help entrepreneurs achieve their full potential. Teamwork across disciplines has been one of her favorite parts of Global Business Brigades — and her entire CMU experience.
"Having students from all different backgrounds, I've seen that every member has something new and unique to bring to the table," she says.
Building Climate Resilience in Puerto Rico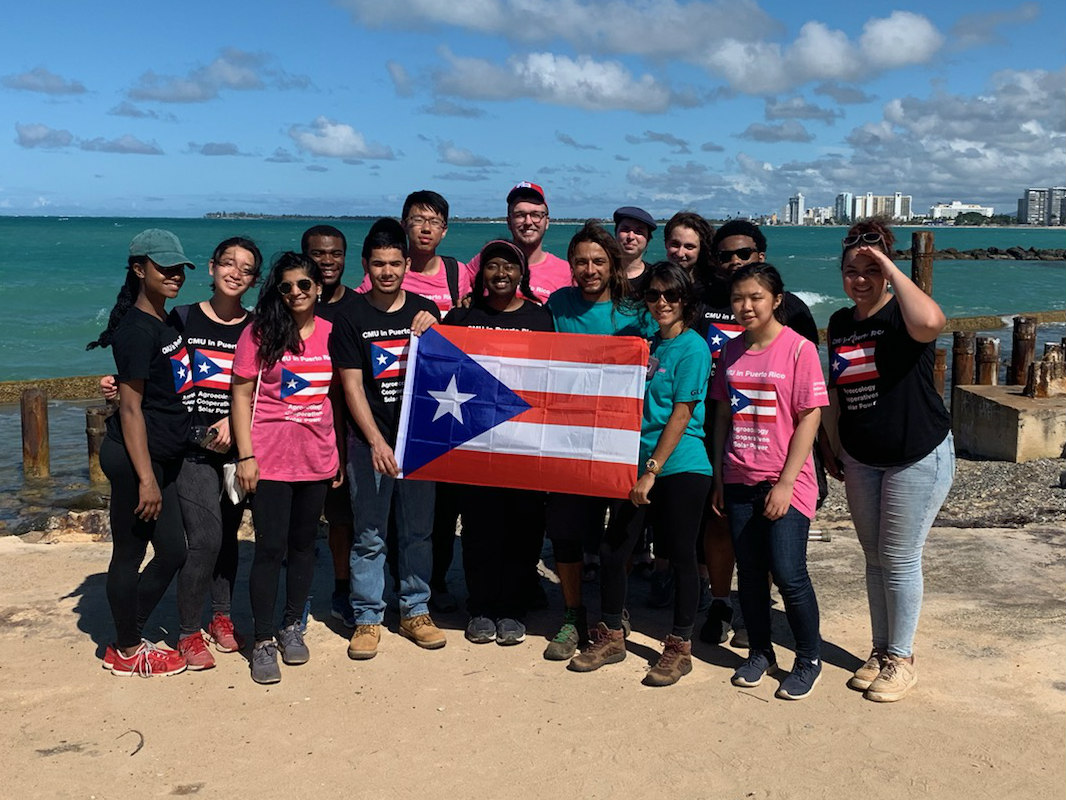 For Frank Andújar Lugo, a junior in engineering and vice president of student organization CMU in Puerto Rico, his alternative spring break was a chance to teach his peers about his home.
"It was an opportunity for me to share the beauty that comes with the island and the people," he says.
The group was also able to experience some of the challenges facing the island — "the poverty and the still-felt aftermath of (Hurricane) Maria," which struck in September 2017.
This was CMU in Puerto Rico's second spring break trip to the island, where CMU students partner with the people of Puerto Rico in their mission for long-term climate resilience. Founded and led by Heinz College student Tiffany Taulton, CMU in Puerto Rico aims to strengthen existing, community-driven recovery and sustainability efforts.
"As someone who lived in Puerto Rico as a child, I felt called to do something to help the people still living there," Tiffany says. "Puerto Rico had been suffering for a long time before the hurricane, and I wanted to help address the underlying political and economic issues that were causing so much hardship."
During their time in Puerto Rico, the 13 CMU students visited a variety of groups who are organizing to fight threats like mining, poaching, pollution and disruptive development projects that harm the ecological fabric of their communities. The students also learned how Puerto Ricans are banding together to form cooperatives, work toward energy independence and invest in sustainable agriculture and community gardens.
Frank reports: "The real strength in this trip was in exposing us to public policy challenges associated with various engineering solutions," such as bureaucratic obstacles to solar energy projects.  
"We rely heavily on our donors to make it possible for us to take a diverse team of students on our trip," Tiffany says.
In addition to the new perspectives she's gained as a participant, the opportunity to organize the trip and serve as president has also impacted Tiffany's education at CMU.    
She explains: "Creating an alternative spring break program and everything that running such a program entails — from marketing and recruiting, to fundraising and scheduling — has definitely made me a better leader and deepened my identification with Carnegie Mellon."