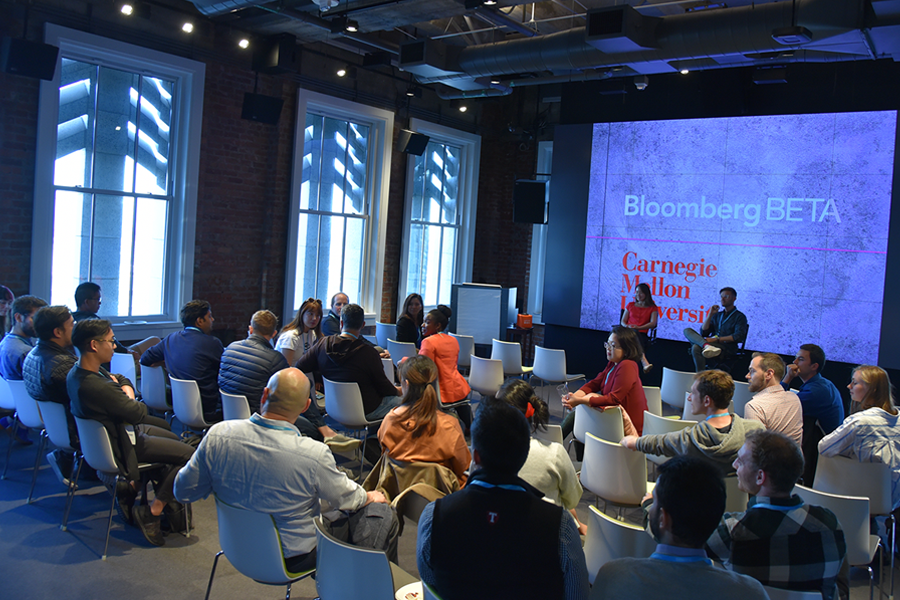 September 17, 2020
Connecting and Thriving
Alumni Kishan Patel and Will Sanders are bringing together Tartan alumni and students through new CMU Tech & Entrepreneurship chapters
Across the globe, there are thousands of Carnegie Mellon University alumni who are putting their great ideas to work by forming startups and other world-changing businesses — and Dietrich College of Humanities and Social Sciences alumni Kishan Patel and Will Sanders want to see them grow and succeed.
Last year, the pair launched the first CMU Tech & Entrepreneurship chapter, and in 2020, they've added 10 chapters led by Tartan volunteers.
Through the regionally-based chapters, Kishan and Will aim to empower entrepreneurs, industry experts, technologists and startup visionaries from all backgrounds and experiences to connect and grow through meetups, mentorship programs, speaker series, virtual events and Slack communities.
We sat down with Kishan, a Class of 2018 graduate, and Will, a Class of 2015 graduate, to ask them about the origins of CMU T&E, its benefits for Tartan alumni and students and where they see the organization heading in the future.
What seeded your idea to create and grow CMU T&E?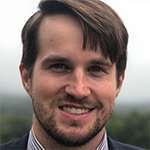 Will: The original idea came from searching for a way to connect and find alumni in San Francisco when I was starting my career in tech in 2016. I would come across CMU alumni, but there wasn't one group I saw dedicated to entrepreneurship. The original idea was Entrepreneurs of the Bay Area, which focused on highlighting successful founders and technologists and was quite informal. The group really started to grow after Kishan and I joined together a few years ago. At the end of 2019, I moved to New York City and started a chapter there. We then expanded globally by starting chapters in major tech cities across the world. As the pandemic spread, we began launching new chapters every week, leveraging the full remote transition. This year, so far, we've launched 10 additional chapters: Pittsburgh, Middle East, Asia, India, Seattle, Los Angeles, Boston, Washington, D.C. and Philadelphia. Each chapter has its own community and board of passionate CMU alumni leading it.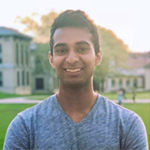 Kishan: I've always had a passion for community building and entrepreneurship and was very involved with both while an undergrad at CMU leading TEDxCMU, the Undergraduate Entrepreneurship Club and the CMU campus team for Human Capital. Knowing I would start a company in the future, I moved to the Bay Area after graduating in 2018. I soon noticed there wasn't a strong network connecting all the amazing alumni in the Bay Area together. After meeting Will, I knew I could leverage my experience building communities and teams to foster a stronger community among CMU entrepreneurs.
What do you hope CMU alumni gain from joining the CMU T&E community?
Will: We built CMU Tech & Entrepreneurship with the intention of instantly gaining a network wherever you are in the world. Students and alumni will have access to CMU Tech & Entrepreneurship events featuring entrepreneurs, software engineers, product managers, recruiting professionals and other people they would want to meet. Each chapter also has its own Slack community providing an asynchronous space for alumni to come together to share ideas, meet like-minded folks, have engaging conversations, participate in book clubs, ask for and offer help and share relevant opportunities like job postings.
Kishan: We want CMU alumni to be able to quickly and effectively get plugged into the incredibly vast and powerful CMU network. Whether you are looking to find your next job, meet co-founders, hire CMU talent, meet mentors, start a company, connect with investors or chat with like-minded alumni, the CMU T&E community can help connect you to the right people, opportunities and resources within the CMU ecosystem to help you succeed — catered to your individual situation. We also want to provide the opportunity to join a community of like-minded entrepreneurial alumni who will join and support you along your journey.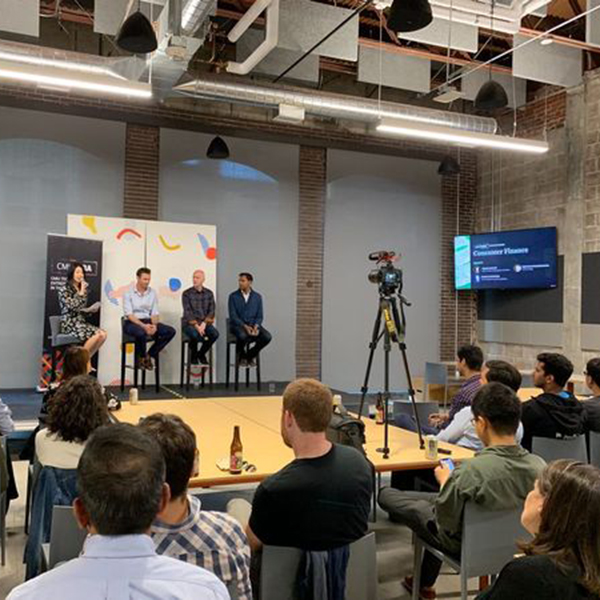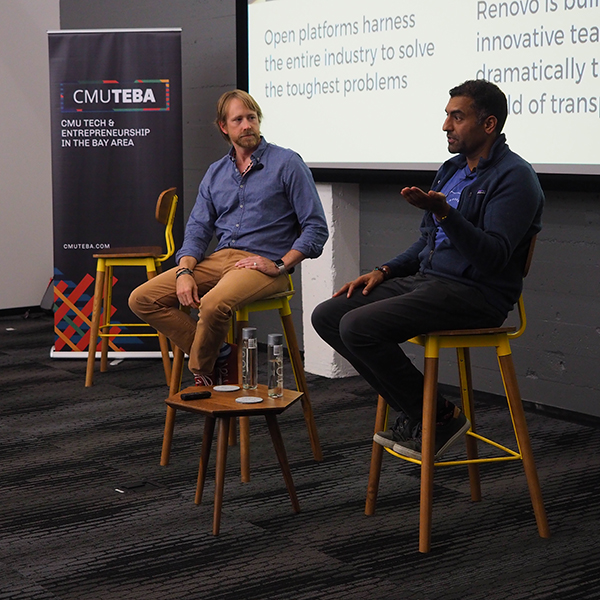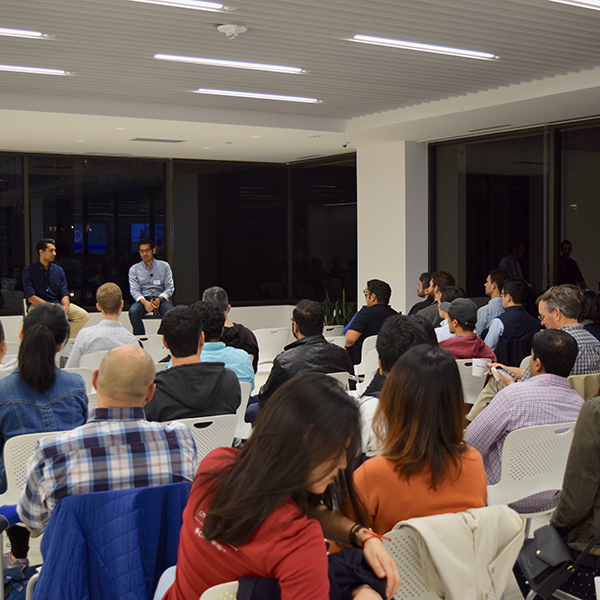 How has CMU's mindset of collaboration and innovative problem-solving and strong support of the entrepreneurial spirit driven you and your career forward?
Will: At CMU, I always enjoyed taking classes outside of my major which was economics. This included classes in negotiation, computer science, technology policy and energy systems. I have always wanted to continue building a collaboration between ideas and groups of people, and that is still what I end up doing. Outside of CMU Tech & Entrepreneurship, I have worked on ideas including an augmented reality contact lens and COVID-19 testing, which can only be solved through collaboration of all disciplines.
Kishan: The CMU community has continuously had a strong influence on driving forward my career and entrepreneurial ambitions. From helping me discover new opportunities to providing me mentorship to connecting me to like-minded peers, every CMU alumni I've connected with has been extremely generous in giving back and investing in my success.
Where does the future lead for CMU T&E?
Will: CMU T&E has had tremendous growth over the last year. While each chapter is rapidly growing and we are continuously launching new ones, we are focusing on creating a cohesive globally connected community where alumni across every chapter can easily support each other and connect independent of their location. We will also continue to build out new programming and resources to support the CMU entrepreneurship ecosystem, which will include an investor/angel community, a CMU-focused fund, CMU startup job board, CMU founders podcast, CMU entrepreneurship conference and much more.
Kishan: Our vision is to support and maximize the potential of every CMU entrepreneur through every step of their journey. We plan to increasingly invest in supporting both aspiring and current founders. For current founders, we have already started a CMU Founders community in the Bay Area, which has grown to more than 100 founders. Over the next few years, we will expand this community to include all CMU founders across the world and continue building out various infrastructure to streamline their process of raising money, building their team and connecting to customers. For aspiring entrepreneurs, we will continue to invest in new programming such as the CMU Future Founders program that can help them navigate the journey to starting a company including understanding what is involved with being a founder, connecting with mentors, building relevant skill sets, and exploring and validating their ideas.
"Our vision is to support and maximize the potential of every CMU entrepreneur through every step of their journey."