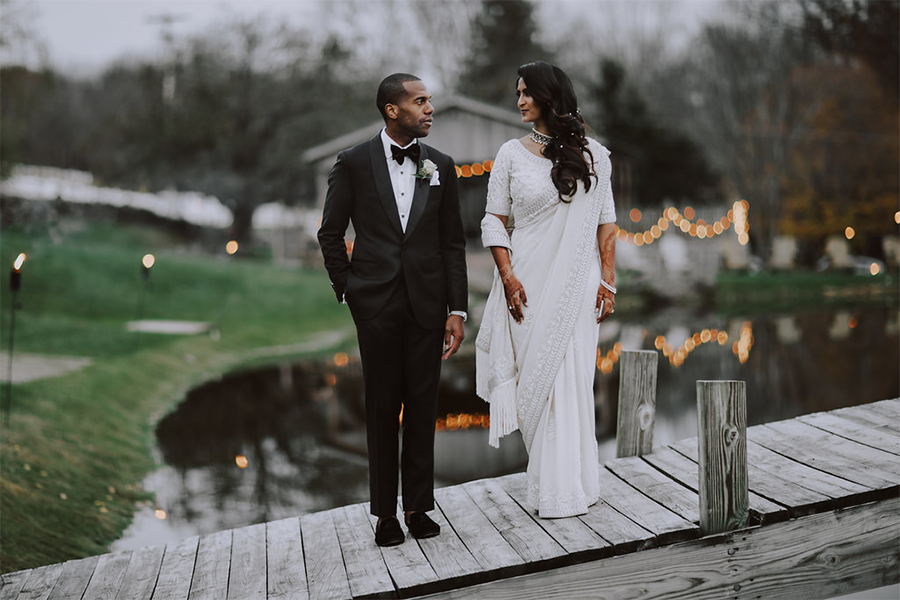 So Much Love in the Room
An alumni couple found both love and purpose during their years at CMU
By Joyce DeFrancesco jdefranc(through)andrew.cmu.edu
Once upon a time — also known as fall 2004 — a boy from the South Bronx met a girl from Westchester County on Carnegie Mellon University's campus. Thirteen years later, they were married in upstate New York surrounded by a "fusion of cultures, family and friends with so much love in the room."
Faryal Khan-Thompson (DC 2008) and Jaleni Thompson (TPR 2008) met during their first-year student orientation. They had a natural connection as native New Yorkers, but it wasn't until a few years later that their shared interests, joint involvement in SPIRIT, and overlapping social circles brought them back into contact. They would road trip home during holiday breaks, spending hours in the car talking and getting to know each other. They'd study together in the CMARC office. Faryal cheered Jaleni on as he competed in Buggy. They helped plan a SPIRIT Fashion Show. And the rest was history.
Along with each other, Faryal and Jaleni gained a strong educational foundation at CMU that led to professional success in New York City. Faryal, who studied history and public policy with an emphasis on international relations, is the head of language and cultural services for Williams Lea Tag. Jaleni, who studied business administration with a focus on international management and finance, is a public finance banker at JPMorgan Chase. While both have busy, high-pressure professional lives in Manhattan, they relish the opportunity to share their experiences and knowledge with the CMU community.
"I'm at a place where I feel that I have something to offer to current CMU students to help them figure out their path," says Faryal, who volunteers for CMUConnect, her Reunion class and the Dietrich College of Humanities and Social Sciences. She has hosted many CMU student interns. "I had past experiences at CMU that helped shape my life now — and I love my life — and it's important to me to help the place that made that happen. I'm also inspired by my husband. He's so passionate about education and about giving back!"
Jaleni calls himself an "educational nonprofit enthusiast" who focuses on social entrepreneurship, corporate social responsibility, leadership, college awareness and financial literacy, interests that were honed through his personal experiences and education at CMU. He started a nonprofit, DREAM (Developing Responsible Economically Advanced Model-Citizens), with childhood friend Femi Faoye after graduating from CMU. DREAM equips urban youth with essential knowledge for life's challenging financial decisions. He joined the board of Liberty LEADS, a program he participated in as a student that caters to high potential young people from unprivileged areas. He also volunteers as an ambassador for Tepper School of Business' recruiting efforts to engage future students.
Jaleni proposed to Faryal in Jamaica (where his parents hail from) in April 2017 and they were married in November of that year. Their wedding "was not the norm, which sums up our relationship," laughs Faryal. It featured both a Muslim ceremony officiated by Faryal's great aunt and a ceremony officiated by Ashley (Hill) Bruce (DC 2010), a close friend of the couple's who was ordained just for the event. Jaleni even arrived at the ceremony on horseback, a cultural tradition in South Asian weddings!
"We were surrounded by CMU people who knew us from the start of our relationship," Faryal recalls. "The most important person in my life, the university gave me. I don't know if our paths would have crossed had we not both attended CMU. I'm grateful that our University fostered an environment that allowed people from two different walks of life to come together. "
"She said it best," Jaleni agrees.
…and they lived happily ever after.