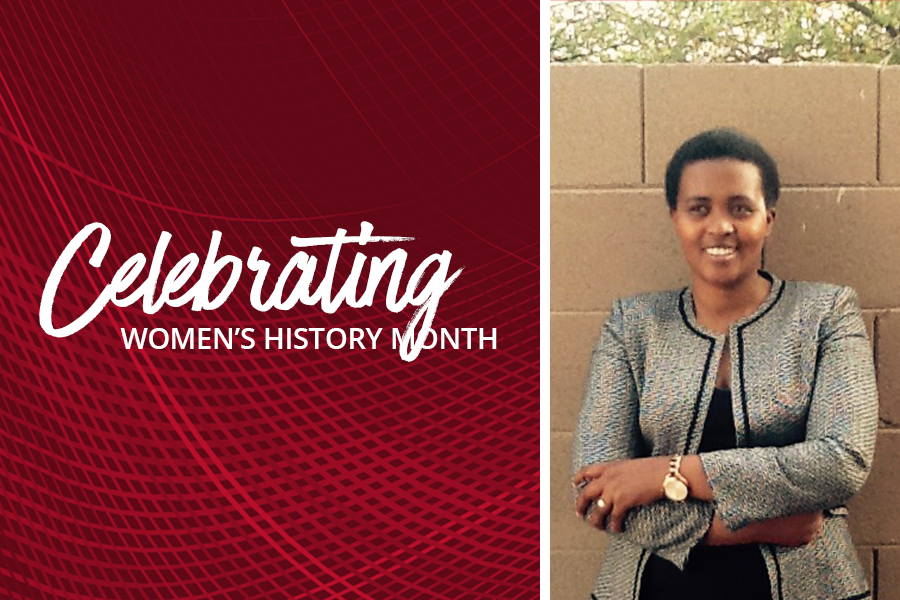 CMU Africa Alumna Models the Change She Wants to See in the World
Marie Claire Murekatete, a CMU Africa alumna, is inspiring change for African women looking to forge careers in technology. In 2017, she won the Change Agent ABIE Award from AnitaB.org at the Grace Hopper Celebration of Women in Computing conference. The award honors an outstanding international woman who has created or expanded opportunities for girls and women in technology.
Service to community, especially providing a role model to young tech-minded women, is very important to Murekatete. In 2014, she founded Refugee Girls Need You, an organization that teaches information and communication technology (ICT) skills to teenage refugees in Rwanda. Each year, her organization teaches at least 400 young women basic computer programming, web design, ICT support and graphic design. Along with Refugee Girls Need You, she is involved in the worldwide robotic competition FIRST Global Challenge; GIRLS in ICT Rwanda, an initiative to empower girls to pursue STEM careers; and a program that teaches students to build mobile apps to improve their communities, among other efforts.
Murekatete is currently the software manager at Rwanda Information Society Authority (RISA). She formerly was a technical lead at the organization and a senior software engineer at the Rwanda Development Board. She earned her master's in information technology in 2014 from CMU-Africa and her bachelor's degree in computer engineering from College of Science and Technology - University of Rwanda in 2009.
Murekatete sat down with us to talk about her career and work in Africa.
What inspired you to pursue STEM education?
When I was young, I was good at solving math problem and curious to know how things work. My teachers encouraged me to pursue STEM education in high school and I took a math-physics combination. I was awarded a government university scholarship to study computer engineering. I didn't have much access to STEM equipment or resources at early age, but I was always curious and inspired to create.
How did attending CMU Africa create opportunity for you?
CMU studies have been the ticket to ride in developing a successful tech career as a woman born and raised in Africa. It helped me to change myself because you can't make any impact if you don't believe in yourself. Being confident in what I present to the world is the biggest gift I received from CMU.
Apart from being educated by world class professors and meeting students with a deep tech experience, CMU also offered me a unique ability to serve my community. CMU allowed to connect with women in tech from Silicon Valley through programs like  Techwomen that greatly impacted my professional growth. Graduating at CMU gave me the credibility and recognition as a tech woman leader worldwide. 
 What do you find most rewarding and most challenging about your technology career?
I enjoy all the powerful exposure I get as an engineer. The most challenging part is resistance to change, lack of encouragement and active discouragement. Sometimes it is very hard to be accepted as a tech girl/ woman until you prove it. There is a lot of discouragement but you have to find a tribe of people that will help you to build your trust.   
Why do you feel it is so important to encourage young women in Africa to pursue STEM education/careers? 
There are very few women pursuing STEM education in Africa because there are many stereotypes surrounding this field as well as lack of role models. Many young Africans girls don't have role models at home because their mothers often don't have even high school education. By mentoring girls, they will be more confident, eager to learn and use STEM.
Also STEM is not about who has the best training or resources, rather it is about the passion you have for a better world. It's good to see young women in Africa make change because there are so many problems in Africa that can be eradicated by STEM.
How can other CMU alumni support your work empowering women in Africa?
CMU is  a place where I realized my dreams and unlocked my potential. Thus, being surrounded by women and girls who have the same passion in STEM at CMU alumni empowers me to apply my unique point of view to problems challenging my community and to come up with useful solutions. For the past five years at Girls in ICT, we have successfully held a Ms. Geek competition to inspire girls into science, technology, engineering and math fields and take part in solving the continent's challenges using technology. In 2017, we expanded the competition to all member states — Angola, Benin, Burkina Faso, Cameroon, Chad, Congo DRC, Cote d'Ivoire, Djibouti, Egypt, Gabon, Guinea, Kenya, Mali, Niger, Rwanda, Sao Tome & Principe, Senegal, South Africa, South Sudan, Togo, Tunisia and Uganda. Half of Girls in ICT board members are graduates from CMU Africa  and CMU is a key partner in our Ms. Geek event.
Connect with Marie Claire on LinkedIn.