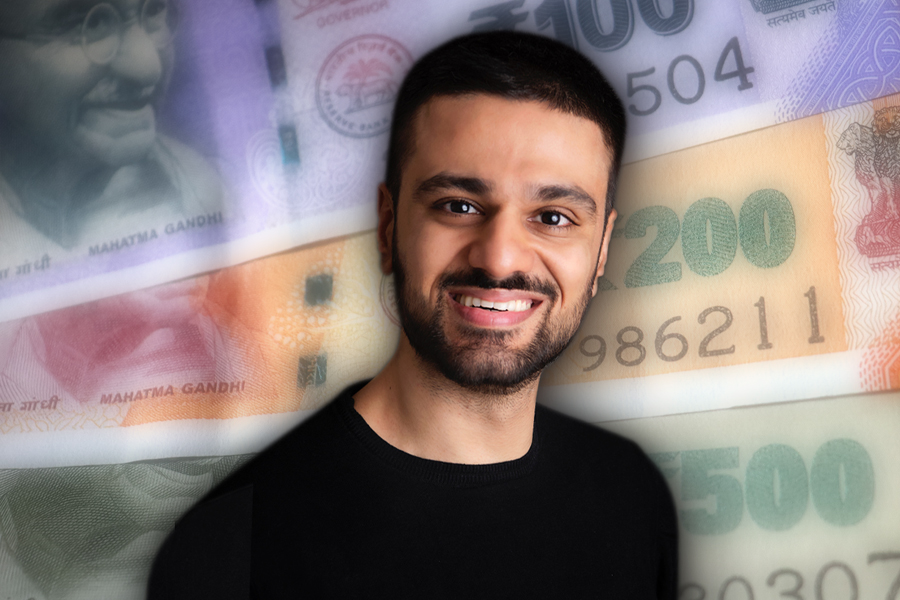 September 01, 2022
Empowering People by Democratizing Credit
CMU alumnus Mikhil Innani expands access to credit through technology
Entrepreneurship can open new frontiers and reshape entire communities.
Whether it's the opening of a new grocery store in a food desert, or the launching of an app that helps kids with early literacy, the right idea at the right time can have massive impacts on local economies — expanding opportunities and improving quality of life.
But entrepreneurs don't exist in a vacuum, and their ideas don't just leap from concept to market without help. They need capital to get those ideas off the ground. Unequal access to capital through traditional financial services, loans and credit is perhaps one of the greatest obstacles to human potential around the world.
"In India, many people would be rejected for a loan because they have no credit history," says Mikhil Innani, Heinz College of Information Systems and Public Policy alumnus and CEO of the technology company Apollo Finvest, which provides digital lending infrastructure as a service.
In addition to a lack of credit history, many entrepreneurs in India run into roadblocks because they only need the equivalent of about $200 to 500 to get their business started.
"That means the ticket size of the loan is too small for a traditional lender to process in a cost-effective manner," says Mikhil, who graduated in 2011 with a master's degree in information systems management.
Apollo Finvest operates in India, the second largest country in the world by population with one of the fastest growing economies. Yet, a large percentage of India's population is "unbanked," without access to formal credit. In 2018, the credit bureau TransUnion estimated that just 33% of people in India who were eligible for a loan had access to a bank account.
Compare the 220 million people who were "eligible for a loan" at the time of that analysis with India's population of more than 1.4 billion people, and the state of financial inclusion looks pretty grim.
In recent years, India's government has pushed for more individuals to open bank accounts, and while there's been considerable success in that effort, many of those new accounts go unused or minimal activity. And even if an individual technically has a bank account, there's still a major piece of the financial puzzle missing: access to formal credit.
Mikhil realized this was a huge problem that technology could help to solve.
"At Apollo Finvest, we've built a technology stack that can process any loan of any size 100% digitally and bring the cost of processing each loan to nearly zero," Mikhil says. "It doesn't matter if the loan is $100 or $1 million. We enable any company in India to start offering digital loans in a matter of 48 hours." 
In a country like India, companies like Apollo Finvest could push the financial inclusion agenda forward by removing barriers to entry. Through digital lending, a ride-sharing company could give a loan to help a new driver with starting costs, or an online retailer could provide credit directly to customers, so they can pay in installments.
"Apollo Finvest is a regulated lending entity in India, so we provide the licensing and remove that regulatory burden from the process," Mikhil says. "We also provide the digital lending technology from loan management and online verification to instant disbursement of the loan as well as the infrastructure that allows companies to collect money back. Finally, we provide capital. We work with many other fintech companies in India, and we have a massive pipeline of debt capital."
"That's very empowering, because the next time that person needs a loan, they can go to a traditional lender. Now there's a credit history they bring with them. That creates different opportunities for entrepreneurs everywhere that wouldn't have existed in the past."
The AWS of Digital Lending
Mikhil describes his Apollo Finvest as the "AWS of digital lending." Amazon Web Services (or AWS), is a cloud-based suite of technologies that streamline the process of creating and launching a website or app using only a personal computer.
In the past, you would have needed substantially greater resources to do that, including more physical hardware. His company creates inclusion in a similar way.
"Apollo Finvest can benefit a large company by allowing them to offer digital loans directly, but it can also make a difference for someone like the head of a village," he says, alluding to India's sizable informal lending market.
Using Apollo Finvest's platform, that village leader could lend to their community as they always have, but they could formalize the process, have proper legal agreements and report the lending activity to India's credit bureaus — creating credit history.
"That's very empowering, because the next time that person needs a loan, they can go to a traditional lender. Now there's a credit history they bring with them," Mikhil says. "That creates different opportunities for entrepreneurs everywhere that wouldn't have existed in the past."
"This is about systemic change. Changes we affect in financial inclusion over the next decade will change India for the next 100 years."
CMU's Life-Changing Trajectory
Mikhil came to the Master of Information Systems program at Heinz College because he says he has always been "obsessed with technology in every single way."
As a well-known incubator for aspiring entrepreneurs, Mike says CMU changed the trajectory his life by surrounding him with classmates who made each other better.
"There was magic in the air in that batch of students," he says, noting that many of his peers went on to launch their own companies.
In particular, he recalls exciting conversations with his former roommates like Heinz College alumni Pankit Chheda, who founded a startup and is now director of engineering at Jupiter, a fast-growing banking app in India, and Dhruvil Sanghvi, who is CEO of transportation automation company LogiNext; and College of Engineering alumnus Hardik Dedhia, who built Ascent, one of the largest pharmaceutical supply chain and distribution companies in India.
For him, at a place like CMU where there is so much creativity and talent, one of the best things you can do as a student is form connections and share ideas.
"People can be very competitive, but that's all nonsense," Mikhil says. "Fast forward 10 years, and chances are you'll all be doing well, so use the time in graduate school to become friends. That will be your closest network for life."
That sense of togetherness and community has stuck with him.
Since graduating, Mikhil has gravitated toward projects that he views as broadening access to resources that were historically scarce or guarded by gatekeepers. A few years after graduating, he and Dedhia joined forces to create the company PharmEasy in India, which used economies of scale to reduce the price of prescription drugs for patients that placed orders through their app.
It was during his years leading PharmEasy that he became aware of the credit dilemma in India. Neighborhood pharmacists working with PharmEasy would increase their profits and want to scale up, only to be denied by the banking system.
"We were struggling to grow because our merchants needed greater inventory to fulfill all these online orders from our customers," Mikhil says. "But none of them had working capital, and no one was going to fund them. That really stuck with me."
After PharmEasy, he joined the digital streaming company Hotstar, which was acquired by Disney when it bought 20th Century Fox in 2019. At Hotstar, he helped drive a propulsive increase in scale from 7 million to more than 250 million monthly active users on the platform in roughly two years. 
The credit conundrum he witnessed at PharmEasy, coupled with the realization at Hotstar of the sheer volume of consumers using digital services in India, sparked the idea that drives Apollo Finvest.
"Through those experiences, I realized I had to build something like what we're doing at Apollo Finvest. This is about systemic change. Changes we affect in financial inclusion over the next decade will change India for the next 100 years."