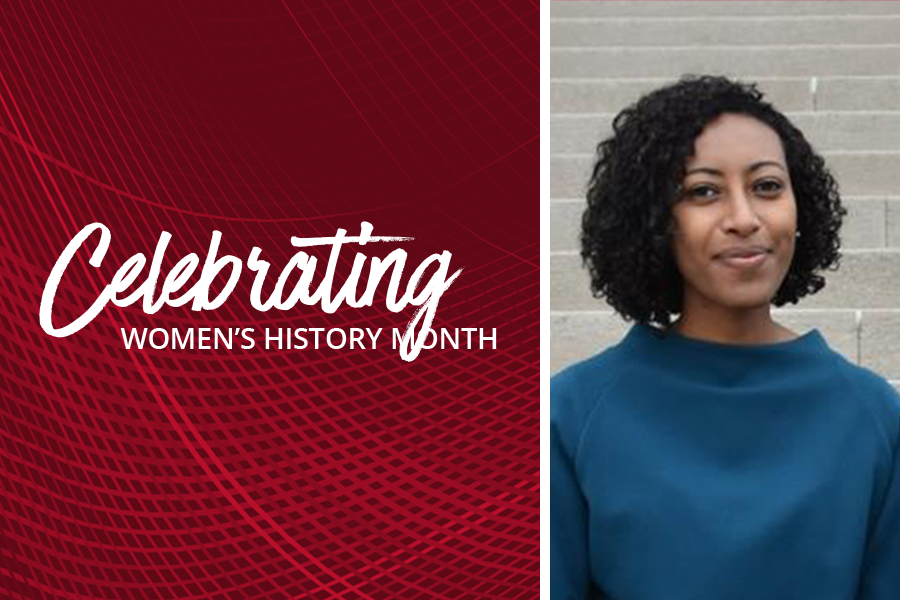 Democratizing Art
Heinz College alumna takes art out of the archives and onto the walls with D.C.-based art subscription company.
Photo credit: Rebecca Lee Nelson

Messay Derebe's (HNZ 2015) life was changed by art. Multiple times.
The 2015 graduate of CMU'S Master of Art Management program in the Heinz College of Information Systems and Public Policy and the College of Fine Arts first came to the United States from her native Ethiopia. She didn't speak English and felt lost in her new home in Texas, but a violin became her gateway to a community and friends.
"Art isn't just a pretty thing on a wall or a stage," she says. "I wouldn't be the person I am today if I hadn't stumbled into the arts."
In November 2017, Derebe and three friends — Brandolon Barnett, Meghan Ball and Nacho Cerrato — launched goARTful, a Washington, D.C.-based subscription service that connects art lovers with photography, paintings and drawings from D.C.-area artists at prices they can afford. Their tiered subscription model ($15, $29 and $50) allows subscribers to explore the work of emerging artists by borrowing pieces to try out at home. If they like it, they have the option to buy it. For the artists with whom they partner, goARTful helps them build their businesses by picking up some of the marketing and business responsibilities while reaching new buyers for work that isn't being shown.
"Artists are the heart of goARTful," she says. "There is no company without them."
Derebe's path to becoming co-founder and co-CEO of an art start-up has been a winding road. After realizing that being a professional musician wasn't the right road for her, she earned a degree in English literature and accounting at Southern Methodist University. She began her career as an auditor with Ernst & Young, but quickly came to the conclusion that "I was never going to be fulfilled in that life." She moved to a finance position at the Dallas Black Dance Theatre, which eventually led Derebe to CMU's Heinz College to pursue arts management as her life's work. Her education at Heinz confirmed her dedication to the arts.
"The MAM program refined how I think about art institutions," she says. "And what it means to be a part of a community that has a huge responsibility to the arts."
Moving to Washington, D.C. after graduation and discovering that so much art was out of her financial reach, the idea for goARTful formed.
The company is still in its infancy, but Derebe says that subscriptions have increased every month since their beta launch in September 2017.
"We are proud of how far we've come with this idea," she says. "I'm constantly amazed at how quickly you have to be willing to adapt and change your idea as an entrepreneur."
She and her partners, who all have full-time jobs, have plans for expansion and offering more services in the future, and have started looking for funding to allow them to focus solely on the company. They have added an augmented reality app in the Apple Store that allows people to see how a piece would look in their home.
"Never in a million years did I think I would be an entrepreneur, and I don't think I could have done this without CMU," Messay says. "CMU takes you to your limits and shows you that you can go further."