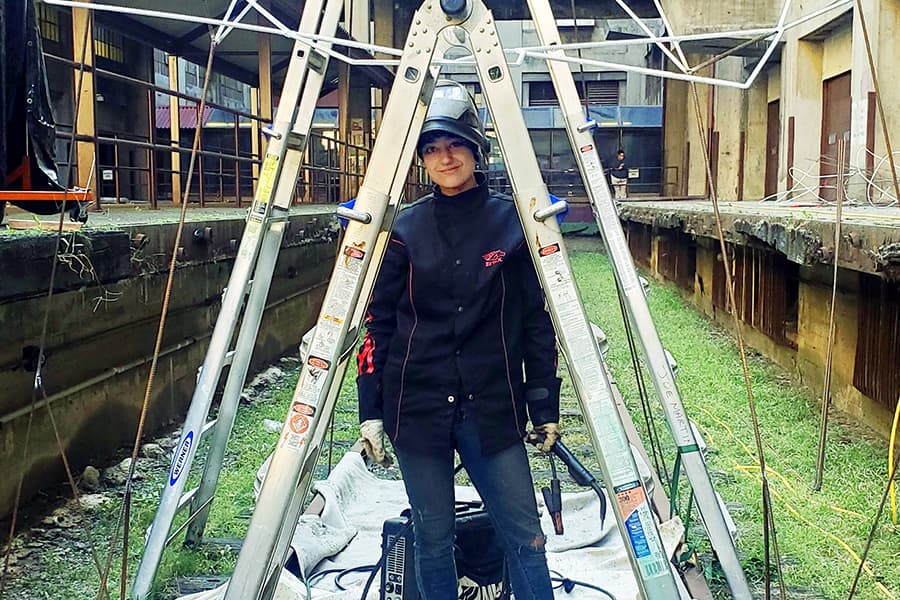 February 28, 2022
Heavy Metal Dichotomy
CMU art alumna marries the gritty and the graceful in her public art
Oreen Cohen is a sculptor who transforms scraps of iron and steel into monolithic pieces of public art.
When she's not working with heavy metal, she's singing lullabies to her 10-month-old daughter, Daeora Esh, whose name — a hybrid of Korean and Hebrew words — means "greatest light fire."
Oreen earned her master's degree from Carnegie Mellon University's College of Fine Arts in 2018 and makes creations that are both durable and delicate.
The 35-year-old grew up in Rochester, New York and Israel. She spent her childhood sketching still-life scenes and drawing inspiration from nature. She started painting in high school and pursued the medium in college at the State University of New York at Fredonia.
Seeking more of a challenge, she transferred to the University of Buffalo, where she was able to expand her horizons and play with 3D sculpture using unconventional materials.
"I was using old crusty paint you'd find in your basement, stains, household chemicals," she says with a laugh. "I was laying canvases out in the sun, splashing things from ladders, pulling materials out of the swamp and adhering them on huge canvases."
She enjoys thinking about the literal nuts and bolts of a large-scale project, combining engineering and storytelling to fabricate large-scale art projects in challenging environments.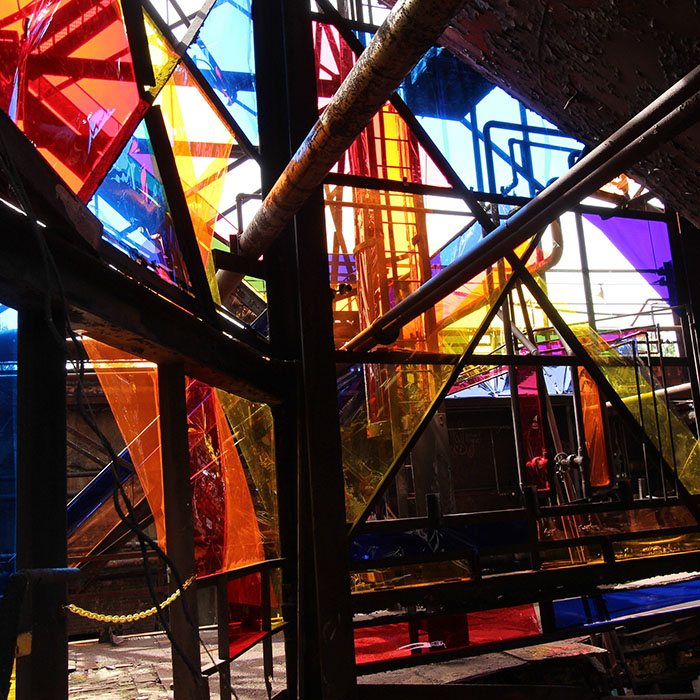 Faux stained glass breathes new life into rusted metal beams in Oreen's art installation "Spectre and Shade" at the Carrie Blast Furnaces' Alloy Pittsburgh exhibit in 2015.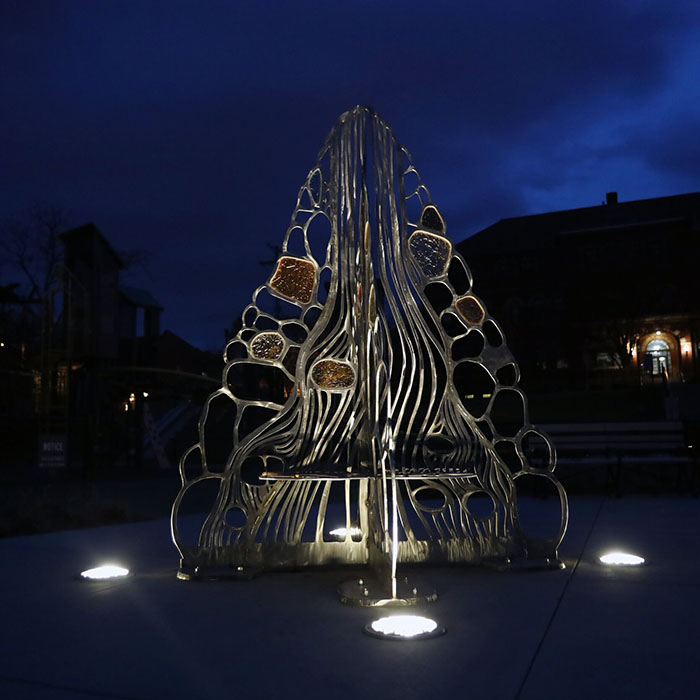 Images of sculpture "Cascade" in Pittsburgh's Wightman Park. Designed by OOA Designs LLC in October 2020.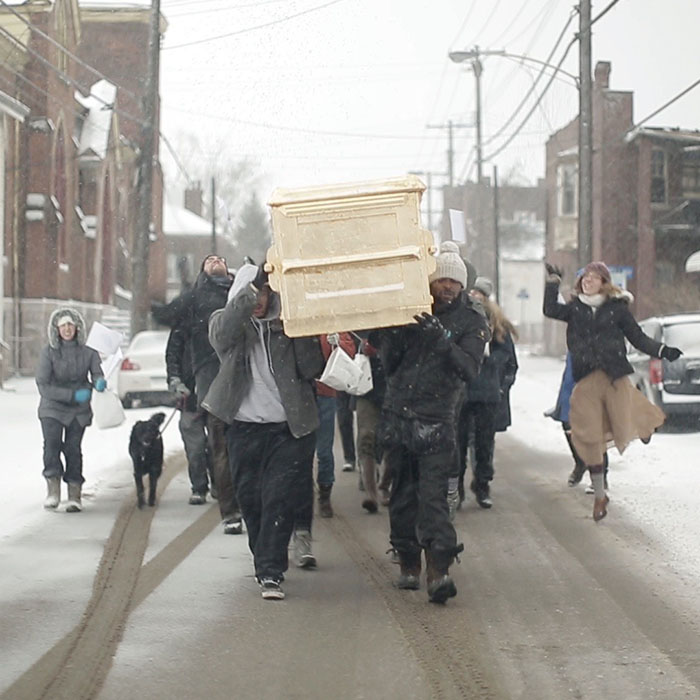 "Between a Stone and a Shrine" — Oreen's CMU master's thesis work was a seven channel video installation-image film still. The film illustrates her mother's saying, "No one will make you a casket made of gold."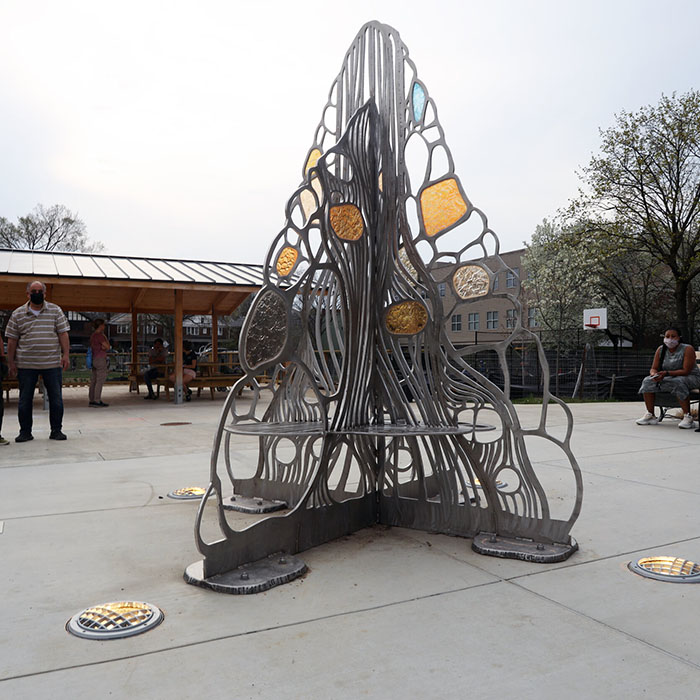 Images of sculpture "Cascade" in Pittsburgh's Wightman Park. Designed by OOA Designs LLC in October 2020.
Drawn to the gritty, Rust Belt aesthetic, she moved to Pittsburgh in 2011. The Carrie Blast Furnaces in the region's Braddock neighborhood stirred her imagination. The National Historic Landmark — and region's only non-operative blast furnaces — are still producing great artists.
Oreen completed a residency at the site, where she created a massive installation of faux stained glass in the steel grinders. She has since poured metal with the iron casting crew, and recently scoured the Rivers of Steel archives for images and relics that tell the story of women in industry for an upcoming public art project.
Now, through the City of Pittsburgh's Art in the Park program, Oreen and her business partner Alison Zapata will create a permanent sculpture for Emerald View Park in Mt. Washington.
The artists, who founded OOA Designs in 2018, are asking local residents to donate scrap metal, as well as photos of lace, to incorporate into the piece, tentatively named "Grit, Flow, Glow." It will serve as a tribute to Pittsburgh's industrial past and to the women who labored in the steel mills during World War II.
"We like to extract story from place; that's our whole design process," Oreen says. "It's a different way to engage the community. People are submitting images of lace and sharing stories about how it came to be in their families for generations. We're still envisioning the sculpture and examining what it means to be a woman, a mother and an industrial artist. What did it mean to go from dresses to steel worker clothes and still take care of the family while the men were at war?"
Several years ago, the city commissioned OOA Designs (as in designs that make you say 'ooh, ahhh') to create stainless steel sculptures for Wightman Park in Squirrel Hill. The project was a springboard for the fledgling business and allowed Oreen and Alison to not only make art, but make a living, too.
It was at CMU with professors such as Jon Rubin, Bob Bingham and Joe Manino that Oreen learned how to navigate the process of working with community and in public spaces and create through community engagement.
"They really transformed my view of how to approach public space and communities," she says. "I had these grand ideas and physical challenges for myself. They helped push those visions and refine them and made me look deeper into the mythologies and meanings of my approach."
Oreen has used these methods and values not only to further her art career, but also in community arts programming she facilitates throughout the city — such as in Hemispheric Conversations Public Art Project, a program which she co-founded with three other artists and academics in the city.
Oreen's artistic vision — and body — is slowly adapting to motherhood, much like her mom's words helped shape her early work.
"No one will make you a casket made of gold," her mother said in Hebrew. "Leave your own legacy."
Although she enjoys the connections and sculptures she's made in Pittsburgh, she hopes to explore other cities through artist residencies, particularly those that support artist moms.
This October, she'll live and work at the Joan Mitchell Center in New Orleans, Louisiana. The facility's namesake was an abstract artist known for her drawings, prints and oil paintings.
"I'm going to reconnect with my old painter self and see where that takes me," Oreen says. "It will give me a moment to step back from the rigidity of public art and metal working to the free expression of splashing around with paint."