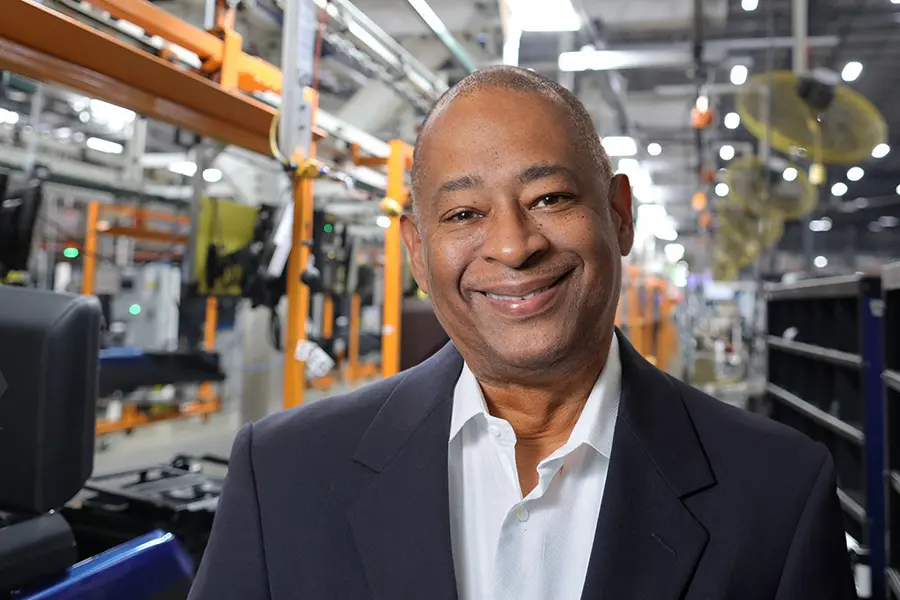 October 31, 2023
The Human Element
CMU alumnus Bruce Smith forges success by putting people first
Growing up in a mill town south of Pittsburgh, Carnegie Mellon University alumnus Bruce Smith was all too familiar with the impact factory closures could have on an entire community.
"Seeing not only the financial impact, but the emotional toll unemployment took on these men and women made me recognize that my classmates and I might actually be equipped to help," says Bruce, who graduated from the College of Engineering in 1985 with his bachelor's degree in mechanical engineering.
During his senior year, he connected with a group of unionized workers who were affected by the closure of an Oscar Meyer plant near Pittsburgh. The displaced workers were looking to start their own business and turned to CMU's Department of Mechanical Engineering for help.
"I will never forget my classmates rallying around those folks to make a difference," Bruce says. "For many of us, it was our first exposure to a factory floor. It was the first time I really got to see how things are made."
Because of that project, and the passion of the men and women to bring back jobs for themselves and for their community, Bruce's career mantra around putting people first was bolstered in an unforgettable way.
"Seeing not only the financial impact, but the emotional toll unemployment took on these men and women made me recognize that my classmates and I might actually be equipped to help."
Today, he is the owner, chairman and CEO of Detroit Manufacturing Systems (DMS), a certified Minority Business Enterprise that builds more than 1.5 million large-scale products per year and employs roughly 1,500 people, primarily from underserved areas.
Bruce thoroughly enjoys working with his teams to implement technology to help processes on the floor, and his favorite part is helping enrich the lives of others.
"I love working on anything and everything that fundamentally improves the business and helps us better serve our customers," he says. "I'm enthusiastic about building up our employees personally and professionally and watching them light up in response."
Under Bruce's leadership, DMS has built an inclusive and empowering culture where employees are encouraged to be the boldest versions of themselves and have fun in the process.
"A casual observer might not understand the value of our playful nature, but our fun events, like our bocce ball and cornhole tournaments, are about getting our teammates to see each other as people," Bruce says. "We aim to tear down walls and build bridges with each other to establish trust. This trust allows us to be better team players who make better decisions and, ultimately, better products for our clients."
Along these lines, DMS separates employees into 16 houses, much like those in the Harry Potter franchise. Houses are comprised of salaried employees that are put together cross-functionally and given an annual budget to support a local charity of their choice, both financially and through volunteer hours.
"The best engineers I have ever met understood that everything they do, they do for and with people. Engineers that launch their ideas without taking the time to get feedback from others don't do as well. They are missing how important the human element is to their success."
Simultaneous to giving back to the community, Bruce and DMS are committed to doing better for employees. DMS boasts an impressive internal promotion rate with one in three employees have been promoted in the last ten years. The company also funds a tuition program that pays upfront for employees to pursue further education in any discipline they chose to better themselves. 
 "We really want to change the world one person at a time, which aligns with our core values of serving others, enriching lives, rising together and giving back," Bruce says. "These elements work in harmony to create an ecosystem where people work together and help one another."
He credits CMU for lifting him up and ingraining the mindset that bringing the community together is pivotal to solving real-world problems. To give back to CMU, Smith has made a gift to the Department of Mechanical Engineering in support of a new initiative focused on developing activities within the undergraduate curriculum that center on societal challenges from energy and climate change to drought and disaster relief.
"The best engineers I have ever met understood that everything they do, they do for and with people," Bruce says. "Engineers that launch their ideas without taking the time to get feedback from others don't do as well. They are missing how important the human element is to their success."
To the next generation of engineers, he has some advice, too: "Have fun, make the world a better place and help as many people up with you as you can."