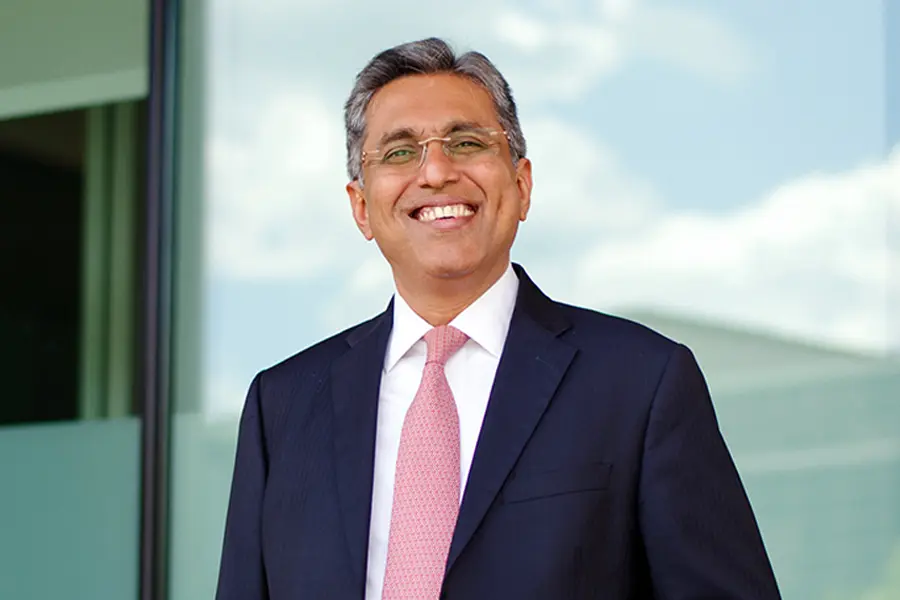 August 31, 2023
Driving Change
Alumnus Anish Shah leads multinational company Mahindra's future-focused efforts
Carnegie Mellon University alumnus Anish Shah is managing director and CEO of Mahindra Group, a multinational conglomerate with headquarters in Mumbai, India.
He is the first non-family member to lead the company, whose roots go back nearly 80 years to 1945.
The $19 billion company operates in more than 100 countries and has 270,000 associates. More than 150 companies in 20 widely divergent industries operate under its umbrella, from agribusiness and transportation to information technology and hospitality. Mahindra places a heavy emphasis on corporate social responsibility. This shows up in dozens of future-focused measures like designing and manufacturing energy-efficient products to supporting education and health initiatives in the communities where they do business.
He earned his master's degree and Ph.D. from Tepper School of Business in industrial administration with a focus on accounting in 1995 and 1996.
He shared with us how the Tepper School influenced his leadership style and career.
What brought you to Tepper School?
My objective in pursuing a Ph.D. was to gain deep expertise in finance. I had completed an MBA at age 22 and felt that depth in finance would provide a strong foundation for my long-term goal, which was to be a CEO of a multinational company. The Tepper School emphasized an interdisciplinary approach and encouraged innovation in education. My advisor, Dr. Shyam Sunder, encouraged me to take classes from various departments across the university, and his guidance helped me build a corporate finance game, which was the foundation of my Ph.D.
You completed your degree in record time. What did your research involve?
My Ph.D. took two years and nine months, which I believe was a record at that time. All credit goes to my advisors, Dr. Sunder and Dr. Richard Cyert, who provided amazing support and guidance. The starting point was the corporate finance game, where students played roles of CEOs and stock market traders in a networked computer lab, which in 1994 was among the first of its kind. The game was used to teach corporate finance at the Tepper School and was the base for various research studies in experimental economics. Dr. Sunder was an expert in this field. Dr. Cyert suggested adding directors to the game, enabling research in the field of corporate governance, specifically with regard to the role of directors and CEO compensation. This was supplemented by empirical research on CEO compensation and outlining an approach on pay versus performance.
What do you enjoy about your work?
I enjoy working for a company where purpose comes first. Living this purpose is one of my primary responsibilities. It has been a part of our DNA since 1945, and is expressed in Mahindra's Rise philosophy: "Driving positive change in lives of our communities to enable them to Rise." I'm equally accountable for creating shareholder value, and we have done so in a big way. For us, purpose drives profits.
As a purpose-led company, we have the ability to make a significant impact in areas like climate change and women empowerment, which are personal priorities. I also enjoy coaching and mentoring, to build our leaders for tomorrow. I have an open and transparent management style, and I set a high bar. My philosophy is to work as a team and to help teams succeed.
What challenges are most pressing?
The reality of my role, as it covers businesses across 20 industries, is that most of my time is spent on challenges: scaling up businesses, turnarounds, social impact issues or occasional crisis situations. A challenge of particular interest is to create shareholder value by being the best-performing stock in the Nifty50 (India's premier index, covering the nation's Top 50 companies). However, the one at the top of the list is to decarbonize our industries. Our journey began in 2008. From India's first net-zero carbon plant to auto recycling and solar power, we have made significant progress across multiple industries. We recently launched India's first net-zero carbon residential community, and our resorts business has nine net-zero carbon resorts.
What do you believe is your role in preparing for future generations?
At a personal level, Kahlil Gibran's philosophy was a great influence as our sons were growing up, as we sought the right balance between boundaries and freedom. I learned that to gain control, I have to give up control. At a broader level, it is our responsibility to leave the world a better place than we found it. And, we're not faring well, so far. Therefore, my personal priority is to make a meaningful impact in decarbonizing our industries. And, fortunately, I'm in the right place to do so.