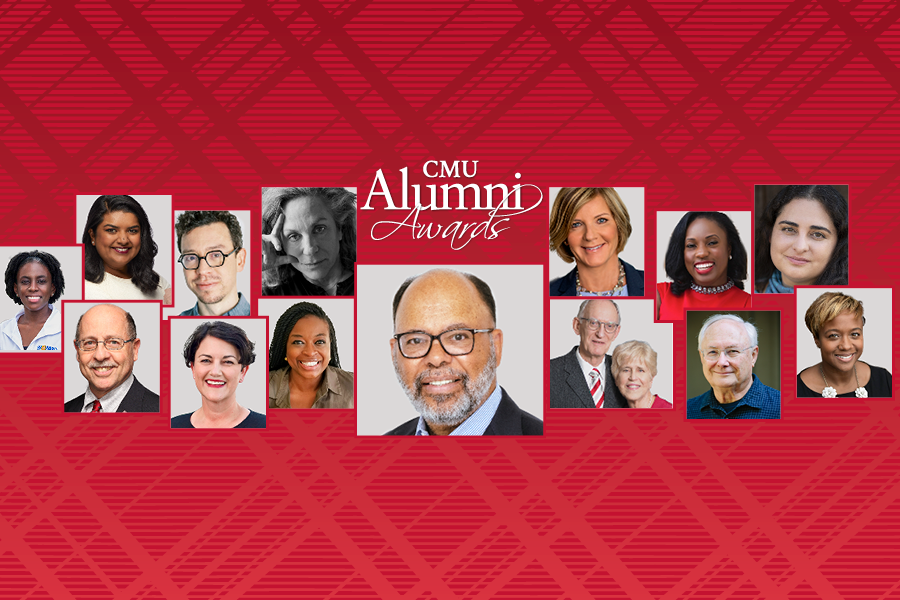 October 13, 2021
Carnegie Mellon University Presents 2021 CMU Alumni Awards
Carnegie Mellon University today announced the honorees for its 2021 Alumni Awards. This exceptional group of public servants, entrepreneurs, creators and visionaries share an ambition to change the world around them as well as a commitment to their alma mater. 
"The CMU Alumni Awards celebrate the pride of being a Tartan, of the achievement and commitment that CMU alumni carry with them throughout their lives and careers," said Chris Stengel, CMU Alumni Association Board president and School of Computer Science and Tepper School of Business alumnus. "I'm so proud to honor these accomplished alumni who are examples of what a CMU education can do, and who are blazing the trails for future generations of Tartans." 
On Thursday, November 4, CMU will celebrate the honorees, as well as their professional achievements and contributions to the university, during the 71
st
annual CMU Alumni Awards, a special virtual event that is open to all.
Carnegie Mellon will award the Founders Medal for Outstanding Service and Exceptional Achievement to a distinguished alumnus and CMU trustee who has demonstrated outstanding dedication and service to the university and extraordinary accomplishments in his career: Erroll B. Davis, Jr, a 1965 graduate of the College of Engineering.
Davis has been recognized as a leader in the energy industry, with a career that included roles as vice president of finance and CEO and president of Wisconsin Power and Light Company. He also served as president and CEO of WPL Holdings, now Alliant Energy Corporation. In 2006, he shifted his career focus to education when he became chancellor of the University System of Georgia and, later, superintendent of the Atlanta Public Schools system, with the goal of ensuring that education systems work for all students.
His commitment to Carnegie Mellon has been a lifelong one, serving as a trustee for more than 30 years and as chairman of the board from 2000 to 2004. Since 1986. Davis and his wife Elaine have awarded numerous scholarships to deserving students through the Davis Family Foundation as part of their commitment to educational accessibility.
"Erroll's extraordinary career has spanned the private sector as well as the academy and at every opportunity, he has generously committed his expertise to helping others," said Farnam Jahanian, president of Carnegie Mellon University. "He has used his professional success to help many organizations thrive, and CMU has benefited significantly from his knowledge and dedication. I am profoundly grateful for Erroll's many years of service to Carnegie Mellon University as an alumnus, trustee and advocate for our students."
2021 Alumni Award Honorees
In addition to the Founders Medal, nine awards will be given at the event. 
Presented to alumni for exceptional accomplishment and leadership in their professional fields or vocations, the 2021 Alumni Achievement Award honorees are:
Luis von Ahn,

a 2003 and 2005 graduate of the School of Computer Science, invented reCAPTCHA, a security feature to protect websites and applications from fraud and abuse. He also co-founded Duolingo, the world's most popular language learning program. He was named a MacArthur Fellow, one of 10 Most Brilliant Scientists by Popular Science magazine and 100 Most Innovative People in Business by Fast Company

 

magazine.

Deborah Kass,

a 1974 graduate of the College of Fine Arts, is an artist whose pieces are counted among the collections of the world's leading museums including the Metropolitan Museum of Art, the Museum of Modern Art, the Whitney Museum of American  Art, the Solomon R. Guggenheim Museum, the National Portrait Gallery and the Smithsonian Institution. She has been inducted into The National Academy and New York Foundation for the Arts Hall of Fame.

Representative Susie (Kelly) Lee,

a 1989 graduate of the Dietrich College for Humanities and Social Sciences and 1990 graduate of Heinz College of Information Systems and Public Policy, serves Nevada's 3rd Congressional District. Before beginning her political career, Lee was the founding director of MASH (Mobilized Assistance and Shelter for the Homeless) Crisis Intervention Center; the founding executive director of After-School All-Stars, a nonprofit enrichment program for Title 1 school students; and the president of Communities In Schools (CIS), a dropout prevention program.

Tom Moran,

a 1974 graduate of the School of Computer Science, pioneered the creation of the field of human-computer interaction. He has been a technology leader at Xerox Palo Alto Research Center (PARC) where he led research teams in novel applications, work practice studies

,

and collaborative systems. He started and was director of a new PARC laboratory in Cambridge, England, before moving to IBM Research as a distinguished engineer. Moran founded the Human-Computer Interaction journal and served as editor for 30 years.
The Outstanding Recent Alumna Award is given for exemplary professional or vocational success and/or service to the university in the first decade as graduate. The 2021 honoree is: 
Prerna Singh,

a 2012 graduate of the Tepper School of Business

,

has built a successful career in product management. She began as a consultant with the IBM Experience group working with Fortune 500 companies, and today, she is senior director of product management for Meetup. Singh serves on the President's Advisory Board for the CMU Experience and the Tepper Undergraduate Alumni Task Force, is president of CMU's New York Metro Alumni Network and helped create a Tech & Entrepreneurship alumni network in New York City.
CMU is honoring eight Tartans with Alumni Service Awards, which recognize those who give dedicated and impactful service to the university and its alumni. The 2021 honorees are:
Barry Gordon,

a 1969 and 1971 graduate of the College of Engineering, is one of the country's leading experts in corrosion and materials issues in the nuclear power industry. He serves as the San Jose chairperson of the CMU Admission Council and is an active member of the Andrew Carnegie Society and a lifetime member of the Order of the May, supporting two scholarships at CMU.

Michael Smith

is a 1968 graduate of the College of Engineering and

Lonna Smith

is a 1969 graduate of the College of Fine Arts. The Tartan couple proudly supports the Department of Mechanical Engineering and School of Music. Lonna is a charter member of the College of Fine Arts Dean's Council, and Michael is a charter member of the Libraries Dean's Advocacy Council. They also are actively involved with the University Libraries' Archives.

The

COMPASS founders

are five 2008 CMU alumnae who, led by Betty Mbom, founded COMPASS (C

Oaching Minority Progress and Academic Success in Science)

in 2007 to guide first-year underrepresented Mellon College of Science students toward successful CMU experiences. Mbom was joined by fellow classmates Dr. Denise Asafu-Adjei, Alana Cheeks-Lomax, Tamara Hamilton and Mariela Zeledón to develop and nurture the program's success — and the participating students — during their time as students and alumni.  
The Faculty & Staff Impact Award recognizes a current or recently retired Carnegie Mellon University faculty or staff member for their extraordinary dedication, enthusiasm, service and steadfast commitment to CMU. The 2021 honoree is:
Gina Casalegno

is the vice president for student affairs and dean of students. Casalegno's commitment to CMU students has been apparent throughout her 19-year tenure with the university as she supports student success and enhances the CMU experience through every facet of students' Carnegie Mellon education. Casalegno is an advocate for students and is passionate about helping them thrive during their time on campus and as they transition to becoming engaged and successful alumni.
About the CMU Alumni Awards
First presented in 1950, the Alumni Awards pay tribute to individuals distinguished by their service to the university and outstanding accomplishments in the arts, humanities, sciences, technology and business. To date, nearly 900 alumni, faculty and students have been honored with these awards.
The 2021 CMU Alumni Awards will be a virtual celebration on Thursday, November 4 at 5 p.m. ET

as part of CMU's Homecoming

. For more information and to register, visit
cmu.edu/alumniawards
.