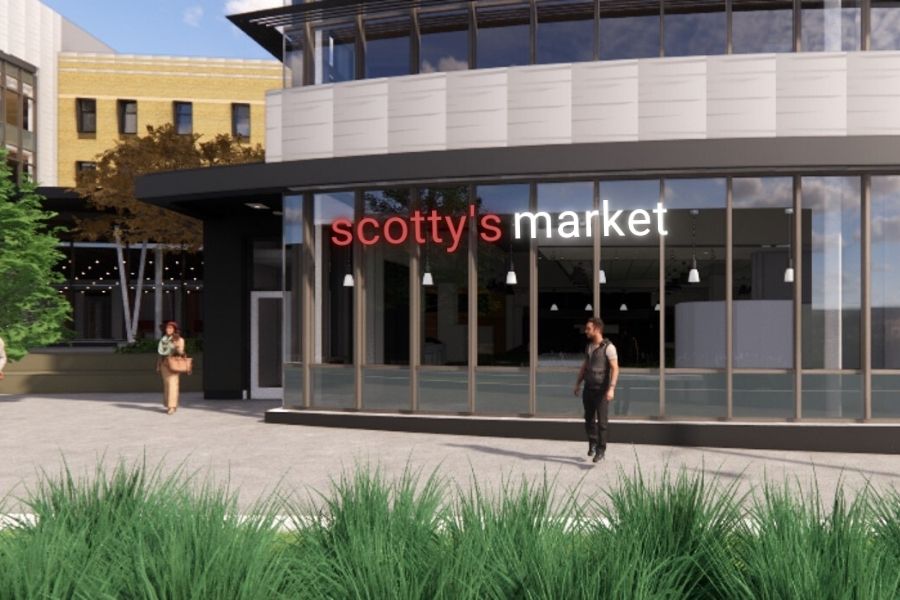 August 23, 2023
Scotty's Market is Open for Business!
Scotty's Market, the first grocery store on Carnegie Mellon University's campus, is now open! Salem's Market and Grill, a local, family-owned business, is operating the 5,000-square-foot market located at the Forbes and Beeler Apartments. They offer diverse and authentic international cuisine and grilled options for the CMU community and general public seven days a week.
Director of Dining Services Joe Beaman shares, "We are incredibly excited to welcome Salem's Market and Grill to Carnegie Mellon. This partnership reflects our commitment to supporting local entrepreneurs and aligns with our goal of creating inclusive dining spaces that serve our diverse campus community."
The Carnegie Mellon University store offers a vast selection of international and conventional groceries, fresh custom-cut meats, and a delicious menu of halal, international, and grilled dishes. Students can use their meal blocks to purchase items at the grill, and FLEX dollars, DineXtra funds, and credit and debit cards are accepted as forms of payment for grocery and grill items. Online ordering for pick-up will be available for the grill and grocery orders in the coming weeks.
Salem's Market and Grill is dedicated to delivering exceptional customer experiences and aspires to become the go-to grocery destination for students, faculty, staff, and the local community.
"We're honored to collaborate with Carnegie Mellon University, an esteemed institution that shares our dedication to diversity, inclusion, and community engagement," said Abdullah Salem, CEO of Salem's Market and Grill. "Our family-owned business has always prioritized giving back to the communities we serve. This partnership allows us to work closely with the university to ensure that everyone on campus and the surrounding community can access delicious, nutritious, and affordable food options."
Salem's Market and Grill proudly supports community-based organizations and a percentage of every dollar spent at Salem's is donated to local initiatives. This  commitment to community investment and empowerment is the cornerstone of their partnership with Carnegie Mellon University.
"Carnegie Mellon's dining program is unique nationally because of its partnerships with local businesses and entrepreneurs to best serve our diverse community. This is another example of the spirit and philosophy of our program. We are thrilled to welcome Abdullah and the Salem's family to our community," said Associate Vice President of Student Affairs Josh Centor. "The impetus for this initiative was to ensure that healthy, affordable food, that meets the needs of our diverse community, is available at grocery store prices. We believe our collaborative vision will provide one of the best college grocery experiences in the country."
For more information:
SalemsMarketGrill.com
Salem's Market press contact: Ki Ki Brown
Community, Public and Media Relations
kiki@salemsmarketgrill.com
443-762-7653 (m)
cmu.edu/dining
CMU contact: Joe Beaman
Director of Dining Services
jbeaman@andrew.cmu.edu
412-268-9719