April 14, 2017
Twenty CMU Students Join Phi Sigma Iota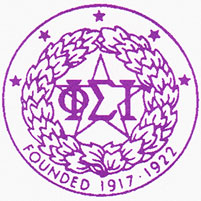 This spring, 20 students from Carnegie Mellon joined Phi Sigma Iota, a prestigious international honor society that recognizes the achievements of outstanding students in academic fields related to foreign languages, literatures and cultures. On April 11, students from CMU were inducted into the honor society alongside peers from Duquesne University, where the ceremony took place this year.
Gabriele Eichmanns Maier, associate teaching professor of German, is faculty advisor for CMU's Phi Sigma Iota chapter, Epsilon Epsilon.
"It is always a wonderful moment to see students being inducted into Phi Sigma Iota," said Eichmanns Maier. "Among other things, Phi Sigma Iota presents students with the opportunity to receive scholarships for undergraduate study or professional projects in the field of foreign languages. It is a great accomplishment to be part of this particular honor society."
Membership in the society comes with a variety of benefits, from access to internships and scholarships to opportunities to develop leadership and communication skills.
The society has been active for nearly one hundred years and today has 250 chapters at institutions of higher education in three countries.
The 2017 CMU Phi Sigma Iota inductees:
Haili Adams
Major: Biological Sciences
Minor: Hispanic Studies
Luis Arreaga
Majors: Economics and Hispanic Studies
Lilah Buchanan
Major: Psychology
Minor: Hispanic Studies
Christina Cabana
Majors: Chemistry and Biochemistry
Minor: Hispanic Studies
Lillian Cho
Major: Business Administration
Minor: Chinese Studies
Allison Drazba
Majors: Psychology and Chinese Studies
John Fagan
Major: Business Administration
Minor: Hispanic Studies
Andy Jiang
Major: Materials Science & Engineering
Minor: German Studies
Emily Joyce
Majors: International Relations and Politics; Hispanic Studies
Grace Lazos
Major: Music
Minor: German Studies
Do Yeon Lee
Majors: Business Administration and Chinese Studies
Tiffany Lee
Major: Business Administration
Minor: Chinese Studies
Jennifer Lott
Major: Chemical Engineering
Minor: French & Francophone Studies
David Matvey
Major: International Relations and Politics
Minor: French & Francophone Studies
Alexandra Moy
Major: Materials Science & Engineering
Minors: Biomedical Engineering and Hispanic Studies
Emily Newton
Major: Business Administration
Minor: Hispanic Studies
Colin Tait
Major: Ethics, History, & Public Policy and Music Performance (EHPPMP)
Minor: Arabic Studies
Vivian Wang
Major: International Relations and Politics
Minor: Chinese Studies
Tiffany Ye
Major: Economics & Statistics
Minors: Business Administration and Chinese Studies
Alexander Yu
Majors: Business Administration and Statistics
Minor: French & Francophone Studies