August 29, 2017
Christopher Jones Retires from CMU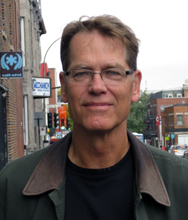 Christopher Jones, emeritus teaching professor of French and Francophone Studies, was nearing retirement when a job offer fell into his lap.
Susan Polansky, head of the Department of Modern Languages, was planning to go on leave and the department was looking for someone to fill her shoes. Jones was asked if he was interested in the job. Accepting the position of interim department head would mean he would have to delay his retirement for one of the biggest jobs of his career. Jones thought it over and said yes.
Jones stepped into his new role in the summer of 2016 and led the Department of Modern Languages for one year with great success. This past June, after 24 years of teaching and service at Carnegie Mellon, he retired.
Looking back on Christopher Jones's life, it's clear that he chose a fitting career. When Jones was in his twenties, he moved to Portugal, not to teach or do research but to play professional basketball. He learned Portuguese and was encouraged to naturalize and join the Portuguese Olympic men's basketball team. Instead, he and his wife left for Paris, where Jones learned French, made music and went to school to get a degree in Chinese.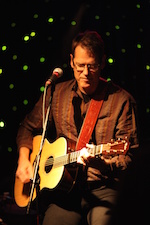 With multiple languages under his belt, he moved to London and made a living as a musician. It was in London where he released his debut album, called "No More Range to Roam." Jones built on that achievement by forming a band in Boston when he and his wife returned to the United States after living in Europe for ten years. Reeves Gabrels, who later played with David Bowie in the band Tin Machine, was one of the band members.
In the 1980s, after Jones's two sons were born, he decided to go back to school to study French film, twentieth-century French literature and language acquisition technology at the University of Massachusetts, Amherst, as a Ph.D. student. While finishing up his doctoral work, he was offered a job in the Department of Modern Languages at CMU – Jones accepted the job and never looked back.
Carnegie Mellon – with its strengths in multiple fields, from the arts to technology – proved to be a great place for someone with Jones's varied interests and multifaceted skill set. At Carnegie Mellon, Jones was able to stay close to his love for music by working this theme into his research and teaching. At the same time, he was able to make extensive use of his knowledge of various languages and cultures and technology-enhanced learning.
Right off the bat, he became the director of the Modern Language Resource Center (MLRC), which supports the teaching and learning of modern languages by providing students and faculty with language-related technology and media.
During his twenty-three-year-long stint as director of the MLRC, Jones worked on a wide variety of courseware projects, including the creation of an Oral Language Archive, a project funded by the National Endowment for the Humanities.
He also led an effort to make language learning more accessible by creating online courses. As a result of his work, courses are currently offered online in Arabic, Chinese, French and Spanish through Carnegie Mellon's Open Learning Initiative. While Jones received a Teaching Innovation Award in the spring of 2016 for his work, he credits the success of such projects to fruitful collaboration.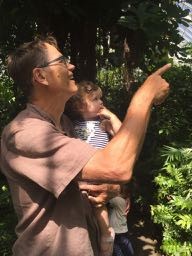 "I always found congenial and capable colleagues and students with whom to work in teams," he said.
Nevine Abraham, who has taught French Online and regularly teaches Arabic for Global Exchange Online, said that Jones is a "voice of wisdom" and someone who inspires her.
"His vision and open-mindedness are the characteristics that help programs advance and grow," she said. "[He] stands out as a leader who is consistently approachable and supportive of new ideas."
Susan Polansky agrees.
"Chris has achieved national and international recognition not only for his leadership in the field of technology-enhanced language and culture learning, but also for his work in Quebec cultural studies," she said. "This research has enriched his teaching and his well-received upper-division courses, including Francophone Popular Song."
From 2000 to 2005, Jones directed the department's former Masters in Computer-Assisted Language Learning program. In 2010 he established a new graduate program, which he directed until 2016: Masters in Applied Second Language Acquisition.
Outside of work, he continued to write and make music, and to give live performances. His fifth album was released on April 27, 2017.
As for life after retirement, Jones plans to continue working with colleagues at Carnegie Mellon (and the University of Texas) on a level three French online course. He also plans to travel, play tennis and look after his two young granddaughters. And of course he'll continue to make music.
"Basically I won't slow down a bit," he said, "just re-orient."