January 27, 2017
Rémi Adam van Compernolle Wins Book Award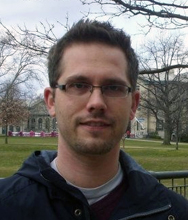 Rémi Adam van Compernolle, assistant professor of second language acquisition and French & Francophone Studies, has won the 2017 First Book Award from the American Association for Applied Linguistics (AAAL). According to AAAL, "In bestowing this award, the association honors high quality books that make an exceptional contribution to the field as a whole or to a specific area of specialization."
Van Compernolle's first book, "Sociocultural Theory and L2 Instructional Pragmatics," was published by Multilingual Matters in 2014. The book was immediately well received, with one reviewer calling it "remarkable."
"Van Compernolle's research presents a theoretically motivated and evidence-based instructional framework for mediating the development of pragmatic ability in language learners," said Richard Donato, professor and chair of the Department of Instruction and Learning at the University of Pittsburgh.
In 2015, van Compernolle released a second book: "Interaction and Second Language Development: A Vygotskian perspective" (John Benjamins, 2015). Building on his interest in learning how classroom discourse and pedagogy impact second language learners, this book explores the role of communicative interaction in second language development. In addition to his books, van Compernolle has written numerous journal articles on the subject of second language acquisition.
"As an applied linguist, I have broad interests related to the roles that language use and language learning play in the lives of people in the real world, including how people learn languages and how language use reflects, and shapes, cognition," van Compernolle said.