September 09, 2015
Modern Languages Ph.D. Student Named Presidential Fellow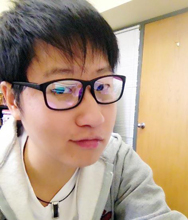 Congratulations to Stanley Haomin Zhang, who was one of 55 graduate students at Carnegie Mellon to receive a 2015 Presidential Fellowship. Carnegie Mellon's Presidential Fellowship and Scholarship program was launched in 2014 "to provide critical financial support to outstanding undergraduate and graduate students" across campus.
Zhang has been a Ph.D. student in the Department of Modern Languages since 2012. Before joining the department, he studied at the University of Pennsylvania and in China at Shanghai Jiao Tong University. His research interests include bilingualism, linguistic variation, psycholinguistics, and incomplete language acquisition.
Earlier this year, Zhang received the 2015 Jiede Empirical Research Grant from the Chinese Language Teachers Association. The grant supports empirical research in Chinese pedagogy and applied linguistics that contributes to the building of a sound understanding of the teaching and learning of Chinese as a Foreign Language.