October 13, 2015
Wu Receives Funds to Support "Pioneering" Research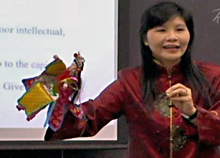 While attending graduate school at Ohio State University, Sue-mei Wu, teaching professor of Chinese Studies, became interested in Chinese folk performance. Since the early 1990s, said Wu, hand puppet theater and Taiwanese Opera have enjoyed "renewed popularity" during a time of rapid social, political, and economic change in Taiwan.
In a research project Wu is currently working on, titled "Weathering the Storm: Hand Puppet Theater and Taiwanese Opera Amid Social Change in Taiwan," she will study how these performance forms have interacted with the changes taking place in Taiwan, while also exploring how they have "impacted local culture and people, and become representative symbols of Taiwanese folk and pop culture."
In 2014, Wu received a grant from the Berkman Faculty Development Fund at Carnegie Mellon to support the project. Recently, she received additional funding from the Chiang Ching-kuo Foundation for International Scholarly Exchange (CCKF), a non-profit organization that helps to "support and promote the understanding of Chinese culture and society overseas."
Wu intends to use the funds to support her ethnographic fieldwork, the development of interactive language and culture learning modules, and the creation of a multimedia DVD.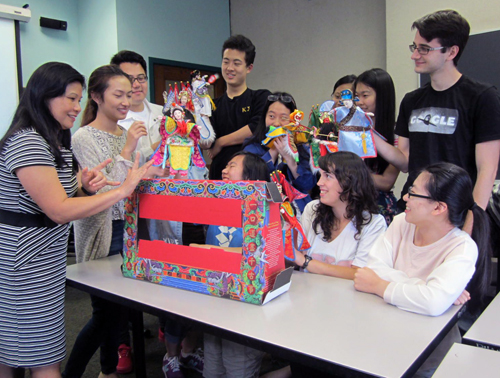 "The online language and culture modules," said Wu, "will be open to the public and will be an important resource for content-based arts and literature curricula for Chinese as a Foreign Language learners."
Wu described the research project as "pioneering" and said it will "help preserve the treasure of Chinese traditional folk arts and culture in Taiwan," while at the same time giving students of Chinese a bridge to Taiwanese culture and Chinese folk performance.
Professor Wu already builds this bridge in the classroom through hands-on activities that introduce students to the subjects closest to her heart. In her class on Chinese Folk Performance Traditions, she teaches students how to work with hand puppets. Wu is pictured here (in the black and white dress) with her enthusiastic students.