December 18, 2015
Van Compernolle Publishes Two Books in as Many Years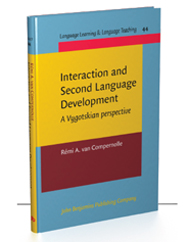 Rémi Adam van Compernolle is interested in learning how classroom discourse and pedagogy impact second language learners. Building on this interest, van Compernolle—assistant professor of second language acquisition and French & Francophone studies—has written a book that "addresses the role of communicative interaction in driving various dimensions of second language development."
Called Interaction and Second Language Development: A Vygotskian perspective, the book is the second for van Compernolle, a prolific scholar who joined the Department of Modern Languages three years ago.
"This book makes an important and original contribution to our understanding of the role of interaction in L2 [second language] development," said Steve Walsh, professor of applied linguistics at Newcastle University. "[It] will become a core reference for researchers and students interested in the process of language learning in formal settings."
Richard Donato, professor and chair of the Department of Instruction and Learning at the University of Pittsburgh, said that the book will benefit instructors as well.
"Theoretical discussion and analyses are complemented by pedagogical implications and recommendations that re-conceptualize the object of language learning, the meaning of linguistic and cultural competency, and the purposes and consequences of classroom interactional practices," Donato said.
In addition to his books, van Compernolle has written numerous journal articles on the subject of second language development.
"In terms of his teaching and research, Adam is on the most positive trajectory," said Richard Tucker, Paul Mellon University Professor of Applied Linguistics Emeritus. "He is truly a rising star."