November 23, 2015
Tucker Gives Plenary Speech at International Education Symposium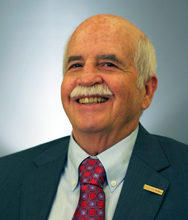 Dr. Richard Tucker, Paul Mellon University Professor of Applied Linguistics Emeritus, participated in an International Education Symposium held at Chatham University on November 19. Tucker gave a plenary speech titled "Preparing for Life in Today's Global Knowledge Economy."
Tucker's 45-year-long career has seen him involved in research on diverse aspects of language learning and language teaching in both monolingual and bilingual settings.
"I have a special interest in contributing toward a greater awareness of the role of language in education and national development in the United States and abroad," he said.
Following Tucker's speech, students gave presentations on topics including "Why We Learn Languages" and "The Pathway to Global Understanding." Dr. Martina Wells, Coordinator of the Modern Languages program at Chatham, delivered the closing speech, and then students presented posters.
Nearly 40 percent of students attending Chatham study or intern abroad. The national average for all colleges and universities is currently below 10 percent.