August 25, 2015
Seth Wiener Joins Modern Languages Faculty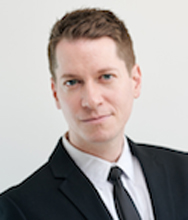 Seth Wiener will join the Department of Modern Languages this semester as an Assistant Professor of Second Language Acquisition and Chinese Studies. Wiener comes to Pittsburgh from Columbus, Ohio, where he recently earned his Ph.D. at Ohio State University.
Modern Languages' newest faculty member will teach Elementary Chinese and a course on linguistic data analysis this fall. His research centers on "the nature of the cognitive processes and representations that enable listeners to understand language and recognize spoken words."
"For most people, the ability to understand speech is remarkably effortless," Wiener said, in reference to native speakers of a given language understanding other native speakers. "However, when listening to non-native speech or attempting to acquire a second language, we are reminded of the complexity of language processing."
Wiener encountered this complexity during his study of Mandarin, a member of the Sino-Tibetan language family, which is the primary focus of his research. In spite of Mandarin's complexity, it's a popular choice today among second-language learners, making Wiener's research especially relevant.
"Today more and more Americans of all ages are engaging with China by learning Mandarin as a foreign language," Wiener said. "Yet, learning Mandarin poses many unique challenges. Perhaps most daunting is the use of lexical tone, or pitch, to differentiate word meanings."
With knowledge of the challenges, Wiener is well prepared to help students surmount the stumbling blocks they might encounter. His contributions through research and teaching will no doubt further enrich the department's programs in Chinese Studies and Second Language Acquisition.