October 02, 2015
Giovanni Puppo Celebrates 40 Years of Service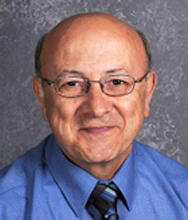 The day Giovanni Puppo completed his application to become a CMU employee, he stepped out of Warner Hall into a blizzard. As the snow swirled around him, Puppo looked towards Forbes Avenue and saw a young woman crossing the street carrying an ice cream cone. In a blizzard!
Puppo's face still lights up at the memory, all these years later. It was an unforgettable way to start his journey at Carnegie Mellon. At the time, Puppo had no idea how long that journey would last. In September, he was honored at the Andy Awards for 40 years of service. He was one of just three individuals to reach this remarkable milestone in 2015.
Puppo, along with his colleague Jan Vairo, teaches Italian in what is today the Department of Modern Languages. As a native of Italy, he's able to bring an authentic slice of Italia into the classroom each and every session. Puppo has been described by those who know him as committed and tireless. For years, he worked full-time at both Oakland Catholic High School and Carnegie Mellon, while also raising a family. Since retiring from Oakland Catholic, he has been focusing his energy exclusively on his work at CMU, and always with a smile.
"He is always in a good mood," said Nancy Monda, business manager in the Department of Modern Languages.
Indeed, when the main office door swings open and Puppo walks in, a wave of sunshine follows. It sweeps through the corridor as he stops in front of doorways greeting staff members as though it's the happiest day of his life.
"Giovanni is a treasured member of our Modern Languages community," said Susan Polansky, head of the department. "He is an excellent teacher who is enthusiastic and extremely caring."
Polansky was touched but not surprised to see people approaching Puppo at the reception following the Andy Awards to offer congratulations. She said that Puppo has enriched the lives of numerous individuals in countless ways. Puppo, too, feels that his life has been enriched by the people he has encountered, taught, and worked with over the years at Carnegie Mellon.
"My service at CMU has been simply a blessing in my life," Puppo said.
He values not only the relationships he has formed with students, colleagues, staff members, and parents, but also the chance to stay connected with his home country while educating students.
Working at CMU, he said, has "been a great opportunity for me to remain connected with my country teaching its language and extraordinary culture to hundreds of students."
Chris Hallstein, teaching professor of German, got to know Puppo in "the early days" when the two shared an office. He recalled how Puppo would have to find a parking spot on Frew Street in the afternoons, at the busiest time of day, and how he'd patiently circle Flagstaff Hill until a spot opened up.
"He never complained!" Hallstein remarked. "I was always impressed with his positive attitude, even when things didn't go well."
Speaking on behalf of his colleagues, Hallstein said, "We all treasure his warmth, his humor, and his consistently excellent pedagogy."
Puppo's students, said Hallstein, appreciate his "upbeat spirit."
When Polansky congratulated Puppo after the Andy Awards, he said to her, "Grazie infinite di tutto!" which is precisely what the Modern Languages community and others who know Puppo would like to say to him.
That is, "Thank you so much for everything!"