September 08, 2015
CMU to Host Hispanic Studies Film Festival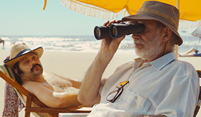 Faculty members in the Hispanic Studies program at Carnegie Mellon received a grant to support the upcoming Hispanic Studies Film Festival, which will take place at Carnegie Mellon from September 20 to October 18, 2015.
The festival is part of the Spanish Film Club (SFC), a program conceived of by PRAGDA, a film distribution company created to "promote, disseminate, and maintain the legacy of Spanish and Latin American cinema through unique cultural initiatives."
SFC aims to introduce high school and university students across the U.S. and Canada to the languages and cultures of Spain and Ibero-America by providing schools with a collection of films not widely known or viewed in North America. This year's roster includes 42 feature films from 21 countries. Five have been chosen for screening at Carnegie Mellon: Malacrianza; Los Bañistas; Arrugas; Mr. Kaplan; and Operación E.
The films will be shown in their original language (with English subtitles), helping students to improve their language skills while becoming better acquainted with Spanish and Latin American culture. The festival will connect students from various universities and university departments who share the same love for the languages and cultures of Spain and Ibero-America.
All films will be screened at Carnegie Mellon in Gregg Hall (Porter 100) at 7:00 p.m. Please visit the events page for screening dates and film synopses.
The festival is free and open to the public. For more information, please contact Therese Tardio, Associate Teaching Professor of Hispanic Studies.