December 11, 2015
New Book Focuses on Reading in a Second Language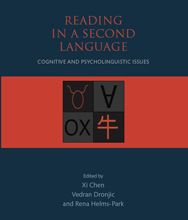 Vedran Dronjic, A. W. Mellon Postdoctoral Fellow in the Department of Modern Languages, is co-editor of a newly released book called Reading in a Second Language: Cognitive and Psycholinguistic Issues.
Published by Routledge, the book is a "handy reference volume" for researchers and educators, and is also well-suited as a textbook for graduate students and upper-level undergraduates studying second language acquisition, psycholinguistics, and applied psychology.
According to Dronjic and his fellow co-editors, Xi Chen and Rena Helms-Park, "This book describes the phenomenon and process of reading in a second language," with emphasis on "the development of second language reading skills in children and adolescents from diverse backgrounds."
Since the book's contributors specialize in everything from cognitive neuroscience to linguistics to learning technology, the book examines the subject of reading in a second language from multiple angles, bringing together "perspectives from a variety of related fields not usually found in a single integrated volume."
"In other words," said Dronjic, "the book focuses on the psycholinguistic and cognitive, while not neglecting the social reality of language use and literacy, and [while also] paying attention to technological developments."
Dronjic co-authored two of the book's nine chapters, one that looks at writing systems and their evolution, and another that "emphasizes the importance of automaticity in the attainment of fluent reading ability."
As a psycholinguist and specialist in second language acquisition, Dronjic studies the nature of language knowledge. "What does it mean to know a language?" he asks. "What cognitive abilities do we rely on when we learn and use language?"
His colleague Keiko Koda, who directs the Department of Modern Languages' Ph.D. program in Second Language Acquisition, contributed to the book with a chapter on the development of word recognition in a second language. As a specialist of both Japanese studies and second language acquisition, Koda's primary research interest is the development of second language reading competence.
John Kirby, professor emeritus of psychology of education at Queen's University, praised the new book.
"Chen, Dronjic, and Helms-Park have assembled a comprehensive and authoritative set of essays reviewing the broad and complex field of second language reading," he said. "The chapters are well-grounded in theory, explaining the cognitive processes of word recognition, vocabulary, and comprehension, among other more practical matters. Researchers and practitioners have much to learn from this excellent volume."