October 28, 2015
Students and Faculty Mingle at Polyglot Café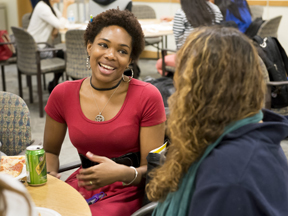 The Modern Languages Student Advisory Council (MLSAC) recently hosted Polyglot Café, an annual event organized by members of the group. This year, students and faculty from the Modern Languages Department mingled over food and beverages while talking about language learning, majoring or minoring in a language, study abroad, and other topics.
The event was a big success, with sixty people turning up to participate. Among the attendees were Geoffrey Root and Estelle Tian, both MLSAC board members. MLSAC faculty advisors Gang Liu and Yoshihiro Yasuhara were also in attendance. Joining them were Modern Languages faculty members Nevine Abraham, Chris Hallstein, Jan Vairo, Haixia Wang, Bonnie Youngs, Yueming Yu, and Susan Polansky, head of the Modern Languages Department.
Below are pictures of students and faculty members enjoying themselves at the event.