October 08, 2015
War and the Humanities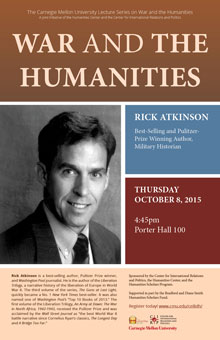 The Carnegie Mellon University Lecture Series on War and the Humanities
(A joint initiative of the Humanities Center and the Center for International Relations and Politics)
Rick Atkinson
Bet-Selling and Pulitzer-Prize Winning Author, Military Historian
Rick Atkinson is a best-selling author, Pulitzer Prize winner, and Washington Post journalist. He is the author of the Liberation Trilogy, a narrative history of the liberation of Europe in World War II. The third volume of the series, The Guns at Last Light, quickly became a No. 1 New York Times best-seller. It was also named one of Washington Post's "Top 10 Books of 2013." The first volume of the Liberation Trilogy, An Army at Dawn: The War in North Africa, 1942-1943, received the Pulitzer Prize and was acclaimed by the Wall Street Journal as "the best World War II battle narrative since Cornelius Ryan's classics, The Longest Day and A Bridge Too Far."

Sponsored by the Center for International Relations and Politics, the Humanities Center, and the Humanities Scholars Program.

Supported in part by the Bradford and Diane Smith Humanities Scholars Fund.

Register today!
Thursday, October 8, 2015
4:45pm
Porter Hall 100