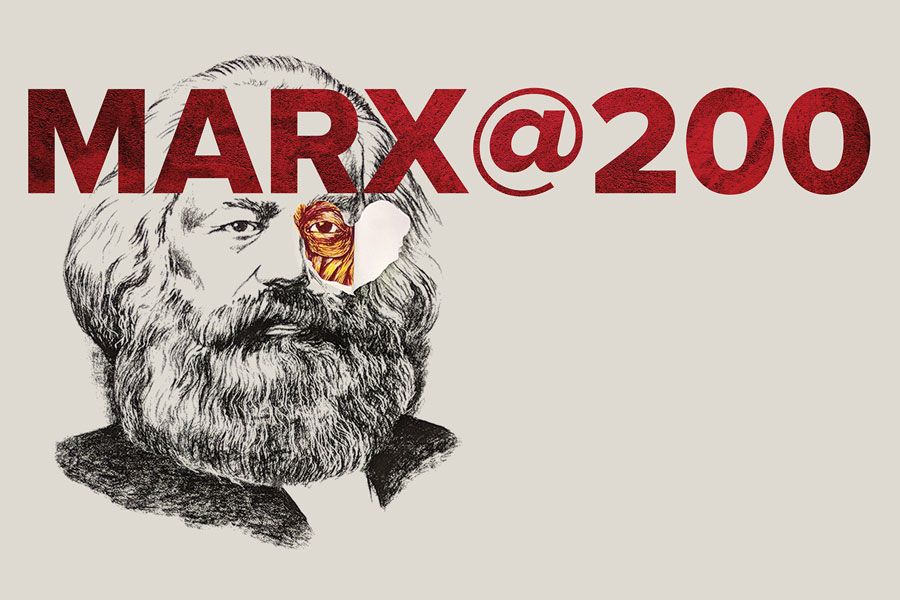 Marx@200 Art Exhibition
Sponsored by the Pittsburgh Cultural Trust and CMU's Humanities Center, Art Will Respond to Marx's Ideas, Influence and Impact
By Shilo Rea
April 6 through June 10 at SPACE gallery in downtown Pittsburgh
Karl Marx is one of the most influential and controversial thinkers in history. To explore Marx's continued influence at the time of his bicentennial, the Pittsburgh Cultural Trust and Carnegie Mellon University's Humanities Center will present Marx@200 from April 6 through June 10 at SPACE gallery in downtown Pittsburgh.
Curated by CMU's Kathy M. Newman and Susanne Slavick, Marx@200 will feature more than 25 works by artists from around the world. The artworks represent a diverse range of perspectives on Marx and his critique of inequality and capitalism, as well as his influence on political movements and regimes.
"As artists respond to both historical and current conditions, Marx's legacy has shaped how and what they create," said Newman, associate professor of English, who has also organized a series of lectures that examine Marx. "He is also becoming a popular culture icon in the digital age, with his image being used in countless memes and on products. We want to give people a chance to examine these phenomena and to reflect on the themes these artists have appropriated for their own work, from the rising tide of globalization to wealth inequality, to job loss and automation."
Highlights from the exhibition include:
Ukranian-born Nataliya Slinko's gigantic version of Marx's beard made of steel wool
An animated Marx wielding a hammer in battle with Charles Darwin by Michael Mallis
Kiluanji Kia Henda's photographic triptych of a fishing vessel named "Karl Marx, Luanda"
Kathryn Clark's "Foreclosure Quilt," a stitched urban map of foreclosed homes, block by block
An embroidered barcode by Rayna Fahey that says, "Don't just buy it/Make Revolution"
"Artists working within a variety of economic and political systems have contributed to this show, responding to Marx's complicated legacy with appreciation or apprehension—and sometimes both. They invite us to consider his critique of capitalism and what it feels like to live in today's globalized economy," said Slavick, the Andrew W. Mellon Professor of Art. 
SPACE is located at 812 Liberty Ave. Gallery hours are Wednesdays and Thursdays, 11 a.m. – 6 p.m.; Fridays and Saturdays, 11 a.m. – 8 p.m.; and Sundays 11 a.m. – 5 p.m. It is free and open to the public.
In addition to regular gallery hours, there will be an opening reception on Friday, April 6 from 6-8 p.m. The exhibition will be open during the Cultural District Gallery Crawl on Friday, April 27 from 5:30-10 p.m., and a Marx bicentennial program and reception will be held on Saturday, May 5 from 7-9 p.m. 
Links to Artists in the Exhibition:
Lauren Frances Adams, American artist, You Have Nothing To Lose But Your Chains (2018)
Maja Bajevic, Bosnian artist, Arts, Crafts and Facts 
Nina Beier, Danish artist, Greens (500 Peso) 2014
Joshua Bienko, Ever So Much More So (2008-2010)
Matt Bollinger, American artist, The Lot (2013)
Mel Chin, Revised Post Soviet Tools to be Used Against the Unslakeable Thirst of 21st Century Capitalism (2010)
Kathryn Clark, American artist, Foreclosure quilt (2008-2013)
Carol Condé and Karl Beveridge, Canadian artists, Multiple Exposures (2011)
Jeannette Ehlers, Danish artist, Black Bullets (2012)
Rayna Fahey, Australian artist, Don't Just Buy It (Make Revolution) (2010)
Blake Fall-Conroy, American artist Minimum Wage Machine (2012) and Factory Wheelabrator Baltimore (2017)
Cao Fei, Chinese artist, Who's Utopia (2006)
Claire Fontaine, Italy-based collective, Untitled (Thank You) (2005)
Coco Fusco, Cuban-American artist, Ted Ethology: Primate Visions of the Human Mind (2015)
Lungiswa Gqunta, South African Artist, Together Hand in Hand We Will Liberate This Country (2016)
Kiluanji Kia Henda, Angolan artist, Karl Marx, Luanda (2005)
Ottmar Hörl, German artist, Karl Marx (2013)
Alfredo Jaar, Chilean-born artist, September 15, 2009 (2009)
Tavia La Follette, American artist, Smoking Marx (2018)
Steve Lambert, American artist, Capitalism Works for Me! True/False (2011)
Liane Lang, Marx Engels Support Group (2015)
Michael Mallis, American artist, Natural Selection: The Rise of the Proletariat (2008)
Paolo Pedercini, Italian-born artist, To Build a Better Mousetrap (2014)
William Powhida, American artist, Solidarity Economies (2014)
Raqs Media Collective, The Capital of Accumulation (2010)
Pedro Reyes, Mexican artist, Baby Marx (2008)
Erik Ruin, American artist, Climate Chaos (20120
Alex Schaefer, American artist, Bank of America, Palm Springs (2012)
Dread Scott, American artist, Vendome Column, Toppled, 1871 (2011) and Maison Marx (2011)
Elin Slavick, American artist, Workers Dreaming (1999-present)
Slinko, Ukranian-born artist, Crowd Pleaser (2011)
Shinique Smith, American artist, Surface Value III (2007)
Jina Valentine, American artist, Memoranda (NYSE: GEO)
Kirsty Whitlock, Australian artist, Losses (2009)
Imin Yeh, American artist, 18 September 1867, (2018)
For more information, visit Space Pittsburgh »