February 29, 2016
Unmanned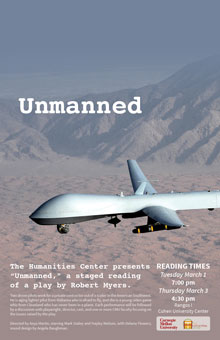 The Humanities Center presents "Unmanned," a staged reading of a play by Robert Myers.
Two drone pilots work for a private contractor out of a trailer in the American Southwest. He is aging fighter pilot from Alabama who is afraid to fly, and she is a young video game whiz from Cleveland who has never been in a plane. Each performance will be followed by a discussion with playwright, director, cast, and one or more CMU faculty focusing on the issues raised by the play.

Directed by Anya Martin; starring Mark Staley and Hayley Nielsen, with Delana Flowers; sound design by Angela Baughman.
March 1 at 7:00 PM and March 3 at 4:30 PM in Rangos 1, CUC