February 18, 2016
Horses of the Apocalypse
War and Genocide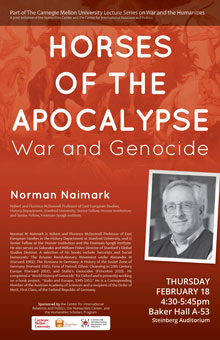 Norman Naimark
Norman M. Naimark is Robert and Florence McDonnell Professor of East European Studies in the History Department at Stanford University, and is Senior Fellow at the Hoover Institution and the Freeman-Spogli Institute. He also serves as Sakurako and William Fisher Director of Stanford's Global Studies Division. A selection of his books include Terrorists and Social Democrats: The Russian Revolutionary Movement under Alexander III (Harvard 1981); The Russians in Germany: A History of the Soviet Zone of Germany (Harvard 1995); Fires of Hatred; Ethnic Cleansing in 20th Century Europe (Harvard 2001); and Stalin's Genocides (Princeton 2010). He completed a "World History of Genocide" for Oxford and is presently working on a book project, "Stalin and Europe, 1945-1953." He is a Corresponding Member of the Austrian Academy of Sciences and a recipient of the Order of Merit, First Class, of the Federal Republic of Germany.

Part of The Carnegie Mellon University Lecture Series on War and the Humanities A joint initiative of the Humanities Center and the Center for International Relations and Politics.
Sponsored by the Center for International Relations and Politics, the Humanities Center, and the Humanities Scholars Program.
February 18 at 4:30pm in Baker Hall A-53 Steinberg Auditorium