November 09, 2012
When Homeland Terror Passes for Bureaucratic Security: The Wire Meets The Office
Professor Alan Nadel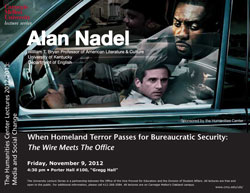 Do you know what the NBC comedy
The Office
has in common with the HBO series,
The Wire
? The idea that in a hierarchy every employee rises to his or her level of incompetence. According to this premise, codified by the 1969 best-seller,
The Peter Principle
, people continue to be promoted until they acquire positions beyond their capabilities, where they then languish in their own inadequacy. The other thing the two series share is a fascination with surveillance. The surprising similarities between
The Wire
and
The Office
invite us to reflect on the conditions of federal anti-terror bureaucracies today. Is our only protection from Al Qaida a rhizomatic network of agencies, rendered by the Peter Principle? When it comes to terrorism, will Stringer Bell or Michael Scott be able to keep us safe? Come to the lecture to find out!
Alan Nadel is the William T. Bryan Professor of American Literature and Culture at the University of Kentucky. He is the author of Television in Black and White America: Race and National Identity (2005) and numerous other books and articles. In the 1970s he worked for several years as a political consultant and graphic designer.
4:30 PM
Porter Hall 100 (Gregg Hall)
Friday, November 9